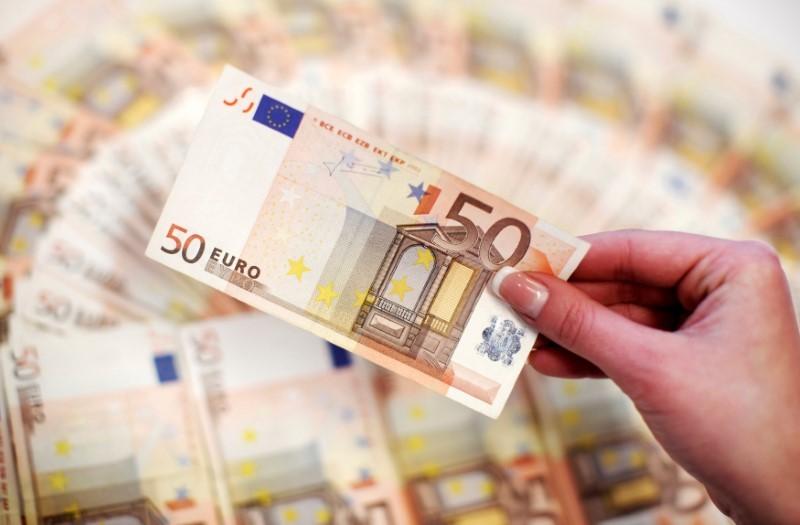 By Francesco Guarascio
BRUSSELS (Reuters) - The European Commission on Thursday cut its forecasts for the euro zone's economic growth this year, citing among the top causes for its revision trade tensions with the United States and rising oil prices which push the bloc's inflation higher.
The slowdown of the euro zone economy is set to affect all major economies of the bloc, but is expected to hit Italy harder, as the country will record the lowest growth rate in Europe, matched only by Britain among all 28 EU countries.
The EU executive estimated the 19-country euro zone will grow by 2.1 percent this year, lower than the 2.3 percent gross domestic product (GDP) increase it had forecast in its previous estimates released in May, and further below the 2.4 percent growth recorded last year.
In 2019 the bloc's growth should further slow to 2.0 percent, unchanged from the previous forecast. More information on this chart: https://tmsnrt.rs/2JRXh7h
"The downward revision of GDP growth since May shows that an unfavourable external environment, such as growing trade tensions with the U.S., can dampen confidence and take a toll on economic expansion," EU commission's vice-president Valdis Dombrovskis said.
The negative impact of trade disputes on the European and global economy are expected to be much bigger in case of escalation, the EU economics commissioner Pierre Moscovici said.
"Trade wars produce no winners, only casualties," he stressed.
Rising oil prices have also contributed to the slowdown, the commission said, and are expected to push euro zone's inflation up to 1.7 percent this year and next, from the previously estimated 1.5 percent in 2018 and 1.6 percent in 2019.
UK, ITALY BLUES
Germany and France, the two largest economies of the euro zone, are expected to lose steam this year and next.
Germany's GDP expansion will slow to 1.9 percent this year and in 2019 from the previously estimated 2.3 percent in 2018 and 2.1 percent in 2019. It grew 2.2 percent last year.
France's economy will grow 1.7 percent this year and next, much below the 2.2 percent growth it experienced last year. The new estimates are also less optimistic than the 2.0 percent growth the Commission had earlier forecast for this year and also slower than the 1.8 percent growth previously forecast for 2019.
The slowest-growing economy of the bloc will remain Italy which is expected to grow only 1.3 percent this year, less than the 1.5 percent estimated in May. The economy will further slow to 1.1 percent in 2019, farther down from the 1.5 percent growth recorded last year.
One of the causes cited by the Commission for the revision were "re-emerging concerns or uncertainty about economic policies", as Italy's new eurosceptic government has launched ambiguous messages on its future spending plans.
Only Britain is expected to match Italy's sluggish growth among all the 28 states of the European Union. It will grow 1.3 percent this year, according to the Commission, less than the previously estimated 1.5 percent expansion - a big drop from the 1.7 percent GDP rise recorded last year.
In 2019, when Britain is expected to quit the European Union, its economic expansion should slow further to 1.2 percent, the commission predicted.
It stressed however next year's forecast was based on technical assumptions as the unclear outcome of Brexit talks could have unpredictable effects on the country's economy.
Britain's inflation is also forecast to go up further to 2.6 percent this year, from a previous estimate of 2.5 percent.
(Reporting by Francesco Guarascio; editing by Robert-Jan Bartunek; editing by Mark John)
This story has not been edited by Firstpost staff and is generated by auto-feed.
Firstpost is now on WhatsApp. For the latest analysis, commentary and news updates, sign up for our WhatsApp services. Just go to Firstpost.com/Whatsapp and hit the Subscribe button.
Updated Date: Jul 13, 2018 00:05:35 IST