EU chief says sides "far apart" on Brexit trade after "lively" Johnson dinner
BRUSSELS (Reuters) - The European Commission and Britain remained 'far apart' on Brexit trade deal, the bloc's chief executive said on Wednesday night after what she described as a 'lively' dinner with UK Prime Minister Boris Johnson. 'We agreed that the (negotiating) teams should immediately reconvene to try to resolve these essential issues,' said European Commission President Ursula von der Leyen. 'We will come to a decision by the end of the weekend.' (Reporting by Gabriela Baczynska; Editing by Catherine Evans)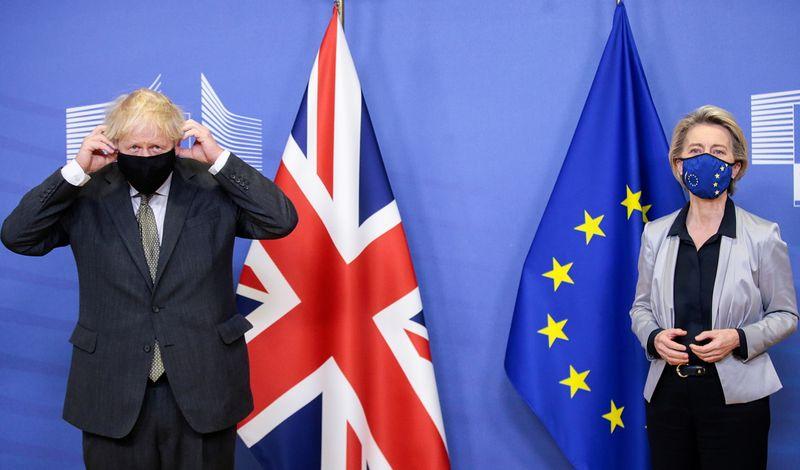 BRUSSELS (Reuters) - The European Commission and Britain remained "far apart" on Brexit trade deal, the bloc's chief executive said on Wednesday night after what she described as a "lively" dinner with UK Prime Minister Boris Johnson.
"We agreed that the (negotiating) teams should immediately reconvene to try to resolve these essential issues," said European Commission President Ursula von der Leyen.
"We will come to a decision by the end of the weekend."
(Reporting by Gabriela Baczynska; Editing by Catherine Evans)
This story has not been edited by Firstpost staff and is generated by auto-feed.
Find latest and upcoming tech gadgets online on Tech2 Gadgets. Get technology news, gadgets reviews & ratings. Popular gadgets including laptop, tablet and mobile specifications, features, prices, comparison.
World
MEXICO CITY (Reuters) - Mexico's president said on Thursday that women should decide whether the country should legalize abortion, but he declined to take a position on the issue, which is still opposed by many Mexicans.
World
CAIRO - (Reuters) - Islamic State on Thursday claimed responsibility for a bus attack in Syria the previous day, saying it had killed 40 Syrian army soldiers and badly wounded six others. The statement was carried by Islamic State's Amaq news agency. Syrian state media said on Wednesday that 28 people had died in an attack on a bus along a main highway in Syria's Deir Zor province that borders Iraq.
World
By Joyce Lee GOYANG, South Korea (Reuters) - Global K-Pop sensation BTS celebrated New Year's Eve with an online concert on Thursday along with other K-pop groups from its management agency Big Hit Entertainment and fans from around the world. Halsey, Lauv and Steve Aoki, who have all collaborated with BTS in recent years, joined on a special stage by connecting remotely.