Embraer in 'active' turboprop partnership talks - execUTIVE
PARIS (Reuters) - Brazil's Embraer is in 'active' talks with potential partners to build a new regional turboprop aircraft and could opt for a combination of industrial and financial backing, the head of the company's commercial division told Reuters. 'We are actively in discussions with (turboprop) partnerships, but I can't go into more details now,' said Commercial Aviation Chief Executive Arjan Meijer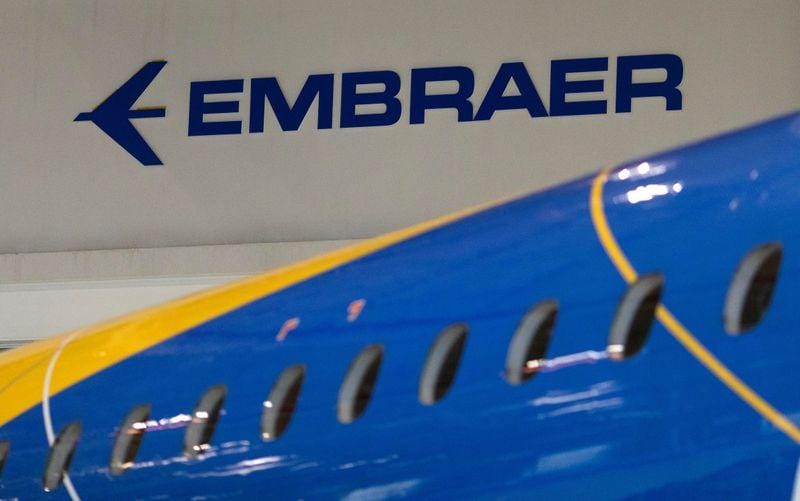 PARIS (Reuters) - Brazil's Embraer is in "active" talks with potential partners to build a new regional turboprop aircraft and could opt for a combination of industrial and financial backing, the head of the company's commercial division told Reuters.
"We are actively in discussions with (turboprop) partnerships, but I can't go into more details now," said Commercial Aviation Chief Executive Arjan Meijer.
"The type of partnership, be it industrial or financial, is wide open. We are looking at all the options, or it could be a combination of the two ... We are not ruling anyone out at this point."
He said the plane would be more fuel-efficient and quieter but cautioned a launch decision was likely to be "beyond 2021" as the airline industry wrestles with a sharp drop in demand.
A new entrant would shake up a profitable niche dominated by Europe's ATR, which before the crisis forecast demand for 3,020 turboprops worth $80 billion over 20 years.
Turboprops can be more efficient than jets over short trips. But demand has been in the doldrums due to a glut of used planes and heavy reliance on small operators worst hit by COVID-19
. ATR delivered just one plane in the first nine months.
With 70-100 seats, Embraer's turboprop would aim to leapfrog the 78-seat ATR 72-600, and the 90-seat De Havilland Dash 8-400, owned by private equity firm Longview Aviation Capital.
China is also targeting the market with its Xian MA700.
One potential target for co-operation, according to industry sources, is Sweden's Saab. It stopped making smaller commuter turboprops in 1999 but has close ties to Embraer through the sale of JAS 39 Gripen fighters to Brazil.
Saab, now a defence and security group with just 12% of sales from civilian customers, had no immediate comment.
(Reporting by Tim Hepher; Editing by David Goodman and David Evans)
This story has not been edited by Firstpost staff and is generated by auto-feed.
Find latest and upcoming tech gadgets online on Tech2 Gadgets. Get technology news, gadgets reviews & ratings. Popular gadgets including laptop, tablet and mobile specifications, features, prices, comparison.
World
By Lisa Barrington DUBAI (Reuters) - Arab states boycotting Qatar could resume travel and trade links with Doha within a week under a U.S.-backed deal, but restoring diplomatic ties requires more time as parties work to rebuild trust, a United Arab Emirates official said on Thursday. Gulf powerhouse Saudi Arabia announced the breakthrough in ending a bitter dispute at a summit on Tuesday, with its foreign minister saying Riyadh and its allies would restore all ties with Doha severed in mid-2017. UAE Minister of State for Foreign Affairs Anwar Gargash told a virtual news conference that measures to be implemented within a week of the agreement "include practical measures of airlines, shipping and trade".
World
By Tracy Rucinski (Reuters) - U.S airlines and law enforcement agencies have bolstered security at Washington-area airports on Thursday after supporters of President Donald Trump caused mayhem in the U.S. capital in an attempt to overturn his election loss.
World
By Jonathan Landay, Patricia Zengerle and David Morgan WASHINGTON (Reuters) - U.S. Speaker Nancy Pelosi called on Capitol Police Chief Steven Sund to resign on Thursday, after officers of the federal force charged with protecting Congress allowed supporters of President Donald Trump to storm the Capitol, sending lawmakers fleeing