Elphinstone Road stampede: To boost safety, Indian Railways needs to perk up its revenue first
Indian Railways needs to see deep systemic changes and reorganisation of its network to avoid such tragic accidents in future
New Delhi: India's suburban rail network is languishing in losses, passed over frequently when it comes to investments, capacity expansion and even augmented safety measures. And Mumbai's suburban network of trains – its lifeline really – is probably the worst of the lot, the deadliest suburban network anywhere in the country.
The Comptroller & Auditor General (C&AG) said in a report that between January 2010 to December 2014, out of 33,445 deaths in suburban sections across the entire railways network, 17,638 (52.74 percent) occurred in Mumbai suburban section alone. This means every second person dying across India's suburban train network during those five years perished on the Mumbai leg. Another statistic: Over 80 percent of the deaths country wide by falling from running trains happened on the Mumbai suburban network.
So why does Mumbai suffer? As per data given in the Lok Sabha earlier this year, 271 crore passengers used the Mumbai suburban railway network in 2015-16. This volume of passengers obviously need not just proper foot over bridges but also basic medical facilities in case of accidents. But will blocking the ambitious bullet train – planned between Mumbai and Ahmedabad at lakhs of crores of investment – actually divert resources to augmenting critical funds for Mumbai's suburban rail network?
This binary debate misses the larger issue with the functioning of this behemoth, the world's largest employer transporting about 22 million people every single day - that is its falling revenue. Though the Railways Ministry was making a profit for many years, its financial condition has been rather precarious over the last several years, since it continues to subsidise passengers by charging more for freight carriage. Dwindling revenues – since passenger and freight volumes have stagnated - have meant continuous disregard of safety investments. Will blocking the bullet train project spur the railways to make adequate investments in safety? The better and indeed a more sensible alternative is to examine if the railways is making enough investments in safety, which must be funded from internal resource generation.
As 22 passengers perished in a stampede on foot over bridge at the Elphinstone Road station in Mumbai on Friday, politicians have scrambled to blame the Modi government's pet project - the bullet train between Mumbai and Ahmedabad - saying lakhs of crores being invested in this project seem meaningless if just Rs 11-12 crore could not be invested in widening the Elphinstone Road foot over bridge. The issue here is not so much the lack of funds, as a complete breakdown of the system which glossed over repeated warnings about the crowd at this station. As for funds, like we said earlier, safety works should be funded from revenue, which has been dwindling.
The same CAG report quoted earlier has made two pertinent points:
1) Operating ratio of the suburban sections on all zonal railways was more than 100 percent, implying that their working expenses was more than their traffic earnings during 2010-15. This alone should make it evident that even if well intentioned officials are at the helm, paucity of funds would mean gross neglect of safety investments.
2) Though suburban train service is an important segment of passenger traffic, there is no separate organisational setup within the division with any separate budget allocation for improvement of this segment. What this shows is the usual disregard for organisational reforms within the Railways, leading to diffused focus on needs of the vast suburban rail network.
This article reiterates what the C&AG said last year. It says activists and experts have blamed the existing structure of railways that puts Western and Central railway chiefs at the helm of suburban railway, when they are also saddled with the responsibility of long-distance trains and freight operations.
From 2010, proposals from passenger activists to have an independent authority for the suburban railway network to run day-to-day services, maintain them, address commuter woes, have gone unheeded. Post the stampede, things may change. The article goes on to say that such an authority was on the anvil. This should obviously have been done much earlier.
Anyway, coming back to the lack of investments in safety infrastructure. A former chairman of the Railway Board, the decision maker in the railways, pointed out it was a fallacy to think of using funds meant for capital expenditure in augmenting safety across the network.
"Safety investments are not arranged from capex, these come from revenue, earnings. The capital account for making new purchases, maintenance should always be a function of revenues. Can you pay salaries from capital account? Besides, how will funds used from capex show a rate of return if deployed on safety measures?" he said.
What he was pointing towards was the fallacy that large investments routinely announced by the railways in capital expenditure are misconstrued as investments made for augmenting safety across the network. So the Rs 8 lakh crore capex figure which is being bandied about by the government as investment over the next few years is of little relevance here.
As for revenues, here is the math:
There has been no increase in passenger fare since 2014-15, in keeping with the socialist mindset of keeping passenger fares low, in fact below the cost of providing services. Then, additionally, the railways extends concessions in passenger fare to more than 50 categories of passengers from 10 percent to 100 percent. Revenue forgone due to concession in passenger fare during 2015-16 is approximately Rs 1,602 crore. Traditionally, these losses on the passenger side have been compensated by freight rates.
During the year 2015-16 (latest available), the overall losses in passenger services (suburban and non-suburban) were Rs 35,038 crore, which is 43 percent of the expenses incurred on passenger services. In freight, the railways has another loser since it has priced itself high. Put simply, the railways is bleeding and it would be foolhardy to expect it to make necessary investments in safety works.
Besides falling earnings, the Railways also seems to be relying increasingly on contract workers, who have little understanding or training about safety procedures. This factor also adds up in the overall safety record of the Railways.
Unless there are deep systemic changes and reorganisation within the Railways network, adequate investments and proper supervision of works, tragic accidents like the one last Friday may continue to happen.
Find latest and upcoming tech gadgets online on Tech2 Gadgets. Get technology news, gadgets reviews & ratings. Popular gadgets including laptop, tablet and mobile specifications, features, prices, comparison.
India
As many as 45 doctors and 160 paramedics from the paramilitary forces are in Delhi for deployment at the DRDO hospital and at a COVID care centre in Chhatarpur, the MHA said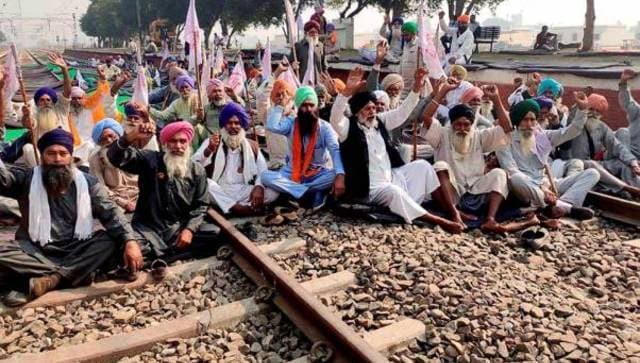 India
The trains will be the first to operate in the state after almost two months of being suspended due to protests by farmers over legislations passed by the Parliament
India
Goods trains have not entered Punjab for one-and-a-half months, except for two days in late October, leading to a shortage of essential goods, Railway Ministry sources said