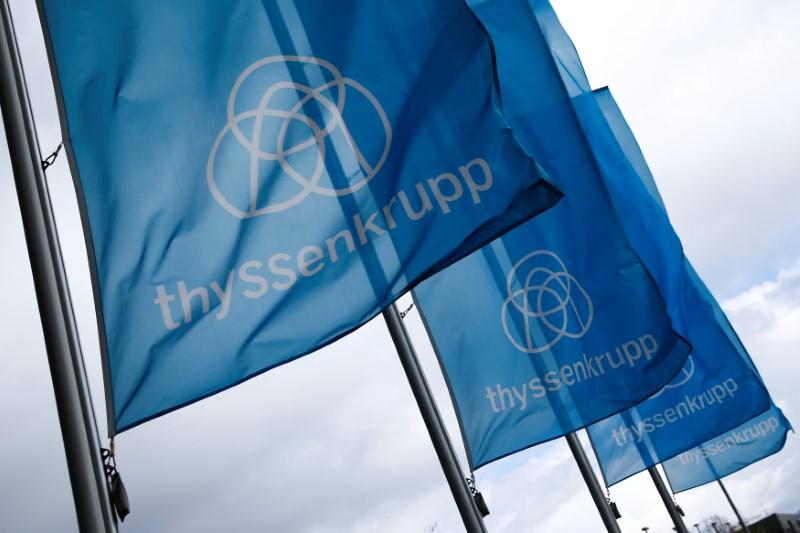 FRANKFURT/DUESSELDORF/LONDON (Reuters) - Activist investor Elliott, which is currently stepping up its campaigns in Europe, is close to taking a stake in Thyssenkrupp, a source familiar with the matter said, increasing pressure on management to restructure the group.
The Germany company's CEO Heinrich Hiesinger, in the job since 2011, has already faced criticism from shareholders for being too slow to move Thyssenkrupp away from its steel-making roots and sharpen its focus on industrial goods.
Swedish investment firm Cevian, Thyssenkrupp's second-largest shareholder with about 18 percent, has been the most vocal critic of Hiesinger's strategy, saying the company needs a more radical shake-up.
Elliott's plan to join Thyssenkrupp's shareholders follows a string of investments in Europe to press for break-ups and management changes.
"Thyssenkrupp is a great company but it is not managed in the right way very obviously and you have a guy who has been there seven years," said a person familiar with the fund's thinking.
"When is the board going to say 'You know what, we thank you for your efforts but we need to have a change?'"
Thyssenkrupp's shares closed up 9.6 percent at 23.62 euros ($27.83) apiece, their highest level in more than three months.
"This was a real wake-up call," a trader said.
Bloomberg first reported that Elliott was purchasing a stake in Thyssenkrupp, also citing people familiar with the matter as saying that the fund would like to replace Hiesinger. Under his leadership, the group's shares have lost a fifth of their value.
Thyssenkrupp, Elliott and Cevian all declined to comment.
Sources told Reuters earlier this month that Elliott was stepping up its activities in Europe, which was considered as less attractive for activist funds until recently.
That includes Germany, where one of Elliott's funds called for a special auditor at energy group Uniper earlier this month to investigate whether management tried to block a sale of a major stake held by former parent E.ON.
At Thyssenkrupp, investors have also fretted about the lengthy process to finalise a deal with Tata Steel to create a European steel joint venture, which has been delayed over ongoing talks between the Indian group and its workers.
Thyssenkrupp and Tata Steel have both said that they are planning to sign the transaction during the first half of the year, having previously aimed for early 2018.
After the completion of the Tata deal, the German steel-to-submarines group has pledged to refine its strategy, with investors widely expecting a sale of the group's Materials Services unit, its largest by sales.
($1 = 0.8488 euros)
(Reporting by Christoph Steitz, Tom Kaeckenhoff and Maiya Keidan; Additional reporting by Andrea Lentz; Editing by Jane Merriman and Alexandra Hudson)
This story has not been edited by Firstpost staff and is generated by auto-feed.
Updated Date: May 23, 2018 00:05:52 IST