Rupee will fall to 70 against the $ and this will be good for India, says Ruchir Sharma
Ruchir Sharma, Head Of Emerging Markets and Global Macro, Morgan Stanley Investment Management has dismissed all the hoopla about Prime Minister Narendra Modi's maiden visit to the United States. While the first year of the Modi government should not be judged too soon, Sharma says it is the Budget next year that will be the make or break for the government.<br />
Ruchir Sharma, Head Of Emerging Markets and Global Macro, Morgan Stanley Investment Management has dismissedall the hoopla about Prime Minister Narendra Modi's maiden visit to the United States. While the first year of the Modi government should not be judged too soon, Sharma says it is the Budget next year that will be the make or break for the government.
"All the investment talks in US will be just that. Talks and slogans. But from a domestic policy perspective, the second year beginning with the Budget will be critical for the government," he told CNBC-TV18 in an interview.
Sharma expects the rupee to depreciate to as low as Rs 70 against the dollar in the next 2-3 years. This, he says, will be beneficial for the economy. "If we want to grow by 6 percent, exports will be critical especially at a time when the global economy is weak. Hence, we need a competitive rupee for manufacturing advantage," he added.
Sharma also believes that the Sensex hitting a year-end high of 30,000 is unlikely as the global economic environment is not conducive for amarket rally.
Below is the verbatim transcript of the interview.
Q: Is the view on India spectacular today?
A: The problem withIndia currently is that you cannot find a single bear on India. From a contrarian standpoint it slightly concerns you because there is no one who has a pessimistic view within the portfolio management community at least.Everyone is very optimistic and there is a sort of blue sky scenario that this is one of the few countries where economic growth is bound to accelerate at a time when most emerging markets growth rate is still disappointing. So, the fundamentals do look quite good for India. The only problem is how much is in the price because sentiment also does seem quite extended on India on a relative basis.
Q: Do you believe that valuations are looking stretched given the fact that we have already seen such a significant rally in the markets?
A: Valuations is a very poor guide for calling market tops and bottoms and even poor guide to try and predict when a 10-20 percent correction can happen.
Q: We do have Narendra Modi in the Prime Ministers Office (PMO), he is saying the right things, whether or not the reform action has been transformational or its small bore as you call it in comparison to what Abe has been doing in Japan. Do you think that there has been enough that's been done on the policy front to continue to excite investors?
A: He is still in the honeymoon period because the research that you are referring to shows that within the first 12-18 months of a new leader coming to office generally investors are willing to give him or her the benefit of the doubt. So, it is too early to really start asking what is being done and what's not being done as yet. Also keep in mind that for the last few months I agree with you that Indian politics has played a dominant role in driving this market but there are many other factors at work which have driven the Indian market over time. One very significant factor has obviously been the state of global risk appetite and of global liquidity and I think that here there is something more concerning in fact at this stage because I know that in India we have been very much lost to the domestic political scene. Let us not forget that the Indian market over a period of time is still extremely linked to what happens globally, never before in the history of markets have markets been so high five years after recession ended. So, you have asset price inflation across the world and some of that asset price inflation has also helped India and Indian equities do well over the last five years. I agree that lot of the factors have been domestic but some of the asset price inflation has also played a role in lifting assets to a level which is somewhat disconnected from underlying economic reality. That is one big factor we have to keep in mind.
Q: When do you expect Fed to hike rates? Goldman Sachs view is Q3 of 2015.
A: It is one of those concerns which is sort of now beginning to bother the markets quite a bit because the US markets have really not made much headway over the past few months in this sort of tug of war which is going on between the bulls and the bears with a lot of people concerned that when interest rates do increase it will play a massive role in changing the investment landscape because having such low interest rates as led to asset price inflation across the world.
Q: What if the ECB were to come in with a stimulus, would that in a sense counter some of the action that the Fed is likely to take?
A: I think that is possible but it is very hard to imagine the ECB being as aggressive as the Fed was. Let us not forget that asset prices are really much higher, so this is not five years ago. When you have very low asset prices and you get a massive liquidity infusion and you also have accelerating economic growth which sort of helps the US stock market go up and also sort of lifts some other markets in its wake. As far as India is concerned, the key for India is that on a relative basis India looks good because it is one of the few emerging markets today which does not have any serious imbalances. Having said that the problem with India today is that it is hard to foresee anything going wrong. from a crisis standpoint. Growth expectations out of India have also been ratcheted up. People are talking about these linear cases now where growth will be 5.5 percent now, going to 6.5 percent, going to 7 percent and everyone's debate is that will it go to 8 percent or will it stop at 7 percent but the trajectory for everyone seems very clear. I get very concerned when the outlook is so universally optimistic. Having said that we are still overweight India and that is something which I am sticking to. However, I have to say that I am nervously optimistic about India at this stage.
Q: What makes you so nervous ?
A: I am still optimistic but my concern is that currently I am part of the herd that everyone is optimistic on India from a portfolio management standpoint. That optimism hasn't yet filtered through to other constituencies. If you look at capital flows to India outside of portfolio flows which tend to get so much attention other capital flows to India haven't really picked up. Even cross border bank lending eally haven't picked up to India and they are a fraction of what they used to be as a share of the economy back in 2006-2007.
Q: Why do you think that is the case?
A: I think that on those fronts there are many other factors at play. To have a big jump in FDI requires so much of the reality on the ground to change. To require cross border bank flows to pick up really requires the banks in the western capitals to be in much better shape than they are today to extend that kind of credit. So, in India's case the concern as I said is just about expectations, it is about no serious imbalance. If you look at the make up of the market as well it is interesting how this has changed in India in the last few months and it tells you about the nature of this economic recovery as well that it is really being led entirely by the consumer sector. So, the optimism has to do with a lot of the consumer discretionary plays doing well, a lot of the high frequency indicators are showing that it is really the consumer demand which is picking up. However, if you look at the market, if you look at the performance of the industrials, materials or some of the more investment related plays those have been fading. So, this economic recovery so far is very much being led by the consumer in India and the optimism which has come through after the election. However, on the investment front if you look at the guts of the market it is not telling you as if there is some big investment cycle here is going to begin.
Q: What is your own sense about when we should see the capex cycle turning around ?
A: This entire hope rally that we have had and this optimism is going to meet its judgement day so to speak next year. This is the typical political cycle if you look at other countries as well. When a new leader comes to power in anticipation of that new leader particularly if that leader has reform credentials the market tends to do well and in the first year you have some lift in economic sentiment and actual economic activity as well because of the positive feedback loop coming from the improved capital markets and the general improvement in confidence in the economy. So, the first year tends to be that way. It is the second year where you really get this separation.
Q: In the interim you don't really anticipate a sharp protracted correction? We might see a pullback but you are saying that wait for the assessment of this government's performance i before investors really take a long call on India?
A: Yes that is right, I think that is what will happen. The immediate risk I think comes more from global factors. I think that the risk in the next 3-6 months is more to do with global factors.
Q: Is the Fed concern over done because when the whole QE winding down debate was going on and there were huge outflows from the Indian markets anticipating that the Fed would actually act but once the winding down has taken place in an orderly fashion, we actually haven't seen too much of a dramatic decline in emerging markets particularly India?
.A: Yes but in the last few weeks as those concerns have begun to rise again, we have again seen a sense of nervousness come through. The extent of which these markets across the world and mainly in the US of course but across the world have benefited from the low interest rate regime is enormous. It is a big paradigm shift whenever interest rates go up. So, I do feel that in the next 3-6 months the more immediate risk for India comes from global factors and then after that it will swing back to focusing that okay we have seen this consumer led recovery, is this going to now translate into a broad based recovery involving the investment cycle or not and the second year investors I think will be a lot more impatient with what is going on. Currently they are willing to give the government the benefit of the doubt that they are taking their time, they are getting there act in in place, they are understanding the situation but the second year the impatience really rises.
Q: What do you think of the rupee's competitive advantage?
A: As an emerging market with a per capita income as low as ours if we want to become a manufacturing play and have a competitive advantage, we will need a very competitive rupee in the next few years. So if India is going to get to even a 6 percent economic growth rate, the role of exports will be critical and especially at a time when the global economy is very weak, what is the exchange rate will be quite important.
Q: Where do you see the rupee?
A: For now 60-62 per dollar is the range but if you ask me in three years time I think the rupee will be closer to 70against the dollar than 50. Given the inflation differentials that India still has with the rest of the world and the fact that we need a competitive exchange rate, it still makes me believe that the bias for the rupee is on the downside than on the upside. The other factor at play here is the fact that a lot of people are convinced that the dollar has finally begun a very strong uptrend and this is happening globally. So given these combination of factors, my bias on the rupee will be more for it to depreciation than to appreciate in the coming years.
Q: 70/USD over the next three years, what would that do then to for instance our oil and to our fiscal deficit?
A: Hopefully that should be taken care of because I am bearish on oil prices as well. I think as far as oil is concerned the price of oil has been artificially inflated like other asset prices by the Fed's monetary policy. If one looks at supply and demand dynamics on oil, those look pretty weak for oil, they have very good production growth coming out of US and demand with China is very weak. Infact, this year demand out of China for oil is running at zero. It is the first time that has happened in many years. China has been the single biggest contributor to oil demand in the last decade or so in terms of the incremental oil demand. So, if the price of oil goes down so this is a scenario that we can absolutely live with which is that if the rupee depreciates by 10-15 percent over three years and that the price of oil could easily be down 10-15 percent over the next three years. So I don't see that changing the math too much.
Q: PM Modi is going to be here pitching the India investment story in the US, what is it that you would like to hear from him in terms of specifics?
A: I won't say I am disappointed, I am just waiting for stuff to happen and I think that the first year it is fair for us to wait for the first year and for his visit to the US to change the needle on this is just unrealistic. I think the real make or break situation could be the budget which is that the first budget you could say that it was too early to do something major. The second budget in February to me will be very critical because by then you really are running out of any excuses for not doing something major. I would wait till then before passing any definitive judgement on how this government is doing from an economic front. I think the US visit will be more about big sounding slogans but I think anyone in the investment community knows that these things are a waste of time to pay attention on. It is good to build the profile across some key strategic partners in the world but what is going to really matter is what is going to happen on the ground. Therefore from a domestic policy perspective I think it is best to suspend judgement until the second year. The second year would really begin with the budget, it is bit short of the second year but it will begin with that, that is when you can do.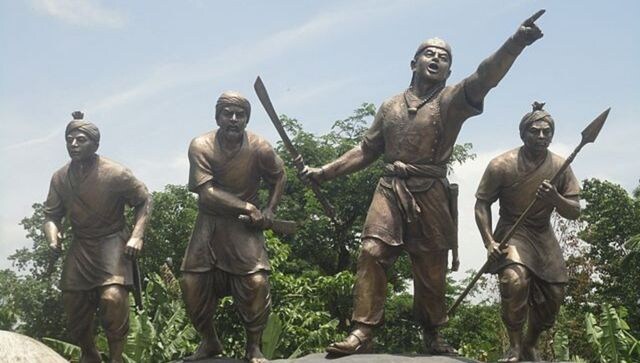 India
PM Narendra Modi will attend the valedictory function being organised in Delhi's Vigyan Bhawan on 25 November to celebrate the 400th birth anniversary of Ahom commander Lachit Barphukon. The legendary warrior is renowned for routing the Mughals in the 1671 battle of Saraighat
India
India is currently part of the G20 Troika (current, previous, and incoming G20 Presidencies) comprising Indonesia, Italy, and India. The prime minister is attending the summit at the invitation of Indonesian President Joko Widodo. Indonesia is the current chair of the G-20
Business
The 30-share BSE Sensex traded flat in early trade, marginally up by 15.81 points to 62,309.45. The broader NSE Nifty quoted 5 points higher at 18,517.75