Relief for Europe as Scotland stays put; Sterling jumps to 2-week high
British markets rallied and the rest of Europe followed suit on Friday as Scotland's decision to stay in the United Kingdom eased investors past the latest in a recent run of global political obstacles.<br />
British markets rallied and the rest of Europe followed suit on Friday as Scotland's decision to stay in the United Kingdom eased investors past the latest in a recent run of global political obstacles.
With almost all the votes in, the camp for Scotland to remain in the UK was ahead 55 percent to 45 percent, an outcome likely to bring relief to a number of countries in Europe, particularly Spain, which is facing similar secessionist pressures in Catalonia.
Sterling jumped to a two-week high against the dollar, a two-year peak against the euro, London's FTSE share index hit a two-week high and Spanish stocks and bonds as well as those in Ireland jumped.
Global stocks were already heading towards their fifth weekly gain in the last six. They have been boosted by further assurances this week that interest rates are likely to remain at record lows in many major economies.
Sentiment was also underpinned by news that Chinese internet giant Alibaba priced its IPO at $68 a share on Thursday, the top end of the expected range that raises $21.8 billion in one of the world's largest-ever stock offerings.
"I am happy today, risk is back on, everybody is happy today," said Geir Lode," Head of Global Equities for fund manager Hermes in London. "We have Scotland, Alibaba is huge, what could be better."
Scotland's vote against independence ended a fraught two weeks for markets that had seen the value of sterling fall sharply after some polls suggested the 307-year old union was on the brink of collapse.
The vote not only keeps Britain intact but also reduces the likelihood of its leaving the European Union, potentially a much greater risk for markets and something Scottish independence might well have precipitated, analysts said.
The pound's bounce against the dollar was not a large as some had predicted, hovering at $1.6469 as European trading settled. But it was stronger against other currencies, rising to a two-year high of 78.10 pence per euro and a six-year high of 180.70 yen.
The cheer spread to the rest of Europe's bourses. The euro zone's blue-chip Euro STOXX 50 index rose 0.7 percent, while Germany's DAX and France's CAC both advanced by 0.6 percent.
Spain's IBEX outperformed with a 1.3 percent rise, helped by a fall in Spanish 10-year government bond yields as markets viewed Scotland's "No" vote as having reduced prospects of a stronger push for a breakaway in Catalonia.
"For the markets in general, the Scottish result is probably the best outcome because the 'Yes' vote winning was really not priced in and that could have caused chaos, with contagion to Europe," said Clairinvest fund manager Ion-Marc Valahu.
YEN FLOOR, NIKKEI ROAR
In Asia, MSCI's broadest index of Asia-Pacific shares outside Japan added about 0.2 percent, supported by Wall Street's strong showing overnight after Alibaba's IPO bonanza, though the region was still on track for a weekly loss of about 1.4 percent.
Japan's Nikkei stock average ended up 1.6 percent at a seven-year closing high, giving it a 2.3 percent gain for the week. Shares got a tailwind from a weaker currency as the dollar pushed to a new six-year high of 109.46 yen and as Prime Minister Shinzo Abe said he aims to carry out as soon as possible reform of the country's $1.2 trillion public fund.
The dollar index, which tracks the currency against a basket of six peers, stood at 84.333, edging up on the day after it climbed as high as 84.743 on Thursday, its strongest level in more than four years.
The euro shed about 0.1 percent to $1.2906 after hitting a 14-month low on Thursday, when it fell as low as $1.2834.
Risk sentiment seemed unruffled by geopolitical clouds on the horizon. The U.S. Senate on Thursday approved a bill requested by President Barack Obama to arm and train moderate Syrian rebels fighting Islamic State militants, while tensions continued to rumble between Ukraine and Russia.
Among commodities, Brent crude held below $98 a barrel, but was set for its first weekly gain in three on the possibility of lower OPEC output. Brent edged down to $97.63 a barrel, while U.S. crude slipped slightly to $92.94.
Traditional safe-haven gold inched lower to $1,224.40 an ounce after touching $1,216.01 in the previous session, its lowest since Jan. 2. Copper was also limping toward a fourth straight week in the red, hurt by concerns over slowing economic growth in top consumer China.
Reuters
Sports
Robertson said he was "absolutely delighted" and honoured to have been recognised and awarded this honour for his work in Kashmir.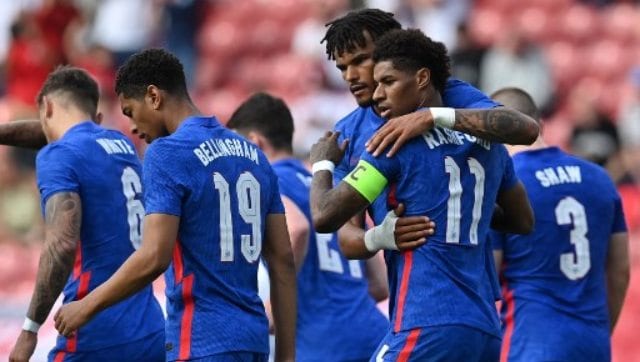 Sports
England, Scotland and Wales — the British sides taking part in Euro 2020, could potentially reach the quarter-final held in Munich on 2 July.
World
The new guidelines, which will be effection from 21 June, seek to streamline the whole process of procurement, distribution and right up to the beneficiaries of the vaccines