There are many arguments on the prices of cigarettes in India. Many will tell you that cigarettes cost many times more in the UK, in the US, in Europe, why, even in Afghanistan, when compared to prices in India.
Cigaretteprices.net would be a resource that those who argue that cigarettes in India are underpriced would love. "At Cigaretteprices.net you can find international cigarette prices from all over the world. The prices are for a 20 piece pack of Marlboro (taxes included). Usually the price of similar brands like Camel, Pall Mall, Winston, Prince, Lucky Strike and Chesterfield are about the same," the site says.
And if you spend some time on the site, you would see that in Cyprus, for example, a packet of Marlboro would cost you the equivalent of US$ 6. In France, it would be US$ 8.5. In Thailand, it would be US$2.5. In comparison, in India, it is about US$1.9.
Based on this, you would agree that finance minister P Chidambaram is correct when he raises taxes on cigarettes, right?
Wrong.
Because this is no way to measure the affordability of cigarettes.
BusinessInsider gets it right, not PC.
Here's what BI says (article continues below graphic):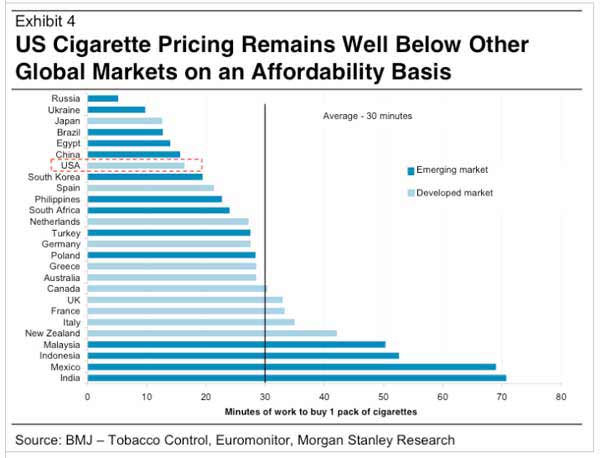 What BI does is to calculate how long a citizen of a country has to work in order to earn enough to buy a packet of cigarettes. Seen through this lens, Russia is the cheapest, where you can buy a packet with about 7 minutes of your earnings. The USA is still cheap - you have to work for about 16 minutes. The global average? About 30 minutes of work for a packet of cigarettes.
And what about India, you wonder? Look at the bottom of the chart, and there, sadly, you see India. We need to work 10 times more than the Russian, about 4.5 times more than the American, twice as hard as an Italian or a Frenchman.
That's the real picture, Mr. Chidambaram.
Updated Date: Dec 20, 2014 16:20 PM