Not-so-haute luxury retail fails to hook India's elite
An economy growing at nearly 9 percent has spawned more than 200,000 millionaires. But expensive luxury goods are still to find takers. The reasons range from steep import duties to inadequate infrastructure to regulatory hurdles.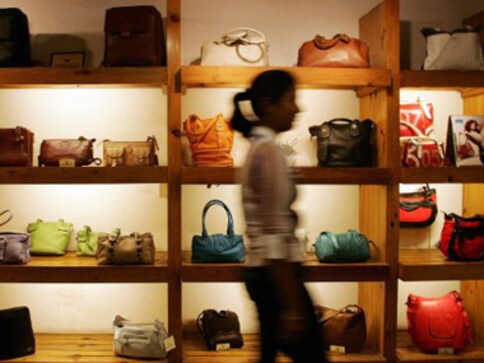 Mumbai: When Nita Ambani went shopping for 25,000 pieces of high-end Japanese crockery, she did not go to the Noritake store in her posh neighbourhood of southern Mumbai.Instead, the wife of richest man in India, called a Noritake store in Sri Lanka, where the upscale dinnerware for her new $1 billion home would be far cheaper.
Ambani's decision illustrates why India's growing number of wealthy consumers has not translated into riches for luxury retailers such as Louis Vuitton Moet Hennessey(LVMH) or Prada despite what, on the face of it, looks like a no-brainer.
An economy growing at nearly 9 percent has spurred more than 200,000 millionaires, trailing only the United States and China.The total net worth of "ultra" high net worth individuals - defined by net worth of more than $5 million - is $1 trillion and is expected to surpass $5 trillion by 2016.
Yet India accounts for only half a percent of the global luxury market, at around $846 million. Greater China, on the other hand, accounts for 10 percent of the global market at $17 billion.
Trying to sell expensive chic in India faces several challenges: steep import duties of up to 30 percent, inadequate luxury retail infrastructure, real estate regulations and aclientlethat prefers to buy its luxury overseas for reasons of cash and cachet.
"India is a tough market, the system is laborious," Gayatri Ruia, Development Director of Palladium in Mumbai, a mall that houses several brands, including luxury and premium."And the Indian spending pattern is different. In Japan or China, even an entry-level secretary would not be seen without a Louis Vuitton bag."
Wealthy Indians are not opposed to spending money on expensive goods, as can be seen in the proliferation of Porsches and other high-end cars in Indian cities. But a rich businessman driving an expensive foreign car may not spend lavishly on luxury branded suits, for example, Ruia said. "The average Indian wealthy person sees no value in branded goods. The few who do are in the habit of shopping while vacationing abroad."
Signs are that this will not change soon. The Indian luxury market is expected to grow at an average of 5-10 percent between now and 2013, compared with a robust 25-30 percent forecast for China, according to consulting and research firm Bain & Co.
Retail Infrastructure
Part of the problem is providing the Indian consumer with a luxury shopping experience in a country where streets are strewn with garbage and squalid slums sit across from posh mansions.
Luxury retailers are attempting to get around this by selling their wares out of five-star hotels, international airports and malls built exclusively to sell designer labels.But only two luxury malls have been built so far - one in the capital of New Delhi and the other in Bangalore.
Mumbai, home to some of India's richest, including the billionaire Ambani brothers and Bollywood actors, does not have a single dedicated luxury mall like those littering China, Singapore and Western capitals.
"The challenge is infrastructure. Luxury requires an ecosystem," Anand Ramanathan, manager at KPMG Advisory, said.
"It's pointless having a luxury mall on a road that is potholed. Even the so-called 'luxury malls' in India are not really luxury. They have issues with basic infrastructure, with training of staff, it's just not a luxury experience."
India's first stand-alone luxury retail store opened in July, a 3,000 square-feet store for France's Hermes that has an art gallery on the second floor and a glass elevator to travel the two floors.
"There is no need for this two-speed network of shops," said Bertrand Michaud, president of Hermes India. "We have to be on the street, not in hotels. And we have to offer what is offered overseas," Michaud told Reuters in an interview at the opening of the flagship Hermes store in Mumbai.
The problem is, most of India's rich prefer buying their luxury abroad."This is partly because, unlike in the west, even the rich Indian is a price-conscious one," said Shobhaa De, Indian newspaper columnist, socialite and novelist.
With import duties of up to 30 percent, luxury goods are often far cheaper outside India.
"Also, the variety is much more overseas, the service is much better, the whole experience is much nicer," said De, whose daughters shop for their luxury mostly outside India.
In a recent popular Bollywood movie titled Zindagi Na Milegi Dobara, a lead character asks his friend living in Europe to buy the Hermes Ostrich Kelly bag worth 12,000 euros ($17,000) as a gift for hisfiancein India, reflecting the limited variety in Asia's third largest economy.
Several Bollywood actors have been detained by customs at Indian airports in recent months, allegedly flying in with undeclared branded accessories bought overseas and having to pay thousands of dollars in duties before being released.
"It's a chicken and egg situation," said Ruia. "Variety is limited because franchisees see that business is slow, so they have to be tentative when buying their merchandising. And business is slow partly because variety is limited," Ruia said.
Continues on the next page
Taxes Bureaucracy
Those doing business in India face steep import duties, scarce and costly real estate, a 51 percent foreign ownership cap in single-brand retail and other bureaucracy, only to find few customers after jumping through the loops.
The storied Taj Mahal hotel in the nation's financial capital has a Louis Vuitton store that houses its signature bags. The hotel also has a Dior store, which sells pret-a-porter dresses that start at around $5,000 and bags that kick off at $2,500. On a recent visit, the stores were mostly empty of customers except for the occasional curious tourist.
Many international luxury brands are loss-making in India, including Hermes, which hopes to break even in a year.
"It's difficult, it's frustrating, to do business here," Michaud said. "Real estate regulations, bureaucracy, it takes years to set up office, the goods sit at customs for months. I wish they would make it easier."
Most luxury brands have many more stores in China than they do in India. Louis Vuitton has 35 stores in China but only three in India."The key challenge for global brands is figuring out how to get access to the Indian consumer," Claudia D'Arpizio, a Bain & Company partner in Milan said.
"China's infrastructure is more developed than India's, with a variety of luxury malls," D'Arpizio said. "The brands that are mastering the market are those that are staying close to consumers, evolving with them, and offering a customised retail experience and merchandise selection."
Local Tastes
In an effort to conquer at least that hurdle, some luxury retailers are now tailoring their offerings to an Indian market where ethnic dress and jewellery is the norm at most formal events.
Hermes, for one, plans to launch saris in October, Michaud told Reuters. The saris will be made in Paris and cost above $2,000 each. A matching blouse could be made to measure in Mumbai at an additional cost.
"If you want to succeed in India, you have to be part of the Indian life," Michaud told Reuters.Italian luxury retailer Bottega Veneta, a unit of PPR, recently launched its limited-edition "Knot India" clutch, which blends conventional embroidery with a signature Bottega weave and has "India" embossed on a sterling plate inside, just below "Made in Italy."
Italian luxury men's fashion brand Canali has designed a "bandhgala" (closed neck) jacket specifically for the Indian market, inspired by jackets worn by India's first prime minister, Jawaharlal Nehru.
"Clients love such products for two reasons: one is the cultural connect and second is the special feeling of owning something not available anywhere else in the world," said Sanjay Kapoor, managing director of Genesis Luxury, which markets brands such as Jimmy Choo, Canali and Bottega Veneta in India.
"A limited edition 'India-specific' product. The trend is growing and more brands are jumping on this customized product bandwagon," Kapoor said.
Louis Vuitton Moet Hennessey's private equity arm in Asia, L Capital, in July bought a 25.5 percent stake in Genesis Luxury.
Jewellery Market driven by Weddings
The luxury jewellery market is dominated by local names in India, where a prosperous business community prefers gold and ethnic designs to platinum and diamonds.
A glance through the Indian edition of Vogue magazine shows several advertisements for luxury watches, but international fashion, accessories and jewellery are conspicuously absent.
A single ad for Cartier has the photo of an exquisite piece of jewellery with an overseas phone number. The French chain has only one jewellery boutique in India.
American luxury jeweller Tiffany & Co, known for its little blue box, has no boutiques in India, but told Reuters it plans to open its first store in the country soon.
"Weddings are a big part of jewellery purchase," Laxman Narasimhan, director of McKinsey & Co, said, adding that weddings accounted for 50 percent of the Indian jewellery market.
Indian weddings require big, chunky, gold jewellery, aimed at impressing - and outdoing - relatives."If you had a product that didn't really reflect the 50 percent, it's not going to sell as much," said Narasimhan, who runs McKinsey's emerging markets consumer insights group.
Still, optimism remains. Luxury is aspirational, and an entire generation growing up looking at Gucci bags or Jimmy Choo pumps would want to buy them when they are working adults, Ruia said.
"An 18-year-old buying Mango, will want to buy Armani when she's 24, but she needs to see it when she goes shopping at 18," Ruia said. "The current generation of Indian adults didn't have that."
Reuters
Lifestyle
These unique sensorial serves have been curated as a part of Glenfiddich's recent 'Glenfiddich Experiments with Tea' campaign for whisky enthusiasts
Arts & Culture
While sustainable practices are catching up like never before in the fashion industry, fashion designers weigh in on what is its impact on the brands
Entertainment
India is the "Country of Honour" at Cannes film market. R. Madhavan, Nawazuddin Siddiqui, Vani Tripathi, Rickey Kej, Prasoon Joshi and Shekhar Kapur are a part of Indian delegation led by Union Minister for Information and Broadcasting Anurag Thakur