No lollipop for FM: Subbarao cuts CRR, not repo
The RBI Governor has cut CRR to address liquidity concerns and not cut the repo rate. This means the FM has to work harder on fiscal deficits.
In the eyeball-to-eyeball game of nerves between P Chidambaram and D Subbarao, the latter has managed to hold his own. He declined to blink.
The Reserve Bank Governor has chosen to give Chidambaram a consolation prize of easier money through a cut in the cash reserve ratio (CRR) instead of the repo cut that the finance minister was angling for.
In the second quarter review of monetary policy announced today, the Governor unveiled a 25 basis points cut in CRR (100 basis points equal 1 percent), which is the money banks have to keep frozen with the RBI. This cut, from 4.5 percent to 4.25 percent, will free Rs 17,500 crore of liquidity and enable banks to cut rates. Over a year, this increase in primary liquidity could bloat four times as this money works its way through the system, creating even more liquidity.
Subbarao chose to do a CRR cut rather than a repo cut because the latter would have been a signal that inflation is coming under control and the focus must now shift to growth. A CRR cut also helps banks more, since this brings down the cost of funds at a time when bad loans are soaring.
Clues to what Subbarao had in mind were available even yesterday, when the RBI put out its macroeconomic analysis and hinted that it would be willing to yield on rates only later. It said: "As macro-risks from inflation and twin deficits (i.e. the budget and current account) recede further, that could yield space down the line for monetary policy to respond more effectively to growth concerns."
Down-the-line could mean only on 29 January, when the third quarter monetary policy review is due.
Chidambaram may be a disappointed man since he had tried his best to force the RBI's hand yesterday when he suddenly announced a five-year fiscal consolidation roadmap under which this year's fiscal deficit will somehow be brought down to 5.3 percent (against 5.1 percent pencilled in by Pranab Mukherjee and the 5.7-6 percent range in which other economic think-tanks have forecast the number).
Chidambaram announced no new plan to cut subsidies or increase revenues, but still claimed that his fiscal deficit would keep coming down. He projected 4.8 in 2013-14 (which is the pre-election budget year), followed by 4.2 percent, 3.6 percent and 3 percent in the years after that.
The only way these numbers can be achieved is if growth magically revives in the final quarter of this year and the acceleration continues in 2013-14 - which could well happen, since governments ensure that growth does not falter in an election year. However, there is no guarantee that inflation will be under control, since election years also mean more spending and above-normal increases in minimum support prices for foodgrains.
If we assume that fuel price increases are still to be passed on, and the same is the case with food and fertiliser subsidies, the subsidy bill is going to bloat like crazy this year and the next - unless global growth just collapses and brings oil prices crashing. This will help cut down on fuel subsidies - but at the cost of a further slowdown in exports and foreign exchange inflows.
Today's monetary policy suggests that Subbarao is willing to make encouraging noises to goad Chidambaram into further fiscal rectitude, but has been unwilling to give him his main prize: a repo cut.
Subbarao justified his CRR cut as an effort to address the problem of systemic liquidity which has been exacerbated by the drainage of funds in this prolonged festival season that will continue till mid-November. The CRR cut is effective from 3 November.
But the Governor has warned that inflation continues to engage his attention. He said: "It is important, however, to note that inflation turned up again in September. To some extent, this reflected the partial pass-through of revisions of diesel and electricity prices which, notwithstanding their contribution to inflation, were absolutely necessary. Besides, underlying inflationary pressures reflected in non-food manufactured products inflation has remained stubbornly above comfort levels. Accordingly, it is critical that even as the monetary policy stance shifts further towards addressing growth risks, the objective of containing inflation and anchoring inflation expectations is not de-emphasised."
His goals thus remain the same as before: to address liquidity concerns, and to focus on inflation till it shows signs of a sustained moderation.
But his forecast suggests that this may not happen anytime soon. The RBI has raised its inflation target for March 2013 to 7.5 percent from the 7 percent it had indicated in July. It has also again chosen to cut its GDP growth forecast: from 7.3 percent in April the projection was brought down to 6.8 percent in July, and the current projection is 5.8 percent in 2012-13.
In short, even though growth continues to taper off, the RBI will stick to its tight money policy - at least in terms of the signalling rate, the repo.
The underlying message Subbarao is sending to Chidambaram is this: you made a good start with fiscal correction. If you continue, I could help you more.
But the subtext is more guarded: it's difficult to believe you are going to do more, even though you have announced a fiscal roadmap for five years.
So, let's wait-and-watch.
Find latest and upcoming tech gadgets online on Tech2 Gadgets. Get technology news, gadgets reviews & ratings. Popular gadgets including laptop, tablet and mobile specifications, features, prices, comparison.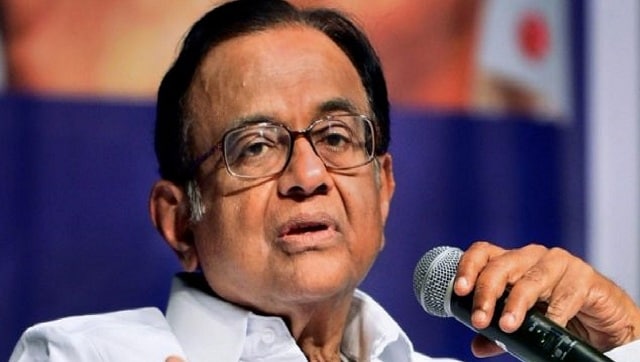 India
The former finance minister's remark comes a day after telecom company Bharti Airtel posted a net loss of Rs 15,933 cr in the first quarter of FY 2020-21
India
The Jammu and Kashmir administration Wednesday told the Supreme Court court that "the senior Congress leader Saifuddin Soz is neither detained nor put under house arrest after abrogation of Article 370"
India
Karti Chidambaram, the son of senior Congress leader P Chidambaram, represents Tamil Nadu's Sivaganga in the Lok Sabha