Food, water and energy security rank among the top priorities for India's economy today. All three are also highly politically-sensitive issues.
Recently, a decision by state-run oil marketing companies to raise petrol prices for the second time in two months caused such discontent among the government's own allies, opposition parties and the public that now it seems the price hike might be rolled back to some extent. Petrol prices have been hiked 13 times since the fuel's prices were deregulated in 2010.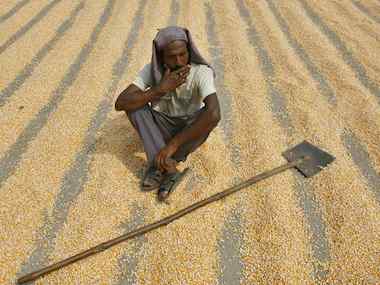 Yet, political pressures on pricing decisions on sensitive commodities such as food, water and energy don't improve the supply of these commodities, which is at the heart of the matter.
So, what can be done then? In a panel discussion on the "Water, Food and Energy Nexus" at the World Economic Forum (WEF) India Summit being held in Mumbai, experts said three things need to be done if India is serious about resolving its resource problems.
One, government planning has to become more decentralised. Currently, a lot of key decisions on and resources and finances are made at the central government level, which fail to consider the needs of the people for whom these resources are meant.
Two, for the sake of improving food security in particular, cropping patterns need to change in India. That was the view of at least one panelist -- Suresh Prabhu, chairperson, Council on Environment, Energy and Water for India. Other experts also noted that poor planning had led to agriculture's contribution to GDP falling to 18 percent from 30 percent two decades ago.
Chengal Reddy, co-chairman of the Indian Farmers and Industries Alliance, noted that liberalisation and reforms, which gave wings to the industrial and services sectors, had still not touched the farming sector. Even today, farmers don't have facilities to store, market, process and export most of their produce. That situation needs to change if India aims to improve its food security.
Most panelists also thought biofuels were not an easy fix for India's energy solutions. Nitin Paranjpe, chief executive officer and managing director of Hindustan Unilever, pointed out that while everyone is talking about renewable energy, the fact is that if India shifts to biofuel for transport, it will typically need 50-10 percent more water and land than it uses now.
Three, consumer awareness needs to be raised. People need to be aware of their consumption, especially of water and electricity. The panelists thought that subsidies, in general, had to be done away with, and consumers had to made more aware of how many units of water and power they actually consume.
A farmer who consumes free electricity, for instance, will never feel the need to use it sparingly. That, in turn, causes wastage of power, which could have been used for more productive purposes.
All in all, there are no easy solutions to India's food, energy and water problems. the panel discussion concluded.
Long-term planning and thinking are needed to improve supplies. But governments, which always have one eye on elections, are not always the best long-term planners. So, more often than not, the economy tends to stumble through one short fix to another.
Will this government listen to what the WEF experts are saying? Don't hold your breath.
Updated Date: Dec 20, 2014 07:05 AM