Jairam to Jayanti-bashing: Why India's path to progress is antiquated
The decibel level of protests against the restrictions being placed on acquisition of land and clearance of major projects by the MoEF has notched up, with three Congress govts seeking a review of such laws
By Darryl D'Monte
The decibel level of protests against the restrictions being placed on acquisition of land and clearance of major projects by the Ministry of Environment and Forests (MoEF) has notched up, with three Congress governments seeking a review of such laws.
This follows close on the heels of the characterisation by the media of Jayanti Natarajan's ministry, and that of her predecessor Jairam Ramesh, as the "Green Terror" stalking the country. Indian Express columnist Tavleen Singh has even titled an October 14 piece "A ministry that needs to die".
The irony is that it was due to opposition by industry captains, along with top politicians of every party - nowadays, as scam after scam reveals, the two often morph into the same entity - that Ramesh was removed and a more amenable Natarajan put her in place to ease the passage of clearances.
While Ramesh as Rural Development Minister has now resisted diluting the provisions of the land acquisition bill, Natarajan has opposed the proposed National Investment Board which would short-circuit green hurdles.
Maharashtra, Haryana and Uttarakhand have written to Natarajan, asking her to review her orders regarding key infrastructure projects. The head of the Uttarakhand Forest Development Corporation has even referred to her whimsical "Tughlaqi" diktats.
These states are up in arms about the MoEF's permission for leasing more than five hectares for extracting "minor minerals" which, Haryana claims, has held up road and railway projects. Chief Minister Bhupinder Singh Hooda has complained to Natarajan that due to this ban, the cost of materials like stone, boulders, gravel and sand has risen appreciably and halted these projects in their tracks.
Natarajan, for her part, has cited how this is in consonance with Supreme Court orders from which alone relief can be sought. However, it should be apparent to everyone that the scams over coalgate and mining in Karnataka and Goa is sufficient proof of the venality of politicians, aided by corrupt industrialists and bureaucrats, when it comes to mining natural resources.
The states - with Maharashtra obviously leading the pack - are also agitated over the minimum 15-metre width of roads required for high-rises between 15 and 30 metres high, and correspondingly wider as buildings go taller. Prithiviraj Chouhan has argued that in a space-starved city like Mumbai, this will amount to a ban on new high-rises. The CM seems to forget that he, like his predecessors, has been arguing for making Mumbai a "world-class" city, on the lines of Singapore, Hong Kong and, most recently, Shanghai.
He is blissfully ignorant of the fact that planners lay down norms for skyscrapers in developed cities and they can scarcely lie cheek by jowl, as they do in Mumbai. Fortunately, the CM isn't pursuing the chimera of rehousing slum dwellers in high-rises, as his predecessors intended. Apart from not obtaining the consent of 70 percent of a slum's residents, costs also escalate with height.
Natarajan is also being pilloried for requiring "repeated" public hearings for coal mining where output has been enhanced through improved know-how. Even setting aside the corruption surrounding coal, the resort to public hearings is a sine qua non whenever and wherever big infrastructure and other projects are planned.
It is hardly a secret that officials only go through the motions of holding such hearings, with no sympathy for the spirit of these procedures. On occasion, as in hearings over the 21-km-long Trans-Harbour Sea Link in Mumbai, politicians pack the halls with their rowdy supporters who heckle environmentalists when they try to spell out their opposition.
In general, vested interests in both the private and public sector view the MoEF - as in India Today's "Green Terror" October 15 cover story, referring to Ramesh's and Jayanti Natrajan's tenure - as the "single biggest stumbling block in India's history".
Nearly 180 coal blocks are awaiting clearance, while 28,770 hectares of forest land are required to be diverted for roads, steel plants and defence projects. The central government is targeting a staggering $1 trillion investment in infrastructure by 2017. Opponents are also upset about the dismissal of the expert committee headed by eminent environmentalist Madhav Gadgil on the eco-sensitive western ghats, one of the only two biodiversity endangered "hot spots" in the country - for recommending "no/no go" mining zones in this tract.
It is nothing short of abysmal that 65 years after independence, such interests, which are politically dominant in all the major parties barring the left, are of the view that the path to prosperity is built on such projects. Neo-liberals argue that the share in GDP of the subsidies for fuel, food, fertilizer and employment programmes increased by nearly one percentage point in the first term of the UPA government and, far from delivering welfare, have led to a widespread leakage of funds. If anything, it is precisely these schemes which have kept the wolf from the door for countless millions.
It should be apparent to all but the most myopic is that these decades have failed to deliver development to the majority, even recently when growth rates have hovered near double digits. Indeed, the history of this country is replete with sordid sagas of those millions who were displaced in the name of progress - some, more than once in their lifetimes.
According to the National Sample Survey Organisation, half the rural population spent less than Rs 35 a day in 2011-12. The clinching evidence is that even earlier under the much-abhorred "licence-permit raj", which is now sought to be dismantled, the acquisition of land has worked against the small owners and tillers of farm land.
This is why the Naxalite movement has reared its head in 83 districts out of the total 640 in the country. The late activist Baba Amte once told this writer that these central districts were the "cummerbund" of India: the waist where much of the country's mineral and timber resources were located. Let in more Vedantas and others of its ilk into this swathe and the poorest of the poor will take up arms to resist dispossession.
Darryl D'Monte is the Chairperson, Forum of Environmental Journalists of India (FEJI). He can be reached at darryldmonte@gmail.com
Find latest and upcoming tech gadgets online on Tech2 Gadgets. Get technology news, gadgets reviews & ratings. Popular gadgets including laptop, tablet and mobile specifications, features, prices, comparison.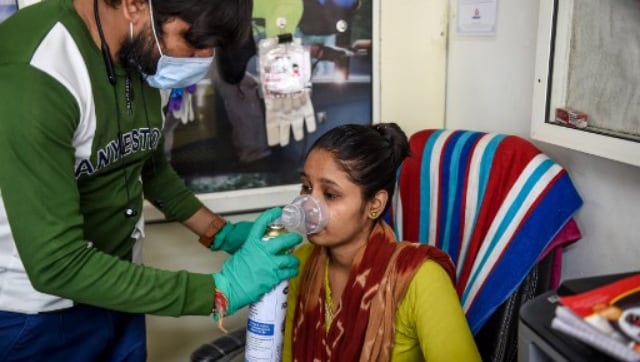 India
With India consistently reporting over 90,000 daily cases of COVID-19 in the past few days, shortages of oxygen are becoming increasingly apparent
World
The Chinese Communist Party has rejected international criticism of the internment camps in Xinjiang and has described them as job-training centres that are necessary to fight Islamic extremism
Politics
The legislation will be brought in to replace four ordinances — three related to the farm sector and the amendment to the Banking Regulation Act