India's Mars mission cost less than movie Gravity: Modi's speech at PSLV-C23 launch
Prime Minister Narendra Modi on Monday witnessed the launch of Isro's PSLV C-23 rocket, at the Satish Dhawan space centre in Sriharikota. The indigenous PSLV-C23 rocket is carrying satellites of France, Germany, Canada and Singapore<br />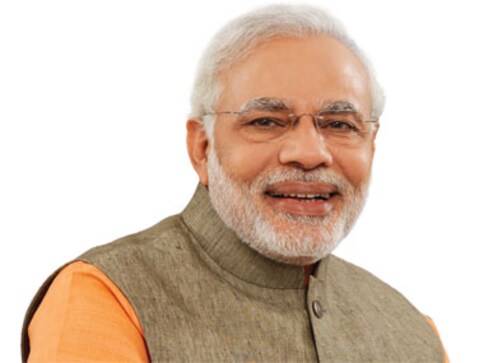 Prime Minister Narendra Modi on Monday witnessed the launch of Isro's PSLV C-23 rocket, at the Satish Dhawan space centre in Sriharikota. The indigenous PSLV-C23 rocket is carrying satellites of France, Germany, Canada and Singapore
The following is the full speech of the Prime Minister at the launch of PSLV-C23 on June 30, 2014:
My congratulations to our brilliant space scientists, and the Department of Space; for yet another successful launch of the Polar Satellite Launch Vehicle! We have perfectly placed 5 satellites into their orbits 660 km above the Earth.
This fills every Indian's heart with pride. And I can see it reflected in the joy and satisfaction on your faces..
Fascinated by Space Technology, I feel specially privileged to witness this event in person.
India's advanced space programme puts her in an elite global group of 5-6 countries today. This is one domain, in which we are at the international cutting edge, a domain in which we have pushed beyond mediocrity to achieve excellence.
We have launched satellites of advanced nations. PSLV itself has launched 67 satellites; of which 40 have been foreign satellites, coming from 19 countries. Even today's satellites, are all from developed nations - France, Canada, Germany and Singapore. Truly, this is a global endorsement of India's space capabilities.
Inspired by Atal ji's vision, we have sent a mission to the Moon. Another is on its way to Mars as we speak. I personally follow it with great interest. We have also developed our own satellite-based navigation system. I am told this will be fully deployed by 2015.
Moreover, we can be proud that our space program is indigenous. We have developed it despite international hurdles.
Generations of our space scientists have worked to make India a self-reliant space power. We owe them a big thank you.
Our journey into space has come a long way from its humble beginnings. It has been a journey of many constraints and resource limitations. I have seen photographs of rocket cones being transported on bicycles. Our first satellite, Aryabhatta, was made in industrial sheds in Bangalore.
Even today, our program stands out as the most cost effective in the world. The story of our Mars Mission costing less than the Hollywood movie Gravity, had gone viral on social media recently. Our scientists have shown the world, a new paradigm of Frugal Engineering, and the power of Imagination. Friends, this success of ours has deep historical roots.
India has a rich heritage of science and technology, including in the field of space. An understanding of the cosmos, and its relationship to Life and Science; is deeply rooted in our ancient thought and knowledge. Our ancestors had conceived of ideas like 'Shunya' and 'flying objects', long before others. The works of visionaries like Bhaskaracharya and Aryabhata, continue to inspire scientists.
Many misunderstand space technology to be for the elite. That it has nothing to do with the common man. I however believe, such technology is fundamentally connected with the common man. As a change agent, it can empower and connect, to transform his life. Technology opens up new opportunities of development and gives us new ways of addressing our challenges.
Space may seem distant, but is an integral part of our daily life today. It drives our modern communication, connecting even the remotest family to the mainstream. It empowers the child in the farthest village with quality education, through Long-distance Learning. It ensures quality healthcare to the most distant person, through Tele-medicine. It enables the youth in a small town, with various new job opportunities. Satellite technology has made distance irrelevant. It effectively enables us to reach the unreached. It helps us connect virtually, where physical connections are difficult.
It has a critical role, in realizing the vision of a Digital India - the power of 125 crore connected Indians.
GIS technology has transformed policy planning, and implementation. Space imaging enables modern management, and conservation of water resources - through GIS-driven watershed development. It has been deployed in our urban planning, to scientifically manage our growing towns and cities. It has also become an important tool, in better managing, and conserving our natural resources.
Whether it be the Himalayan glaciers, oceans and forests, coastal resources or our mineral wealth. Space imagery is improving our land management systems, bringing wasteland into productive use. Our next frontier, should be to extend the same to land records, bringing in accuracy and transparency for the common man.
Space technology has also evolved into an invaluable asset in disaster management. Satellite communication channels, often end up being the only mode of communication. Accurate advanced warning, and tracking of Cyclone Phailin, saved countless lives recently.
We must as a nation, fully harness this expertise in space technology, in our developmental process. For social change, economic development, and resource conservation. The possibilities are limitless. The benefits enormous. I urge the Department of Space, to proactively engage with all stakeholders, to maximize the use of space science in Governance and Development. Deepening of State involvement will be critical for the same.
Friends, India is rooted in our age-old ethos of Vasudeiva Kutumbakam. Of the whole world being one family. India's space programmee is thus driven by a vision of service to humanity. Not by a desire of power. For us, it is an important instrument of our human progress.
We must therefore, share the fruits of our technological advancement, with those who do not enjoy the same. The developing world and our neighbours in particular. We already share Disaster Management data with over 30 countries. We provide benefits of Tele medicine to Afghanistan and African countries. But we must do more!
Today, I ask our Space community, to take up the challenge, of developing a SAARC Satellite - that we can dedicated to our neighbourhood, as a gift from India. A satellite, that provides a full range of applications and services, to all our neighbours. I also ask you, to enlarge the footprint of our satellite-based navigation system, to cover all of South Asia.
Friends, continued progress in space must remain a national mission. We must keep enhancing our space capabilities. We must develop more advanced satellites; with higher computing, imaging and transmitting power. We must expand our satellite footprint, in terms of frequency and quality. We must also strengthen our international partnerships in all areas of Space technology.
India has the potential, to be the launch service provider of the world. We must work towards this goal. Construct the required new launch infrastructure. And extend our launching capabilities to heavier satellites.
Development of human resources, will be critical for our future success. I was very pleased to meet our young scientists here. I admire their work and their achievements. Let us link up with more universities and colleges, to develop our future leaders in this area. We must also involve our youth at large, with Space.
You have already started putting a lot of space-related data online, through your Bhuvan space portal. What steps can we take to further increase access to data, by students and researchers? Let us use Social Media to further engage with our youth. Let us invite school and college children, to witness launches and visit Space centres. Could we also think of developing, a state-of-the-art, interactive, digital Space Museum?
In conclusion, I want to emphasize how Technology is central to Development. It touches one and all, and is an important instrument of our national progress.
India's Space program is a perfect example of my vision of Scale, Speed and Skill. Our Space scientists have made us global leaders, in one of the most complex areas of modern technology. This shows that we can be the best. If we apply ourselves, we can meet the aspirations of our people.
Let us take inspiration from today's mission. Dedicate ourselves to accelerate our nation's progress. I am confident We Can!
I thank the Department of Space, for this opportunity to witness the launch. I commend Dr. K. Radhakrishnan for his leadership. I wish the team the very best, as you prepare to put our spacecraft into the Mars Orbit, in a few months from now. I wish you every success, as you strive to master new technologies, and conquer new frontiers of Space. May all your endeavours meet with success!
also read
Investing
India is substantially under invested in healthcare as it has only six percent of the world's bed vs 17 percent of the world's population, far below the world average.
Life
A growing number of Indians belonging to upper middle class families are opting for foreign holidays this summer, drawn by online travel portals, social media references and wooed by aggressive marketing by tour operators, says an Assocham survey.