Fall in retail inflation offers big relief to India: Assocham
Retail inflation fell to 30-month low of 7.31 percent mainly on account of lower price rise of food items including vegetables, cereals and meat.<br />
New Delhi: Expressing relief at retail inflation falling to a 30-month low in June, industry body Assocham has suggested a slew of steps like scrapping of APMC Act and encouraging private sector investments in back-end infrastructure to bring down prices further.
Retail inflation fell to 30-month low of 7.31 percent mainly on account of lower price rise of food items including vegetables, cereals and meat.
"Indications that growth in the retail prices is moderating offers a big relief to the nation and its policy makers," Assocham Secretary General D S Rawat said.
"Existence of numerous tiers of agents in the consumer product distribution results in higher retail inflation. This leads to wage-price spiral, rising nominal wages, supply constraints especially in infrastructure and demand-supply imbalances in various regions which push the retail prices higher," he added.
The retail inflation, measured on consumer price index (CPI), was 8.28 percent in May. It was lowest at 7.65 percent in January 2012 when government started releasing the data in percentage terms.
The industry chamber suggested that the government needs to come out with a definite time-bound roadmap for improving the management of supply of consumer products.
This includes measures like scrapping of the Agriculture Produce Marketing Committee (APMC) Act allowing farmers to sell their produce freely; slashing taxes and commissions on primary products related to agriculture, forestry and fishing at both Centre and States; encouraging private sector to invest in back-end to streamline value chains; and utilising rural development schemes to create productive infrastructure.
During the month, the vegetable prices were down to 8.73 percent as against 15.27 percent in May. Prices of cereals and its products came cheaper with rate of price rise at 7.6 percent as against 8.81 percent a month ago.
Likewise, the rate of price rise for egg, fish and meat remained at 8.27 percent in June, lower than 10.11 percent in May this year.
The rate of price rise in milk and milk products also remained at 11.06 percent, slightly lower than 11.28 percent in May, showed the data.
PTI
India
While the decision was made in light of COVID-19, it has not been reviewed despite repeated demands of senior citizens as the country opened up once again after the pandemic, Viswam said
Business
CII estimates India's GDP growth to be in the band of 7.4 - 8.2 per cent, depending upon the global oil prices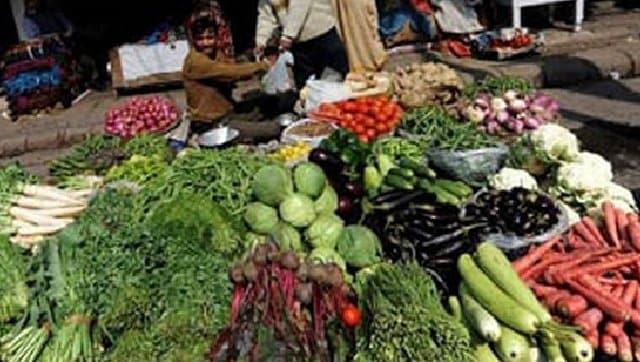 Business
The WPI-based inflation was 14.55 per cent in March and 10.74 per cent in April last year