Expats, read this for your own good
Indian diplomatic missions in the Gulf countries have pulled up their socks and ironed out the warts in the system despite the fact that the number of expatriates has been consistently going up.
There is good news for 6.5 million Indian expatriates in the Gulf, a large number of whom are blue collar workers.
Before we elaborate how, consider the two following scenarios - both apparently contradictory and portrayed by a senior Indian diplomat on record; but thereby hangs a tale.
Scenario 1
Some 250 Punjabi workers went to a Gulf country not too long ago on the promise that they will work in an American camp, live in air-conditioned comfort, have pizzas and burgers for lunch and dinner and will have a salary of thousand dollars.
When they landed in that country they found there was no American camp; they were working on a construction site with the outside temperature at 55 degree celsius and their salary was just 400 dollars. The reason: agents on both sides had eaten into the labourers' humble pie by swallowing $300 each and leaving the poor workers with just $400. The company was not to be faulted as it paid full $1000 under the agreement.
Shattered and cheated, the Indian Punjabis wanted to take the next flight back home in protest but soon they were taught a tiny lesson in arithmatic which made them stay put where they were for years. They were bluntly told that they were free to return home only after ten months and that too without earning any money through this period. The reason: the company spent $2000 for each person's airfare and as much amount to pay for the visa fees.
Scenario 2
In 2007, the United Arab Emirates declared an amnesty and allowed expatriate workers to return to their countries. Some 50,000 Indians availed of the amnesty and came back. The UAE government declared another amnesty that expired on February 2, 2013. Only 3,500 Indians returned home this time.
These two scenarios were given by A.R. Ghanshyam, Joint Secretary (Gulf & Haj), Ministry of External Affairs, at a briefing in New Delhi on 5 April evening. He said the Indian diplomatic missions in the Gulf countries have pulled up their socks and ironed out the warts in the system despite the fact that the number of expatriates has been consistently going up.
"We have introduced new systems over a period of time. We have understood their problems and we have tried to be as accessible to them as possible. One of the constant problems was:'Embassy ka phone hi nahin milta ji. Koi uthata nahin'. So, first you must get them to access the Embassy. We said, 'Okay, we will have an open day every month.' In some Missions where there are more Indians, they are doing it every week also. On one holiday they declare the Mission open. They are open and the Ambassador sits there personally and so does the consular officer. Anyone can come and ask about any complaint," Ghanshyam said.
Gulf nations's importance to India cannot be overstated. They host India's largest expatriate community, are the greatest source of foreign remittances, and are our largest trading partners. Some 55 to 60 billion dollars come to India every year as foreign remittances from 6.5 million Indians in the Gulf today - and the number will continue to swell as it has over the past decades. Geographically too, the Gulf is just one and a half hours across from India. It takes longer to fly from New Delhi to Kochi than to Dubai or Kuwait.
The number of Indians working in the Gulf has been increasing gradually in the last few years. Of the 6.5 million Indian expatriates living in the Gulf, the largest number is in Saudi Arabia (2.45 million), followed by UAE (1.8 million) and Qatar (five lakh; where the number of Qataris is just 300,000 in a total population of 1.7 million).
There is an ongoing dialogue with the Saudi Government on this. Indian ambassador in Saudi Arabia last month met the Governors of Riyadh, Medina and the Eastern Province where the largest number of Indians are there.
India has an embassy in Riyadh and a Consulate General in Jeddah. In addition, the Indian ambassador has placed people in Dammam which covers the Eastern Province, Dhahran and Al Khobar, to help Indians who want to return home but can't do so for lack of travel documents or proper paperwork.
To amliorate the expatriates' lot further in this particular regard, External Affairs Minister Salman Khurshid, Overseas Indian Affairs Minister Vayalar Ravi and Kerala chief minister Oommen Chandy held a meeting in New Delhi on April 4.
"One of the things that they agreed to was that Kerala will within 24 hours provide responses to cases of checking of identity. Before you give a travel document you have to check the identity. And that identity check requires confirmation from the District Headquarters or from the Superintendent of Police. That has been now put in place so that there will be swift responses," Syed Akbaruddin, MEA official spokesperson said.
*The writer is a Firstpost columnist who can be reached at bhootnath004@yahoo.com.
Subscribe to Moneycontrol Pro at ₹499 for the first year. Use code PRO499. Limited period offer. *T&C apply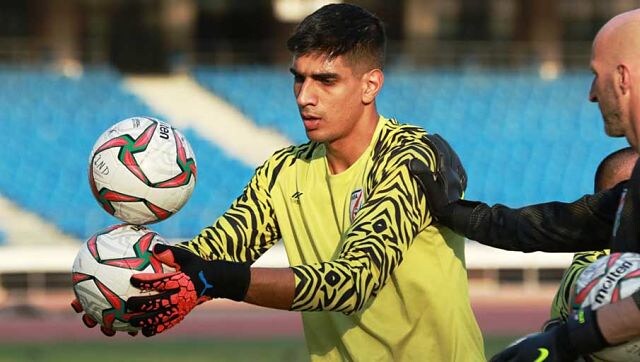 Sports
The Indian men's team is set to play two international friendlies — against Oman on 25 March and the United Arab Emirates on 39 March in Dubai.
Sports
Bennett, riding for Deceuninck-Quick-Step, beat David Dekker, Caleb Ewan and Elia Viviani at the end of the 204-kilometre stage that started and ended at the tourist resort of Marjan Island.
Sports
The 22-year-old Pogacar dominated the race to turn the tables on Briton Adam Yates, who had edged the Slovenian in last year's coronavirus-curtailed edition of the World Tour event.