Congress leads Opposition charge against Union Budget in Rajya Sabha
Congress leader and former Union minister Anand Sharma said the credit for devolution of more funds to the states should go to the UPA regime as it had set up the 14th Finance Commission.
New Delhi: Opposition today slammed the Budget as "directionless" and said the government has made false promises as the economy continues to struggle with falling investments and dipping employment generation.
"This budget is full of platitudes. It lacks direction and vision," Congress leader Anand Sharma said initiating the debate on the Budget in Rajya Sabha.
Lashing out at the government for reducing budgetary support for social sector and agriculture, the former Union minister said the budget is "anti-poor" and "for the rich".
Sharma said the credit for devolution of more funds to the states should go to the UPA regime as it had set up the 14th Finance Commission. The increased devolution of funds to the states is only a "mirage".
He said the economy, rather than making a turnaround, is now struggling even though the NDA government had inherited a "strong economy".
"The ground reality today is that investment is falling, offtake is weak, export is falling, manufacturing is low and jobs are not being created. It is a recovering and struggling economy, not a surging economy," the Congress leader said.
Taking a dig at the government for not fulfilling its promises on bringing back black money stashed abroad, Sharma said there is no need for a separate law as the existing legal framework is "adequate enough" to deal with the menace.
As the Congress leader elaborated on budgetary cuts for various ministries such as Women and Child Development and Education, Finance Minister Arun Jaitley intervened to say the government is giving more funds to the states now.
"Some of the (Central) schemes will go to the states as per the recommendations of the 14th Finance Commission. We should keep this in mind," Jaitley said.
Wondering whether the government has any blueprint for proposed smart cities, Sharma said first the priority should be improve civic amenities of the existing towns and cities.
Disagreeing with government's contention that the states would benefit, Sharma said the plan outlay to the states has been substantially reduced and they would be further burdened when tax collections fall short of projections.
With a struggling economy, the Congress leader wondered if the government would be able to achieve 15 to 16 percent increase in tax collection.
"The collection will not be more than 11.5 percent and tax revenue may be less than Rs 70,000 crore," he said.
Prabhat Jha (BJP) said the budget is a reflection of the govenment's commitments towards the welfare of the people and slammed the Opposition for their criticism of the budget.
Naresh Agrawal (SP) also attacked government for pruning budgetary allocation for important sectors like agriculture and education while "pampering" the corporate sector.
Highlighting India's relations with the neighbouring nations, he batted for higher allocation to defence sector which has been kept unchanged compared to the previous budget.
Agrawal also wondered why the government could not take "revolutionary" steps when it has a clear majority and found it pointless to carry on with loss-making public sector units.
Pavan Kumar Varma (JD-U) said the budget is "lop-sided" and "there is no balance in the budget in relation to holistic development of the country."
He said the budget brought out two principal philosophies of the government -- to incentivise the corporate sector and foreign investors at the expense of poor and middle class people; and spectacular abdication of states.
This philosophy was perhaps based on the assumption that the rich might invest "something" in the economy while poor can wait for five years and middle class "has already voted in the last election."
Sukhendu Sekhar Roy (TMC) also attacked the government for reducing allocation on welfare schemes such as Sarva Siksha Abhiyan and mocked at it for provisioning Rs 100 crore for "Beti Bachao, Beti Padhao" programme.
He also criticised the government for not paying proper attention to the poor in the budget even as one-third of the world's poorest of the poor live in the country.
"It's a shame on the part of the government," he said.
"Revenue forgone for the corporate sector, which is a microscopic minority, will grow to Rs 62,398 crore. This government is a corporate government and anti-people. The budget is a jugglery of statistics and seems to be designed by a fortune teller," Roy said.
Satish Chandra Misra (BSP) echoed Roy, saying "your budget is fully for the corporate and no concession for middle class or common people".
He attacked the government for pruning allocations for vital sectors saying agriculture budget has been slashed by 14.3 percent and allocation on education by 16.5 percent.
It was a matter of concern that this government which speaks of 'Beti Bachao Beti Padhao' has cut allocations for school education and Sarva Shiksha Abhiyan by 25 percent and 22.5 percent respectively, he said, adding that the mid-day meal programme budget was bound to be adversely affected.
Misra said his party was staunchly opposed to the Land Acquisition Bill and asked how would the government justify its stand that the measure would not impact farmers or slum dwellers.
He also accused the government of trying to make LIC defunct by announcing diversion of Rs 2 lakh crore from its kitty on minimal rates to railways and the transport ministry.
Misra said the government was all out to privatise all critical sectors including defence, Railways and Ports among others and accused it of not onpassing the benefits of the low international crude prices to the people and hiking duties on petrol and diesel instead.
S Muthukaruppan (AIADMK) said more budgetary allocations was needed for Tamil Nadu for its ongoing schemes.
Observing that the BJP-led government was continuing the financial practices of the UPA regime, P Rajeeve (CPI-M) said there was no valid reason for deferring the implementation of GAAR for another two years and it had been deferred by the erstwhile finance minister P Chidambaram.
"The reason given then was that the administrative infrastructure was not ready for implemenation. The situation is the same in 2015. This is being done to protect corporates," he said.
He said the proportion of direct taxes in total taxes was less in India than other countries like Indonesia (48.5 percent), Russia (50.3 percent), Brazil (55.3 percent) and South Africa (59.6 percent).
The government was raising the proportion of indirect taxes which was totally against the interest of people, he said, adding that the government should increase tax-GDP ratio as it was lowest as compared to countries like China.
On black money, he wanted to know why the government did not promulgate an ordinance, while it brought one ordinance every 28 days on various other issues.
The CPI(M) member expressed concern over cut in allocation to agriculture and social sectors and demanded hiking import duty on rubber to arrest the fall in domestic prices.
Ashok S Ganguly (Nom) called for a policy to trace black money within India, saying illegal funds stashed in the domestic market was larger and a bigger challenge than to get it back from abroad.
Ganguly wanted the government to increase number of taxpayers and improve efficiency of tax collection instead of raising service tax, which would impact domestic consumption.
He also said it was not a good idea to take the route of cess policy to rationalise corporate tax.
Expressing concern over lack of importance given to Odisha in the budget, Bhupinder Singh (BJD) said the revenue share from taxes to the state has come down due to revised formula.
The 14th Finance Commission has put an end to special category states which would affect 272 backward districts in the country, he added.
Singh said the fund-sharing pattern for Central schemes would burden states, as the central share of expenditure was expected to come down drastically.
Bollywood star-turned politician Jaya Bachchan raised concern over drastic cuts in allocation of funds for women and child development as well as culture and entertainment industry.
The Samajwadi Party member said the allocation for a scheme to promote art and culture has been reduced to Rs 3.2 crore for 2015-16 fiscal from Rs 60 crore last year.
Similarly, funds for National School of Drama, Archaeological Survey of India (ASI) and other related
institutes have been reduced, she said, adding that there was no allocation of artists pension for next fiscal.
When the Chair reminded her to complete her speech in time, several members including from Congress suggested giving more time to her as she was raising important issues.
Pointing to Congress leader Anand Sharma's suggestion to give more time to the member, the Chair said, "I have to manage time, Sharmaji. If you give your time to her, I am ready to allow her."
Sharma said, "I am not anti-women. I will allow her to take my time."
To this, Bachchan said, "I am not asking for concession. At least treat me equal with others."
She completed her debate on time and all members applauded her for raising important issues.
Praful Patel (NCP) sought greater focus to the agriculture sector, better remuneration to the farmers and
incentives as agriculture export registered a record high last year.
Pointing to the apparent sluggishness in industrial production, he said people have become apprehensive about the industrial climate in the country, something which the government has to take note of.
Rajeev Chandrasekar (Ind) hailed the budget, terming it as a growth-oriented a step towards achieving 10 percent growth rate.
CM Ramesh (TDP) listed the demands for Andhra Pradesh, which is been hit hard economically due to the bifurcation of the state.
Digvijaya Singh (Cong) said the government should put in place a credible certification agencies to ensure employment after skill training development.
Supporting GST, he urged the government to implement it at the earliest. He also raised concern over lower Tax GDP ratio and lower direct taxes.
Satyanarayan Jatiya (BJP) said the government should increase number of Navodaya Vidhyala Schools in the country and also raise salary of Anganwadi workers.
Sasikala Pushpa (AIADMK) alleged unfair treatment to Tamil Nadu, saying there is unprecendented cut in allocation.
She wanted the government to allot more funds for completion of industrial corridor in the state.
AV Swamy (IND) said cut in fund allocation in various schemes is a "dangerous signal" that willh it vulnerable section including women and children.
K Rahman Khan (Cong) accused the government of copying UPA schemes and making only sound and fury without doing anything substantial.
PTI
Find latest and upcoming tech gadgets online on Tech2 Gadgets. Get technology news, gadgets reviews & ratings. Popular gadgets including laptop, tablet and mobile specifications, features, prices, comparison.
India
In his address after laying the foundation stone for various infrastructure projects in Tamil Nadu, Shah said Narendra Modi has "waged a battle to end dynasty politics and corruption"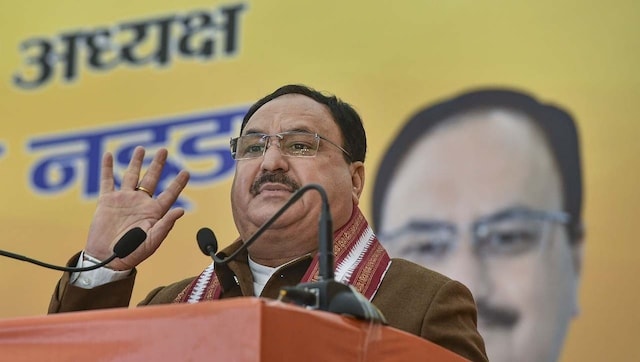 Politics
BJP general secretary Arun Singh announced that Nadda will begin his travel from the first week of December and Uttarakhand will be the first state on his itinerary
India
History is replete with biases and politics is pregnant with contradictions. Thus, the pursuit of innocuous history and pristine politics is not only factually erroneous but also intellectually untenable