Chidambaram using law of averages to hide non-performance: BJP
BJP leader Ravi Shankar Prasad today raised the pitch in the ongoing war of words between the UPA and the NDA over India's economic growth during their respective rule.<br /><br />
BJP leader Ravi Shankar Prasad today raised the pitch in the ongoing war of words between the UPA and the NDA over India's economic growth during their respective rule.
The BJP claimed the Finance Minister was lying, just hours after Chidambaram accused Gujarat Chief Minister Narendra Modi of 'staging a fake encounter with facts' for having said that the growth rate was 8.5 percent during Atal Bihari Vajpayee's rule against UPA's 4.8 percent.
Prasad said Chidambaram himself had mentioned in the Economic Survey for 2004-2005 that the 8.5 percent growth recorded during NDA's rule of 2003-2004 was the highest, except in the years 1988-89 and 1975-76.
He questioned whether Chidambaram was lying in the economic survey.
"Chidambaram is conceding in economic survey that growth rate under NDA in 2003-04 was the highest except 2 years," said Prasad.
He, however, said the more imperative question was how the UPA government has reduced NDA's 8.5 percent growth rate to just 4.8 percent this year.
"The government is using law of averages to hide non-performance of the UPA," alleged Prasad.
He criticised Chidambaram for being "economical with truth" and said that his statement was a "fake encounter with facts".
The BJP spokesperson also said that Chidambaram did not understand that good economics requires good politics, which is not possible without good governance.
He said during the NDA's rule, there was good governance. However, all the sectors like power and telecom that did well under NDA have been destroyed by the UPA.
"Why is the manufacturing sector down? Why is the rupee falling? Any sector that was shining under the NDA is in doldrums. Look at the national highway project or the telecom sector. Real-estate sector is under a cloud because of how a son-in-law was favoured and other malpractices," he said.
"Why is the prime minister and finance minister silent on why growth has fallen in the last nine years?" Prasad asked.
If Indians are not investing in India, how will foreigners, he asked.
He blamed corruption and a credibility crisis for the lack of investment in India and said thisis akin to when parties lose heavily in elections but found consolation in the fact that their vote percentage had gone up.
" We laid a strong foundation for growth.They squandered it away by corruption and policy paralysis," said Prasad.
Subscribe to Moneycontrol Pro at ₹499 for the first year. Use code PRO499. Limited period offer. *T&C apply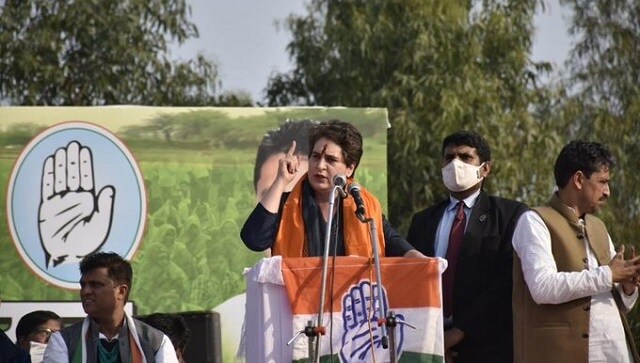 India
Addressing a 'kisan panchayat' in Uttar Pradesh's Bijnore, the Congress leader also claimed that farmers were "ridiculed" in the Parliament and "dubbed as traitors" by ministers
Politics
Sreedharan, who is credited with changing the face of the public transport system in the country, will join the BJP during the party's 'Vijay Yatra' commencing on 21 February from Kasaragod
India
If lodged in the barrack, Modi likely to get three square meters of personal space, where a cotton mat, pillow, bedsheet and blanket will be provided, Arthur Road jail officials said