Business sentiment reality check: Why Modi factor is not helping banks just yet
Even though the economic and business confidence indicators suggest a recovery in the economy, bank credit growth numbers do not reflect this optimism
On Monday, industry association Confederation of Indian Industries said the business confidence index, an indicator of optimism among industrial houses, has shot up to 57.4 in July-September, compared with an all-time low of 45.7 in the year-ago period.
Similarly, the Federation of Indian Chambers of Commerce and Industries, another industry lobby, too came out with an index that showed that confidence level among Indian companies is the highest in at least 15 quarters.
That apart, in separate announcements, credit rating agencies, Crisil and Care, said number of upgrades of the companies they rated stood much higher than number of downgrades in the first half of the year, mirroring improvement in the financial health of companies.
Most experts who see early signs of economic revival base their assessments on the Narendra Modi factor - a stable government at the centre and the wave of optimism Modi brought into the investor/ business communities. That argument is quite valid since sentiment play a key role in attracting investments and keeping up the momentum in the real economy.
But even though the economic and business confidence indicators compiled by credit assessors and industry lobbies seem to suggest a recovery in the economy even as the bank credit growth numbers do not reflect this optimism as yet.
On contrary, it gives a rather disturbing trend.
On a year-on-year basis, the total credit growth of banks stood far lower at 10.2 percent in the 12 months ended 22 August compared with about 17 percent in the year-ago period. In the fiscal year until August, the bank loan growth stood at just 1.3 percent, compared with 4.7 percent in the corresponding period last year.
Bank loan to industries, in fact, shrank by 0.6 percent in the first five months of the current fiscal year compared with a growth of 4.5 percent in the corresponding period last year. On a year-on-year basis too, bank loan growth remained weak at 7.6 percent to industry as compared with 17.3 percent in the same period last year.
On a closer look, one could see loan growth to small, medium and large companies have shrank by 0.3 percent, 2.2 percent and 0.6 percent in the five months to August compared with a growth of 2.8 percent, 8 percent and 4.5 percent in the corresponding period last year.
This means, practically, no major bank lending has happened to any companies this fiscal so far. Banks are, thus, somewhat reluctant to convert the Modi optimism into action.
Now, if industries haven't received money, then who would have? Here is the answer.
Bank credit growth to agriculture grew in a much significant pace, by 19 percent in the 12 months ending August and by 8 percent in the first five months of the current fiscal as compared with 12.1 percent and 3.4 percent, respectively. The strange fact is that there are no specific reasons for why farm loan growth has suddenly picked up to this extent.
Remember, agriculture is where the stress is most visible (excluding big-ticket individual cases such as Kingfisher and Winsome), for most state-run banks.
Also, banks are ramping up lending to farmers not because the sector has become super-profitable. In reality, the share of agriculture to economy has fallen drastically over the years from about 50 percent to 13-16 percent now.
Most agri lending by banks are being forced up on them by way of yearly lending targets by the government and also under the so-called priority sector norms of the central bank. Under priority sector lending, banks need to lend 40 percent of their loans to agriculture, exports and other weaker sections. Of the total lending 18 percent is directed towards farmers.
As Firstbiz has noted earlier, lending to agriculture is one area that has come under severe political misuse in the past years and has almost laid a trap to lenders.
There are two major reasons for why bank lending has not resumed/ declined to industry.
For one, there is no real demand for loans as yet since companies are yet to come up with new projects that would have resulted in a pick up in credit flow to industry. Also, the unclogging of old projects, which are stuck for various reasons since the UPA-days, something promised by the Modi-government, is yet to happen/ show actual results. Unless the clearance issues are resolved, there won't be any major material change in the ground level scenario.
Second, a fear psychosis has gripped banks after the bad loan levels have risen significantly and also due to several investigations into bank lending to large corporations. The arrest of former Syndicate bank chairman S K Jain and subsequent investigations into other banks by the Central Bureau of Investigation, has slowed the decision making process in banks. It could take many more months before banks actively return to the corporate loan market.
The investor sentiment has begun to turn positive and the talk of so-called policy paralysis at the Centre has disappeared. But, perhaps, it is too early to cheer on the Modi-factor and declare the worst is over for a slowing economy.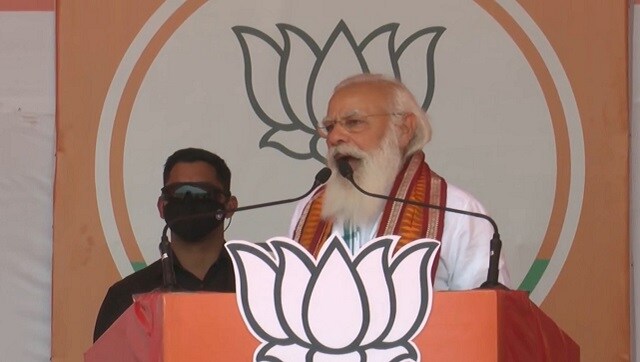 Politics
The prime minister, who addressed the rally ahead of 6 April polls, alleged that among the 'sins' of the LDF and UDF alliances is 'pride and arrogance, and a greed for power and money'
India
For a while it seemed that amidst all the darkness and despair in the world in 2021, India-Pakistan relations had taken off on a positive note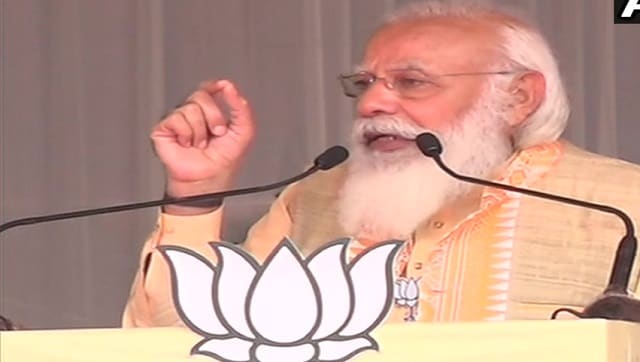 Politics
At a rally in Kokrajhar, the BJP leader alleged that the previous Congress-led governments in the state and at the Centre did nothing to check violence in the Bodoland areas