EasyJet lifts profit forecast as rivals falter
By Sarah Young FARNBOROUGH, England (Reuters) - British low cost airline easyJet raised its profit guidance, forecasting earnings could soar by as much as 45 percent this year as it benefits from the collapse of rivals last year and strikes at competitor Air France. The company, Europe's second-largest budget airline behind Ryanair, also said it was set to get a boost from new, larger planes which would be more cost effective and help it to grow at popular airports that are already close to full. At the Farnborough Airshow in southern England, CEO Johan Lundgren hosted British transport minister Chris Grayling on a flight on the airline's first Airbus A321neo jet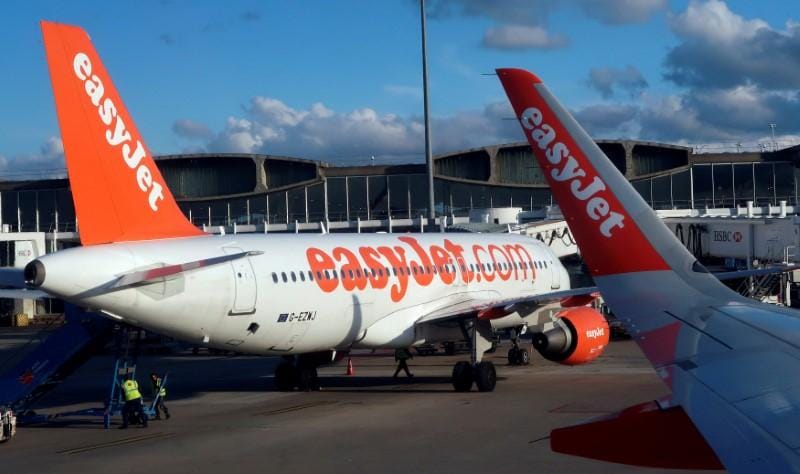 By Sarah Young
FARNBOROUGH, England (Reuters) - British low cost airline easyJet raised its profit guidance, forecasting earnings could soar by as much as 45 percent this year as it benefits from the collapse of rivals last year and strikes at competitor Air France.
The company, Europe's second-largest budget airline behind Ryanair, also said it was set to get a boost from new, larger planes which would be more cost effective and help it to grow at popular airports that are already close to full.
At the Farnborough Airshow in southern England, CEO Johan Lundgren hosted British transport minister Chris Grayling on a flight on the airline's first Airbus A321neo jet.
The 235-seat plane, with sleek grey leather seats, has quieter, more fuel-efficient engines and is the airline's largest aircraft so far, 30 percent bigger than the A320 jets it also flies.
"This is a fantastic way we can provide growth to make sure we meet the demand that we have," Lundgren, who became CEO in December, told reporters on Wednesday.
EasyJet is set to receive 30 of the planes, which it will fly on popular routes between London Gatwick and tourist destinations in Spain, such as Palma and Malaga.
PROFIT SOARS
The airline predicted pretax profit for the 12 months to the end of September in a range of 550-590 million pounds ($720-$770 million), up from an estimate of 530-580 million in May.
It called the competitive environment benign, saying it was continuing to benefit from the failure of smaller British rival Monarch last year and that it had picked up passengers from Air France, which has cancelled flights due to strikes.
EasyJet also said strong demand for holidays had helped to offset the cost of a jump in flight cancellations during its fiscal third quarter.
Air traffic control restrictions, industrial action, and severe weather meant easyJet cancelled 2,606 flights in the quarter, up from 314 in the same period last year.
Costs from the disruption were 25 million pounds higher than in the same quarter a year earlier, the airline said.
Despite the problems, easyJet said there had been strong demand across its markets.
"It's a situation where we're doing well in terms of all the market," Lundgren said.
The company also said it was seeing strong growth in sales of products outside of tickets, such as passengers paying to check-in bags and choose their seats on the plane. It said an improved website had helped boost these revenues.
At 1300 GMT, easyJet shares were up 0.6 percent, having earlier climbed as much as 4 percent.
BREXIT
Britain is due to leave the European Union in less than nine months, but Lundgren said he was confident easyJet could keep flying whatever sort of deal the UK strikes with the bloc.
"I'm still very convinced there will not be any disruption of flying post Brexit. Even the (European) Commission has said that in case of hard Brexit, they will implement a bare-bones agreement that will ensure continued connectivity," he said.
When asked about the UK government's blueprint for Britain's future relationship with the EU which it laid out in a so-called White Paper last Thursday, Lundgren said it was a step in the right direction.
"The White Paper is a good step because it's a liberal deal on aviation, based on what it is today. Now we (the UK) need to start engaging with European counterparts," he said onboard the A321 flight between Gatwick and the Farnborough Airshow.
($1 = 0.7642 pounds)
(Additional reporting by Victoria Bryan; Editing by Victoria Bryan and Mark Potter)
This story has not been edited by Firstpost staff and is generated by auto-feed.
Find latest and upcoming tech gadgets online on Tech2 Gadgets. Get technology news, gadgets reviews & ratings. Popular gadgets including laptop, tablet and mobile specifications, features, prices, comparison.
World
By Paul Carrel BERLIN (Reuters) - European Union sanctions against 40 officials in Belarus are "a small victory" but should be widened, opposition leader Sviatlana Tsikhanouskaya said on Monday, adding she would press Germany's Angela Merkel to do more at a meeting on Tuesday. Tsikhanouskaya fled her homeland for Lithuania amid a police crackdown in Belarus following an Aug. 9 presidential election, which official results said incumbent Alexander Lukashenko won, but which Tsikhanouskaya's supporters say was rigged
World
WASHINGTON (Reuters) - White House Press Secretary Kayleigh McEnany said on Monday she tested positive for COVID-19, while several U.S. media outlets reported that a number of other White House staff members also were confirmed to have been infected with the novel coronavirus
World
WASHINGTON (Reuters) - U.S.