New Delhi: Following the huge success seen in its first edition, E-Merge, IMI, New Delhi will be organising its second annual Start-up summit: E-Merge 2017: The Start-up Confab scheduled to take place on 7 January, 2017 at IMI, New Delhi. E-merge, positioned to be one of the biggest consortium on startups across all business schools in the country, is a one of its kind annual affair dedicated to providing a platform for discussion on upcoming trends in the startup ecosystem. A flagship one day event, E-Merge witnesses the participation of several founders, co-founders and senior executives from leading startups in the form of Panel discussions and Entrepreneurial talks.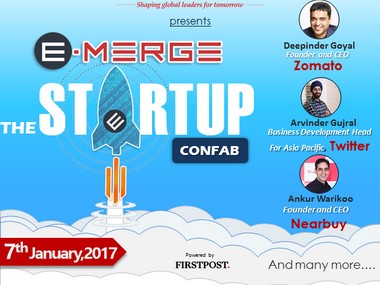 Panel discussions
While no one can question the government's intentions to foster startup ecosystem in India, but in light of so many new initiatives in recent times, eyebrows are being raised regarding the transparency and clarity of these initiatives. Apart from startups' self-inflicted ethical mess, another major deterrent is the grassroots-level corruption. With that in mind, the first panel discussion focuses on answering the question, are we ready to face the challenges of fostering home-grown startups?
The other panel discussion will focus on the recent wave of consolidation among new-age companies in the entrepreneurial ecosystem wherein with the funding drying up has resulted in over a dozen buyouts of young startups in the past four months. Many startups that have barely managed the second round of funding are opting to acquire their weaker peers.
Some of the eminent personalities who would be brainstorming on these topics include Dhruv Arora (Senior VP, Grofers), Gaurav Munjal (Founder, Unacademy), Sagar Daryani (Co-Founder and CEO, Wow Momo), Saurabh Kochhar (Founder, Foodpanda) and Angad Bhatia (Founder, MensXP and Head, Times Internet).
Entrepreneurial talks
The startup summit would also have a series of entrepreneurial talks by Ankur Warikoo (Founder and CEO, Nearbuy, formerly Groupon) and Arvinder Gujral (Business Development Head for Asia Pacific, Twitter). The talks give an insight into the enticing journey of entrepreneurship and are a source of inspiration for budding entrepreneurs.
Updated Date: Dec 28, 2016 10:27:52 IST