E-commerce policy soon, says Suresh Prabhu; expresses optimism on Ease of Doing Business rankings next fiscal
Suresh Prabhu said that the policy which was initially drafted by industry stakeholders was currently awaiting for clearance from the Department of Industrial Policy and Promotion.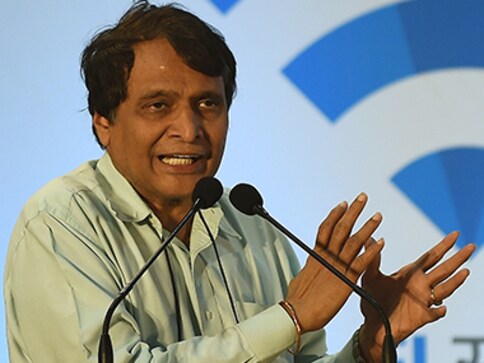 From e-commerce policy to free trade agreements to government's decision on Air India, Union Minister for Commerce and Industry and Civil Aviation spoke on a slew of issues at the Moneycontrol Wealth Creator Awards 2018, in Mumbai on Friday.
Regarding the much-awaited e-commerce policy, Prabhu said the government would release it in the near future. A draft policy was released late August. However, few concerns were raised regarding the draft e-commerce policy following which Prabhu had directed officials to conduct another round of consultation with stakeholders to address them.
Prabhu said that the policy which was initially drafted by industry stakeholders was currently awaiting for clearance from the Department of Industrial Policy and Promotion. The policy will be favourable for the domestic e-commerce companies, he said.
"We have prepared a draft for e-commerce policy. We want to promote domestic e-commerce as much as possible. E-commerce should be for the benefit of both companies and consumers," he said.
On free trade agreements
Two independent agencies would be appointed for preparing a template to negotiate free trade agreements (FTAs) in future. Prabhu said that the country would now have a completely new approach towards negotiating these agreements.
"We are appointing two independent agencies, who will talk to all the stakeholders...it is a first major change. This will be a new template which will emerge for all future negotiations and we are working on it," he said.
The announcement assumes significance as concerns have been raised by industry, exporters and trade experts on FTAs being implemented by India.
They say that these pacts have significantly benefited India's trading partners but not Indian industry. Several sectors, including steel, have demanded that they be removed from the purview of such agreements as these lead to dumping and significant jump in import.
Under an FTA, two trading partners significantly reduce or eliminate import duties on majority of the goods traded between them. Besides, both countries liberalise norms to promote services trade and attract investments.
Ease of doing business rankings
India jumped 30 places to rank 100th in the World Bank's 'ease of doing business' ranking, sending the jubilant government to vow to continue reforms that will help the country break into top 50 in coming years. Prabhu attributed India's frog leap in the World Bank's Ease of Doing Business Rankings by 53 positions to 77 to the leadership at the centre. He said the overall mission of the government, led by Prime Minister Narendra Modi, is public good. Placing his trust in the central leadership, the Union minister said he is confident that India will come in the first 50 ranks in the next fiscal.
Make in India initiative
Talking about Prime Minister Narendra Modi's Make in India initiative, the former Railways minister said that the aspiration of the initiative was that the country's "share of industry should be 25 percent."
"We have prepared a strategy to make sure it becomes 20 percent by the time India becomes a $5 trillion economy," he added.
Decision to privatise Air India 'ill-timed'
The attempt to privatise the loss-making Air India was ill-timed, said Prabhu adding that the airline cannot make a profit unless the issues around its high financial cost are dealt with.
Notably, the government failed to get a suitor for the flag carrier early this year after working on the plan for nearly a year.
"Basically the timing (of Air India privatisation) was wrong. That is the time when the global airline industry was also not doing well," he said. He also said the airline cannot make a profit unless "we deal with this financial cost problem."
The minister, however, said for the first time government "sincerely and genuinely" tried to offer Air India ownership to private players.
"First time we made serious efforts to sell it in a transparent manner. There was a lot of discussion with a lot of stakeholders but the stake sale did not go through. We can sell only if we have a buyer," he said.
Stating that there are 'legacy' issues around the carrier which government is trying to resolve, he said Air India is burdened with debt, which is clearly unsustainable.
Air India has been making losses since its merger with Indian Airlines in 2007. According to its audited accounts, its accumulative losses stood at Rs 47,145.62 crore as of fiscal 2017, owing to high-interest burden, and increasing competition among others.
--With PTI inputs
also read
Explainers
Air fury is frequently brought on by passengers who disobey flight regulations, yell at flight attendants, or are intoxicated. The main non-compliance concern identified in a recent global analysis by IATA was smoking, including cigarettes and vaping, inside the cabin
World
The airline's spokesperson stated that the passenger not only verbally abused the crew members but also physically assaulted one of them during the flight
India
Air India's 'ferry flight' carrying all the 232 passengers and crew took off from Russia's Magadan for San Francisco on Thursday after an Air India flight was forced to make an emergency landing in Russia's Magadan due to a technical glitch