Doom and gloom in advertising? I don't see it, says IPG boss Roth
By Kate Holton CANNES, France (Reuters) - The veteran boss of advertising giant IPG said he does not recognise the talk of 'doom and gloom' in his industry, arguing the holding companies are needed more than ever to help clients chart the rapidly changing territory. The strength of Google and Facebook in online advertising, and the arrival of well-heeled consultants offering advisory work, has sparked fears that the traditional holding companies could lose their grip on client spend during the digital transformation. But Michael Roth, CEO of IPG since 2005, is having none of it
By Kate Holton
CANNES, France (Reuters) - The veteran boss of advertising giant IPG said he does not recognise the talk of "doom and gloom" in his industry, arguing the holding companies are needed more than ever to help clients chart the rapidly changing territory.
The strength of Google and Facebook in online advertising, and the arrival of well-heeled consultants offering advisory work, has sparked fears that the traditional holding companies could lose their grip on client spend during the digital transformation.
But Michael Roth, CEO of IPG since 2005, is having none of it. While he accepts that the industry underperformed from a shareholder point of view last year, he said the range of services he offered could not be beaten.
"I have a slide that says 'we're the new disruptors in the industry, the advertising industry is doomed'," he told Reuters. "That was the headline of the Wall Street Journal 25 years ago.
"I think it is over-rated in terms of fear. I don't see it."
Much of the concern about the traditional advertising industry has focused on WPP, the world's biggest holding company of agencies including JWT and Ogilvy, which suffered a sharp downturn in trading in 2017.
The company, which lost its founder and CEO Martin Sorrell in April, has said the industry is going through structural change, with Google and Facebook enabling clients to reach consumers directly and without an advertising agency.
At the same time, consultants like Accenture and Deloitte are expanding in the sector while some major clients are creating digital content in-house or with independent start-ups. Others still are demanding proof that the millions of dollars they spend online leads to actual transactions.
Roth said that for most of his clients however the sheer scale of change in the industry and the fragmentation of content across the internet meant they relied on IPG, one of the top four holding companies, to make the right decisions.
The holding companies, which also include Omnicom, Publicis and Dentsu, offer everything from adverts for TV, mobile and newspapers to data analytics, media buying, PR and some market research.
Offering a more limited service, the consultancies, he said, were beatable.
"Candidly, we don't see them very much in terms of who we pitch against and when we do pitch against them we win because we're able to provide the integrated offering that they don't.
"The issue of disintermediation, (clients) going to Google and Facebook and not to us, frankly when they do go to Google and Facebook we're involved because you need an independent arbiter."
The New York-based owner of McCann outperformed rivals in the first quarter of this year and guided toward the high-end of its 2018 forecast.
While it lifted the shares on the day the stock remains down around 4 percent in the last year, compared with a rise of 14 percent for the broader S&P 500.
Roth said he was concerned by the talk of "doom and gloom" and said a drift to a trade war could knock his clients off their stride. But he reiterated his optimism after spending time with clients in Cannes at the annual advertising festival.
"Clients are looking for solutions and they are looking for a single source that is independent in thinking but has the tools and resources to make a difference," he said.
"If we're on our game and clients are willing to spend, the industry is in decent shape."
(Reporting by Kate Holton; Editing by Adrian Croft)
This story has not been edited by Firstpost staff and is generated by auto-feed.
Find latest and upcoming tech gadgets online on Tech2 Gadgets. Get technology news, gadgets reviews & ratings. Popular gadgets including laptop, tablet and mobile specifications, features, prices, comparison.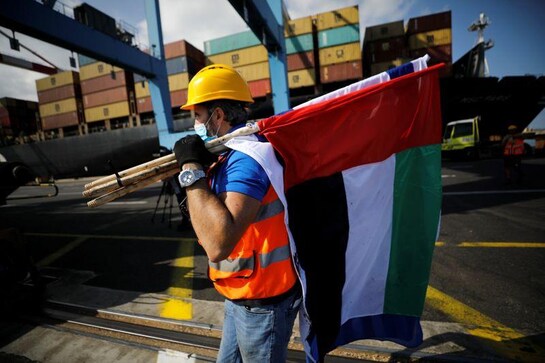 Business
By Rami Amichay HAIFA, Israel (Reuters) - The ship-to-shore crane paused above the cargo ship just arrived from Dubai, then set its load down on the pier in Israel.
Business
By Noor Zainab Hussain, Carolyn Cohn and Ludwig Burger LONDON/FRANKFURT (Reuters) - The world is racing towards a vaccine in record time, stirring public concerns about safety to the extent that nine leading developers have felt compelled to issue a pledge to uphold scientific standards and testing rigour. Yet, while more than 40 experimental COVID-19 vaccines are being tested on humans, the insurance companies with decades of experience in assessing the risks of clinical trials don't see anything to be unduly concerned about.
Business
By Huw Jones LONDON (Reuters) - The European Union's securities watchdog said it expects to make a statement soon on where shares listed in the bloc must be traded after Britain's full departure from the European Union in December.