On 8 November 2016, the world's two largest democracies sat on the edge. At one end of the globe, 58th quadrennial American presidential elections were gaining momentum. On the other end, Indian economy received an unprecedented exogenous shock, when Prime Minister Narendra Modi announced demonetisation of currency notes of denomination 500 and 1,000. The move demonetised 86 percent of currency in circulation, well aware of the impending positive and negative political, economic and social consequences.
True to the nature of a tectonic shift, demonetisation made its effects felt in various dimensions of the economy – higher tax compliance, behavioural nudge towards financial propriety, and cleaning the accumulated stock of cash accumulated through unscrupulous means. However, if there is one sector where the impact of demonetisation is most palpable and visible in our immediate surroundings; it is electronic transactions, digital payments, and increased use of plastic money.
For all the critics expressing angst against digitisation being used as an achievement of demonetisation, it would be fitting to set the record straight; digital economy is one of the many means and not the ends to clean economy.
The move provided a necessary nudge to affect the behavioural change in society and as people realised the ease of using mobile payments, more and more people began to prefer them over cash. Day-to-day transactions of all kind, ranging from purchase of milk to grocery to fuel have become much more easier and efficient with digital payments and affordable, user-friendly, safe and accessible payment mechanisms came to the forefront, and thus began the penetration and adoption of digital payment infrastructure within the masses.
In this light, opportunities for citizens to engage in cashless transactions, which were limited to those holding debit or credit cards emerged. Payment applications, in the form of wallets, pre-paid cards and interactive enterprise applications where transactions could be conducted by a mobile phone, just by loading money surfaced. Trends reflect positive adoption and penetration of digital habits post demonetisation.
While critics are quick to say that the prime objective of demonetisation was not enhancement of digital payments, it takes a bit of conversant intelligence to accept that digital transactions leave an audit trail and thus contribute to curbing black cash in the economy.
A digital transaction would imply there is a well-defined point of origin (example: bank account) and a destination (point of sale). This leaves no room for underhand dealings, and thus works towards meeting the objective of controlling black money and perfidious transactions.
Economists who have been writing-off demonetisation have based their arguments primarily on two premises; One, cash payments are back to pre-November 2016 levels and two, no way to control recurrent transaction has been devised by the Government to ensure the flow of black cash becomes sluggish.
A quick look at payment systems indicators is sufficient to refute the first argument.
There has been a visible upward movement in RTGS volumes post demonetization. Similarly, volume of transactions for all, credit cards, Prepaid Payment Instruments (PPIs), m-wallet, PPI cards and mobile banking saw an upward trend.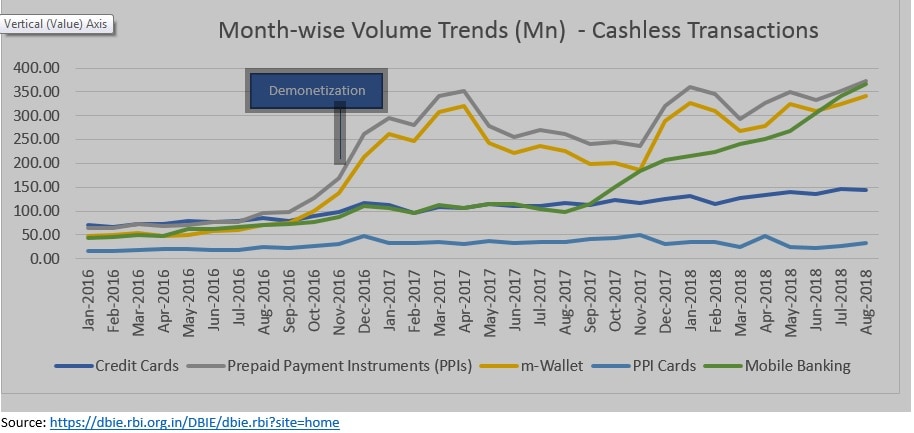 Clearly, cashless transactions became much more widely accepted immediately after demonetisation. At the same time, movements post demonetisation, as reflected in the upward or sustained consumption reflect the nudge effect of demonetisation. As more and more vendors provided POS infrastructure for consumers, it was easy for consumers to swipe their card or scan the QR code and complete their purchase. This not only saved the consumers from the trouble of tendering exact change, it also saved consumer resources spent on repeated trips to ATMs and banks.

As per a Credit Suisse report, digital payment market in India is expected to grow to $1 trillion by FY23E led by the growth in mobile payments. Considering digital payments in China touched $5 trillion on the back of increasing mobile data penetration, affordable access to data by telecommunication players will allow similar leap in mobile payments in India.
It must be noted that India's digital infrastructure has a concerted push from public representatives, along with support from public infrastructure, including the JAM (Jan Dhan – Aadhaar - Mobile) trinity, since digital governance is being considered as an alternative to other social welfare systems, prone to heavy leakages. This will only further amplify the digital transaction ecosystem and take India towards clean and green economy. The role of digital governance in setting up single-window systems, digitising land records, implementation of social security schemes will prove to be a catalyst towards clipping conscienceless citizenry and controlling the flow of black cash within the economy.
If one was to take liberty on this occasion to ask, should the nation try to stop cleaning the cesspool of black economy for the fear of failure? Also, like every project, the benefits accrued over a period of time or generations will definitely outweigh the resources the government has invested. Last, but not the least, Swachh Bharat cannot be achieved if there are heaps of black cash stashed in the backyard or parallel economy, contributing to dark activities, thriving inconspicuously.
(The writer is a New Delhi-based policy analyst. She tweets at @gunjakapoor)
Your guide to the latest election news, analysis, commentary, live updates and schedule for Lok Sabha Elections 2019 on firstpost.com/elections. Follow us on Twitter and Instagram or like our Facebook page for updates from all 543 constituencies for the upcoming general elections.
Updated Date: Nov 13, 2018 15:56:25 IST