"If you do not do it, your competitor will", is what Bob Herold, former COO of Microsoft said when he was asked about how often successful businesses should change.
Businesses are posed today with a challenging duality where they have to simultaneously run their existing business and, change or disrupt their business.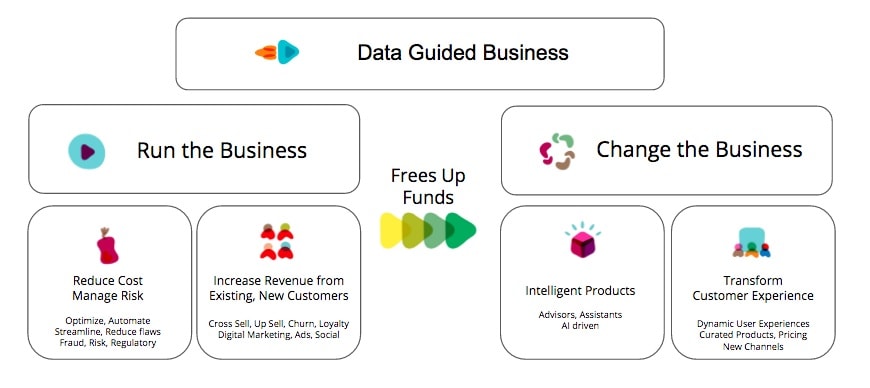 Running businesses effectively
The effective application of data solutions on 'Run the Business' activities drives improved efficiency and incremental revenue growth which can free up funds and bandwidth in an organization. These funds can subsequently be leveraged on 'Change the business' activities.
It is no surprise that data and algorithms significantly impact company valuations today. Recently Salesforce acquired Quip, a small 40 people firm for $500 million, and then BeyondCore, an enterprise analytics firm. This is not an isolated incident. Large corporations such as Google and Apple are fast acquiring AI and analytics startups for their intellectual property, not only to bolster their core offerings but also create new ones in specific verticals.
Data and algorithms are providing insights into aspects of the business, that until now, only human intuition could guide. Data has brought in transparency and 'evidence based decision making' has become the new norm.
Operational efficiency is now something that can be controlled and monitored, with tools that automatically capture how the organisation is performing across markets and customer segments. Resources can now be allocated more efficiently, reducing costs and risk.
One of the world's largest FMCG giant is rewriting its supply chain optimization model from scratch to drive global optimization across its supply chain, rather than localized optimization in individual stages. This rewrite is backed by big data platforms and event based architectures. Banks are using similar models to streamline back-office operations, drug development companies to accelerate clinical trials and airline companies to optimize flight schedules, crew shifts and aircraft maintenance.
With the emergence of data and analytics, the concept of a 'market of one' has become a reality. Businesses, that earlier had little visibility into what their customers' true needs are, can now, create personalised offerings for each individual customer.
Loans can be curated by the user, to specific durations (could even be a specific number of days or weeks) with affordable payment amounts and payment schedules as per their convenience. These are backed by algorithms and platforms that can support uniquely computing payment details for each individual user, amongst millions of users.
B2C businesses, from media to gaming to publishing are looking to get a more intimate insight into their follower communities and their interests. These insights help them identify new customers, curate and reform their digital experiences while also informing their social campaigns across all channels. Data tools help measure the efficacy and ROI of these campaigns, so the campaigns can be continuously tested and iterated upon.
Transforming business Itself
Data and algorithms are enabling business models that were not possible before.
One of the earliest examples of businesses that used data and algorithms to drive profits, was in the world of algorithmic trading. Algorithms were developed, that acted on the signals (the price and volume data) to generate buy or sell recommendations and often execute on them without human intervention. Algorithmic trading is not just automating trading activities but also shaping the financial markets.
The online advertising industry is founded on the data that's constantly being collected by Google, Facebook and others. The origins of this industry coincided with the emergence of new technologies for data collection and storage (such as the Hadoop Platform and the Map-Reduce paradigm for distributed computing) as well the widespread use of Machine Learning in the industry.
Intelligent (data driven) products are being introduced by several businesses. For example, today one can avail of car insurance linked to miles driven, where the premium could depend on your driving quality as calculated using vibrations in your mobile phone or telemetry signals from the car itself. Similarly, your health insurance premium could depend on your workout schedule, as measured by your wearable device.
AI driven services such as Robo Advisors are providing financial investors with an intelligent assistant that provides goals driven investment advice and curated investment portfolios, all at a significantly lower cost. This is enabling fintech startups as well as large investment advisors reach the mass affluent without linearly increasing their staff, thus dramatically transforming customer experience and creating a fresh source of income.
Conversational commerce is making a strong entry into retail, with the advent of chatbots and voice driven devices such as the Amazon Echo, and Virtual Reality/Augmented Reality (VR/AR). These tools are backed by algorithms that help in Natural Language Processing, Computer Vision and continuously providing contextual recommendations.
How to cope with new world
What will it take for an organisation to adopt and ride this wave? How should an organisation prepare itself, so that it can begin utilizing its data assets to achieve its business goals?
Identification of data opportunities and the realization of their business value requires changes in the organizational mindset. Experimentation has to become a first class citizen within the organisation's culture. A dual track closed loop approach is needed where discovery and experimentation of data use cases need to go hand in hand with building these cases into data products. Not every experiment will succeed and risk taking and failure will need to be embraced.
This experimentation culture requires self-driven teams, which have the autonomy to pursue these experiments and bring them to fruition. This implies an organisational structure that is based on the principles of lean portfolio management .
These teams need be cross functional, with a variety of embedded skillsets. Data Scientists and Business SME's will be needed to define, prioritize and run these experiments. Data engineers, software engineers and product managers will need to take these experiments from prototypes to full-fledged products.
Data and algorithms are playing a significant role in shaping the world we live in. They have the power to be critical business differentiators. Businesses need to be run and transformed in a Data Guided way.
(Kini is a Big Data Practice Lead and Venkataraman, Lead Data Scientist, ThoughtWorks India)
Updated Date: Sep 22, 2016 16:22 PM