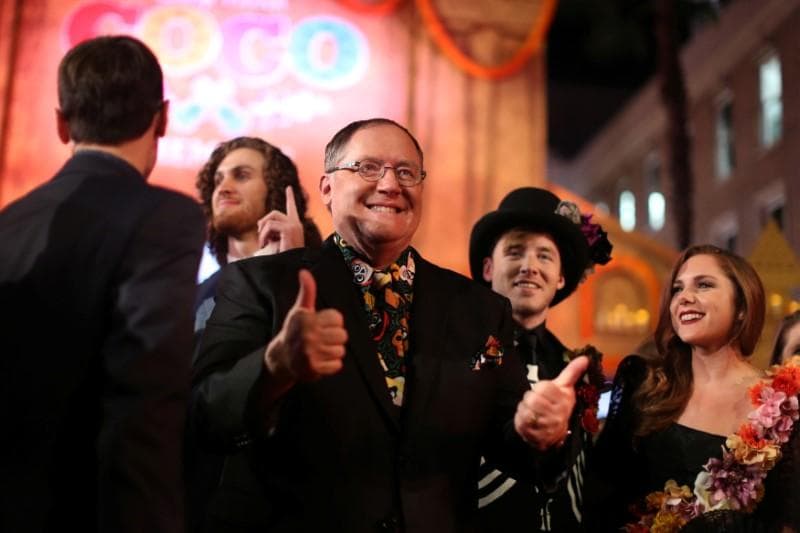 By Jill Serjeant
(Reuters) - Walt Disney Co animation head and co-founder of Pixar John Lasseter, regarded as a modern day Walt Disney because of his creativity and commercial success, will leave at the end of the year, the company said on Friday.
Lasseter was the creative force behind movie hits like "Toy Story," "Frozen," and "Finding Nemo," that won Academy Awards and reaped billions at the box office.
Friday's decision, announced in a Disney statement, followed a six month leave of absence by Lasseter after what he called "missteps," including unwanted hugs that made employees uncomfortable.
"Following his sabbatical, John Lasseter will assume a consulting role at The Walt Disney Company until December 31, 2018, at which time he will be leaving the company," Disney said.
Lasseter said in the statement that "the last six months have provided an opportunity to reflect on my life, career and personal priorities."
"While I remain dedicated to the art of animation and inspired by the creative talent at Pixar and Disney, I have decided the end of this year is the right time to begin focusing on new creative challenges," he added.
Lasseter joined the company in 2006 when Disney bought Pixar Animation Studios.
A pioneer in computer animation, Lasseter was the driving creative force behind Disney's success in animated films over the past decade. He is chief creative officer of Pixar Animation Studios and Walt Disney Animation Studios.
Disney animation and Pixar films have sold roughly $14 billion worth of tickets worldwide since Lasseter joined Disney, according to a Reuters analysis of data from the Box Office Mojo website.
Lasseter took his leave after a report in the Hollywood Reporter last November that said some women at Disney had been made uncomfortable by physical contact from him.
He apologised in November in a memo to employees who felt "disrespected or uncomfortable," but said his intent was "benign."
Multiple accusations of sexual misconduct against entertainers, businessmen and politicians in the past year have led to many being fired or to resignations. The scandal inspired a widespread #MeToo social media movement by victims of sexual harassment or abuse.
(Reporting by Jill Serjeant, Additional reporting by Tamara Mathias in Bengaluru, Editing by Rosalba O'Brien)
This story has not been edited by Firstpost staff and is generated by auto-feed.
Firstpost is now on WhatsApp. For the latest analysis, commentary and news updates, sign up for our WhatsApp services. Just go to Firstpost.com/Whatsapp and hit the Subscribe button.
Updated Date: Jun 09, 2018 06:05:07 IST