Digital India is grand, ambitious and aspirational but doesn't come without challenges
While the intent of the initiative is good, it is riddled with challenges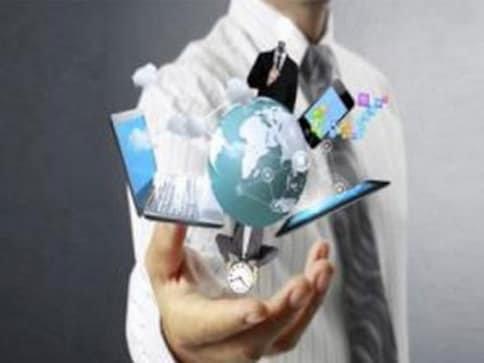 Prime minister Narendra Modi launched his another pet project Digital India on Monday. India Inc has committed Rs 4.5 lakh crore investment and promised to create about 18 lakh jobs as part of the initiative.
The initiative has been widely welcomed by  industry captains and experts.
"A vast #DigitalIndia is the new revolution. Will break all barriers to equality opportunity n growth. End feudalism," Shekhar Kapur said in a tweet. "15% of teenagers in the world live in India. Connect them 2 world thru #DigitalIndia and they will change the world. With freedom of expression n youngest population in the world, a wholly connected #DigitalIndia, we can become worlds greatest influencer," he said.
True. Digital India project will definitely be one of its kind due to the sheer vastness and investments required. In other words, it is the most Modi-like - grand, ambitious and aspirational. But it doesn't come without its set of challenges.
Here are a few:
1) Spectrum crunch: This is the single biggest challenge. As Ambareesh Baliga said in his tweet:
Land Acquisition was the bottleneck fr Infra Projects - What cud b the bottleneck for #DigitalIndia ? Spectrum? Boom time for Digital Infra?

— Ambareesh Baliga (@ambareeshbaliga) July 1, 2015
As per the announcement made by prime minister Narendra Modi, Digital India initiative will give a big push to mobile commerce. "E-Governance is going to change into M-Governance... M is not Modi Governance, it is Mobile governance," he has been quoted as saying at the launch. This is quite an ambitious plan. As of January 2015, India has 979.21 million telephone subscribers. Of this, 952.34 million is wireless - 553.45 million in urban areas and 398.89 million in rural areas. As per the visible trend, wireless subscribers are growing and wireline subscribers are declining. This is true in urban and rural telephony.
It is already a known fact that spectrum is a scarce resource. A further mobile push is likely to make the situation worse. That is one reason why Bharti Enterprises, which has committed Rs 1 lakh crore for Digital India programme, recently acquired stake in a company called, OneWeb, a global team-up of telecom companies aimed at providing affordable internet access.
But one such tie-up is not going to solve the problem completely. A spectrum crunch would result in traffic congestion and call drops, which are a commonplace in India already. Further more, the shortfall raises the demand and prices. We have already seen that in the recently concluded auctions. If price of spectrum increases, companies will not be able to provide internet at affordable internet. This will defeat the very purpose of Digital India initiative.
2) No holds barred democratisation: Internet is all about democracy and transparency because it facilitates interactivity.
To be sure, the Modi government has definitely brought about a major change in the way the government functions through increased usage of social media. All his ministers are active on Twitter. They even make major announcements through such channels. Clearly the government knows how to use the new media.
A case in point is the #SelfieWithDaughter campaign Modi launched last week, which became an instant hit. (This is not to say that we should forget many daughters who were raped, killed and orphaned during the Gujarat riots of 2002). But noentheless, there has been criticism that Modi is using these in "boradcast mode", as this article in BBC rightly points out.
The prime minister's communications have essentially been one way probably because he doesn't want to face unsavoury questions. Already, critics have started comparing Modi to Manmohan Singh, with Modi maintaining stone-like silence in the face of many raging controversies. Such an approach kills the very purpose of using digital and social media.
In this context the question that how far can Modi really democratise information flow and governance is a valid one.
3) Duty anomalies mar electronic manufacturing: Manufacturing has always been a weak link in the India story. Electronic manufacturing is all the more so.
Sample this: On 22 June, media reports said Japanese telecom giant SoftBank and Taiwanese Foxconn technologies are in talks to set up joint ventures in India to make electronics products here. Four days later, on 26 June, The Financial Express reported that global mobile phone makers, including Foxconn, may have to rethink their plans because the government has removed the 11.5 percent excise duty concession. "As a result, even those importing mobile phones into the country will end up paying the same duty as those manufacturing domestically," the report said.
This essentially is a duty anomaly that has the potential to put off global majors from investing in e-manufacturing here. Minister of communication and IT Ravi Shankar Prasad knows this very well. At a recent MoU signing between National Association of Software and Services Companies (Nasscom) and India Electronics and Semiconductor Association (IESA) in Delhi, the minister admitted that correction of duty structure is crucial to increasing electronics manufacturing in the country. According to a report in The Hindu BusinessLine, the minister also acknowledged that for this 'finance minister Arun Jaitley will have to be convinced'. The government's net-zero import target in the sector has been set at 2020. It will have to move fast on this front to attain this objective.
On the whole, while the intent of the initiative is good, it is riddled with challenges. We will have to wait and watch how fast the government will succeed in fulfilling the dream.
India
The Indian pavilion will be inaugurated by Union Minister Anurag Singh Thakur on Wednesday at Cannes and the universal theme for this year is India the content hub of the world
World
Narendra Modi is the first Indian prime minister to see the diaspora as allies, benefactors, and unofficial ambassadors
India
In a major road accident on Sunday, nine people were dead in a head-on collision between a lorry and a minivan in the Kamareddy district of Telangana while 17 others sustained injuries