Dhoni beats Djokovic in Forbes highest paid athletes list
Mahendra Singh Dhoni outranks several prominent personalities like Djokovic and Sharapova on endorsements, which propelled him into the top 20 on the Forbes list of highest paid athletes.
Our colleagues in Forbes in the USA just put out their list of the world's highest-paid sportspeople. And it makes for some interesting reading.
But let's get the India bit out of the way first.
Mahendra Singh Dhoni broke into the top 20, with $31.50m (3.50 on the field, and 28.00 in endorsements), and Sachin Tendulkar came in at #51, with $22m (4m on-field, more than Dhoni, but a more modest 22m in endorsements).
Trivia: both are in the last 5-Tendulkar at 96, Dhoni at 97-when it comes to just salaries and winnings, but Dhoni is at a very healthy #7 worldwide on endorsements.
Right then. So who was khiladi number one worldwide?
Tiger Woods put all his troubles behind him and climbed back from #3 last year to the top spot he held through most of the 2000s, with $78.10 million, $13.10m from winnings and $65m from endoresements.
Roger Federer follows at #2, with $71.50 m, with $6.5m on court, and a whopping ten times that from endorsements. (He and Woods tie for most money earned from endorsements.)
At #3 and #4 are American basketballers Kobe Bryant ($61.90m) and LeBron James ($59.80m). At #5 and #6, US football players Drew Brees ($51m) and Aaron Rodgers ($49m). Golfer Phil Mickelson is #7 ($48.7m). And three maestros of the Beautiful Game round off the top ten: David Beckham ($47.2m), Cristiano Ronaldo ($44m), and Lionel Messi ($41.3m).
Two clear facts spring out from the list.
One. it's a man's world still. There are just three women in the top 100: Maria Sharapova, from Russia (rank 22), Serena Williams, USA (68) and Li Na, China (85); all tennis players.
And two, if you want to make money playing sport, America is indeed the land of milk and honey. Six of the top ten are Americans, with an interloper at #2 playing tennis, very popular in the USA, and it's only at #8, #9, and #10, with the footballers, that the rest of the world gets a peek in.
That's not all. A whopping 63 of the top 100 are US citizens. The other 37 are from the UK (5), Spain (4), Argentina and Venezuela (3 each), Brazil, Cote d'Ivoire, Germany and India (2 each), and Cameroon, China, Dominican Republic, Italy, Jamaica, Japan, Philippines, Portugal, Russia, Serbia, South Africa, Sweden, Switzerland, Ukraine (1 apiece).
Out of these 37, all of 19 either make their fortunes playing the bulk of their sport in the USA (like basketball, or baseball) or play a sport that's hugely popular in the USA (like tennis or golf).
join me in a chorus of America The Beautiful, anyone?
A little more about the data. The top three on the basis of on-field earning alone all play American football: Aaron Rodgers, Drew Brees and Joe Flacco. The American boxer Floyd Mayweather is #4, with another American football player, Tom Brady at #5. Then comes Alex Rodriguez (baseball), F1 driver Fernando Alonso, basketballer Kobe Bryant, and another boxer, Manny Pacquiao from the Philippines. At #10, another F1 driver, Lewis Hamilton.
Usain Bolt is all the way down at #100 for on-field earnings ($200,000), but he makes more than a hundred times that in endorsements ($24m).
On endorsements alone, the world order goes thus: Tiger Woods, Roger Federer, Phil Mickelson, LeBron James, David Beckham, Kobe Bryant, Mahendra Singh Dhoni, Usain Bolt, Maria Sharapova and Cristiano Ronaldo.
At the other end of the scale, 35 members of the list make less than a $1 million from endorsements, with two of those (boxer Floyd Mayweather and American football player Carl Nicks making nothing from the advertisers.
The list as a whole reflects this, with these elite sportspersons making a cumulative 839.2 million as salaries and winnings, and less than half that, $784.8 million, in endorsements.
A bit of useless trivia? The only two in the list who are known by just one name are Brazilian footballers Kaka and Neymar.
And the top hundred make about $2.6 billion between them. Small change when it comes to the Forbes India Rich List, but hey, they get to make all that money playing sports!
Subscribe to Moneycontrol Pro at ₹499 for the first year. Use code PRO499. Limited period offer. *T&C apply
Sports
Morikawa is now only the second player after Tiger Woods to win both a major and a WGC title before turning 25.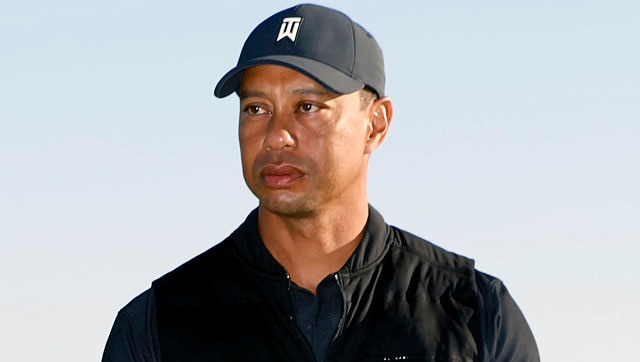 Sports
The 15-time major champion Woods was driving alone on Tuesday morning in a south Los Angeles suburb when his SUV hit the centre median, crossed into the opposing lane, struck a tree and then rolled over several times.
First Cricket News
Tendulkar smashed 200 off 147 balls, which included 25 fours and three sixes.