Deutsche, Credit Agricole, Credit Suisse charged by EU over alleged bond cartel
By Foo Yun Chee and Andreas Framke BRUSSELS/FRANKFURT (Reuters) - Deutsche Bank, Credit Agricole, Credit Suisse and another bank have been charged by European Union antitrust regulators for being in a bond trading cartel. In the latest blow to the reputation and public image of the banking sector in Europe, which has faced billions of euros in fines for rigging interest rate benchmarks, the European Commission on Thursday did not name the banks it had charged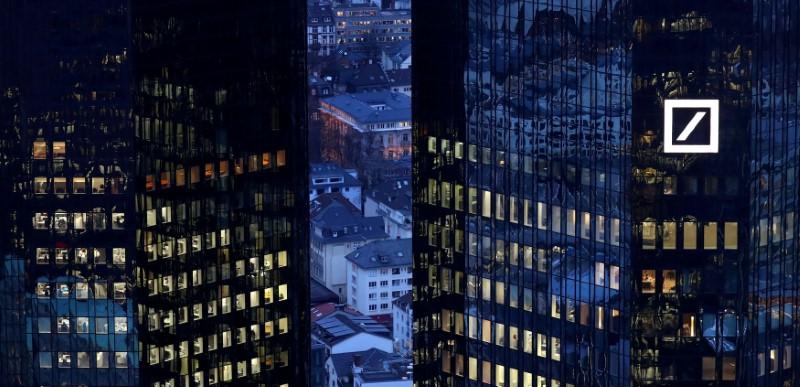 By Foo Yun Chee and Andreas Framke
BRUSSELS/FRANKFURT (Reuters) - Deutsche Bank, Credit Agricole, Credit Suisse and another bank have been charged by European Union antitrust regulators for being in a bond trading cartel.
In the latest blow to the reputation and public image of the banking sector in Europe, which has faced billions of euros in fines for rigging interest rate benchmarks, the European Commission on Thursday did not name the banks it had charged.
However, the Commission said its investigation focused on the conduct of certain traders at the four banks and contact between them, largely through online chatrooms.
If found guilty of breaching EU antitrust rules the banks could face fines up to 10 percent of their global turnover, although Deutsche Bank said it had proactively cooperated with the investigation and did not expect a financial penalty.
Whistleblowers are not sanctioned under EU rules.
Deutsche Bank, whose shares were down 5.6 percent by 1455 GMT, has paid more than $3 billion to resolve investigations it manipulated benchmark interest rates including Libor which are used to price loans and contracts around the world.
Credit Agricole, which received a 114.6 million euro EU fine in 2016 for being part of a Euribor cartel, confirmed it had received the EU charge sheet and its shares were trading 3.4 percent lower by 1500 GMT.
Credit Suisse said it was cooperating with the EU antitrust enforcer and that the case related to trading by a single employee who had left the Swiss bank in early 2016. Its stock fell 3.5 percent.
"The four banks exchanged commercially sensitive information and coordinated on prices concerning U.S. dollar denominated supra-sovereign, sovereign and agency bonds, known as 'SSA bonds'," the Commission said in a statement.
Regulators worldwide have penalised the financial industry billions of euros in recent years for rigging various financial benchmarks. In most cases, online chatrooms had helped regulators to uncover the manipulation.
The latest case could expose the banks to investor litigation, Simon Hart, a partner at law firm RPC, said.
"If there has been collusion ... then this opens up the real possibility of claims by investors in those markets who were adversely affected," Hart said.
(Reporting by Foo Yun Chee in Brussels, Andreas Framke, Arno Schuetze and Angelika Gruber in Frankfurt, Inti Landauro in Paris, John Miller and Oliver Hirt in Zurich, Abhinav Ramnarayan in London; editing by Jane Merriman and Alexander Smith)
This story has not been edited by Firstpost staff and is generated by auto-feed.
Find latest and upcoming tech gadgets online on Tech2 Gadgets. Get technology news, gadgets reviews & ratings. Popular gadgets including laptop, tablet and mobile specifications, features, prices, comparison.
Business
By Jessica Resnick-Ault NEW YORK (Reuters) - Oil prices strengthened on Wednesday, as OPEC and its allies were seen complying with a pact to cut oil supply in September, even as concerns loomed that recovery in fuel demand will be stalled by soaring global coronavirus cases. Early in the day crude was boosted by a bullish stock market. Even as equities whipsawed on pandemic worries, oil stayed higher, buoyed by expectations that OPEC could staunch a supply glut
Business
By Tina Bellon and C Nivedita (Reuters) - Tesla Inc will further cut the price of its Model S "Long Range" sedan in the United States to $69,420, the electric carmaker's chief executive, Elon Musk, announced in a tweet https://bit.ly/2H0JCP0 on Wednesday. The anticipated drop marks the second time this week Tesla has cut the price for the high-end sedan, following a 4% cut of the Model S's price in the United States on Tuesday to $71,990.
World
By Jeff Mason DES MOINES, Iowa (Reuters) - Under siege over his handling of the novel coronavirus pandemic, President Donald Trump on Wednesday cited what he said was his son's mild bout of the virus as a reason why American schools should reopen as soon as possible. Trump made the comment about his son, Barron, as the president swept into Iowa on a mission to shore up support in battleground states that he won in 2016 but is in danger of losing to Democrat Joe Biden barely three weeks before the election. First lady Melania Trump announced in a statement earlier in the day that the virus that struck both her and her husband had also infected their 14-year-old son