Deutsche Bank to move assets from London to Frankfurt after Brexit
FRANKFURT (Reuters) - Deutsche Bank said on Monday it would move assets from London to Frankfurt after Britain's planned exit from the European Union next year, in line with demands from British and EU regulators. Deutsche Bank said in a statement it would make Frankfurt rather than London the primary booking hub for its investment banking clients, as per an announcement made last year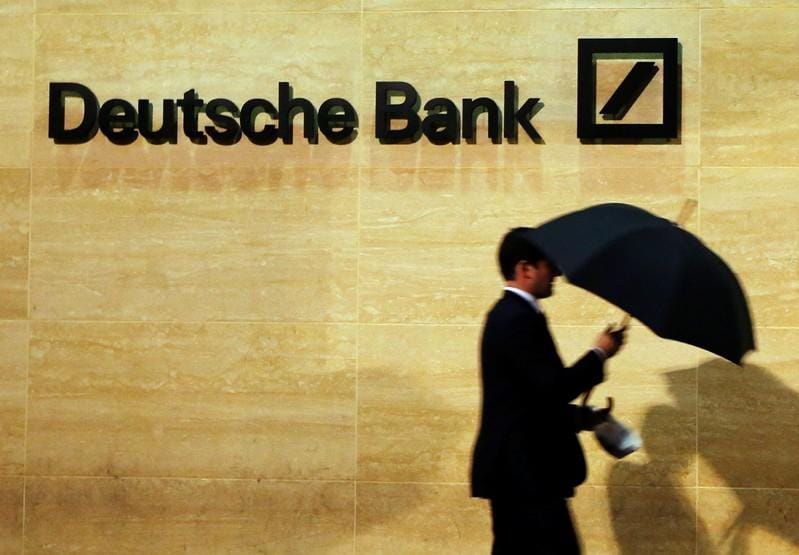 FRANKFURT (Reuters) - Deutsche Bank said on Monday it would move assets from London to Frankfurt after Britain's planned exit from the European Union next year, in line with demands from British and EU regulators.
Deutsche Bank said in a statement it would make Frankfurt rather than London the primary booking hub for its investment banking clients, as per an announcement made last year.
"By definition this involves moving assets from London to Frankfurt, a process which is already underway with the full understanding of UK and EU regulators," it said, declining to specify the volume of asset shifts.
A source familiar with the matter said the European Central Bank, as Europe's main financial supervisor, was putting pressure on banks to shift investment banking activities from London to the continent.
The ECB thereby wants to prevent investment banks setting up empty shells on the continent while still supplying their services from London, the source added.
Regulators are demanding that capital, risk management, governance structures are set up on the continent to support investment banking activities, the person said.
With passporting for financial services off the table Deutsche Bank illustrates what to expect from Brexit, analysts from think-tank Eurointelligence said.
While the least disruptive possibility would have been that only new business would move to the continent, a disruptive option is to actually shift existing portfolios.
"This is not only a major cross-border financial flow in itself but also a huge logistical and legal undertaking for the banks involved, and their clients. Contracts need to be modified, one by one," Eurointelligence said.
The ECB declined to comment.
According to a report by the Financial Times, Deutsche Bank could over time move about three quarters of its estimated 600 billion euros ($700 billion) in assets from London to Frankfurt.
One option being considered is to shrink the London balance sheet so it ends up being smaller than its U.S. holding company, which has roughly $145 billion of assets, the paper said.
According to a source close to the matter, Deutsche Bank is also considering transforming its UK arm into a smaller, less complex and ring-fenced subsidiary.
Analysts at Eurointelligence said this was costly in terms of capital. "We presume this is because of netting effects between the London and Frankfurt books which would disappear if the London business becomes a separate firm," they said.
Deutsche Bank said while the terms on which banks will operate in the EU and Britain after Brexit remained unclear, the lender plans to operate in the UK as a branch in line with the Prudential Regulation Authority's guidance.
($1 = 0.8578 euros)
(Reporting by Arno Schuetze and Andreas Framke; Editing by Maria Sheahan andn David Evans)
This story has not been edited by Firstpost staff and is generated by auto-feed.
World
ATHENS (Reuters) - Greek police used teargas and water cannon to disperse people who had gathered in central Athens on Saturday to protest against mandatory COVID-19 vaccinations. More than 4,000 people rallied outside the Greek parliament for a third time this month to oppose mandatory inoculations for some workers, such as healthcare and nursing staff.
World
ISTANBUL (Reuters) - Two Turkish soldiers were killed and two were wounded in an attack on their armoured vehicle in northern Syria, and Turkish forces immediately launched retaliatory fire, Turkey's defence ministry said on Saturday. "Our punitive fire against terrorist positions is continuing," the statement on Twitter on said. It did not specify where the attack occurred, but media reports said it was in the al-Bab area.
World
By Marcelo Rochabrun SAO PAULO (Reuters) - Protesters took to the streets in several Brazilian cities on Saturday to demand the impeachment of far-right President Jair Bolsonaro, whose popularity has fallen in recent weeks amid corruption scandals against the backdrop of the pandemic. This week, news broke that Brazil's defense ministry told congressional leadership that next year's elections would not take place without amending the country's electronic voting system to include a paper trail of each vote. Bolsonaro has suggested several times without evidence that the current system is prone to fraud, allegations that Brazil's government has denied