Desperate to move crude, Alberta may buy trains alone if Canada balks
By Rod Nickel WINNIPEG, Manitoba (Reuters) - Alberta is willing to buy trains itself and help clear a backlog of crude oil in the Canadian province if Ottawa decides not to share costs, Premier Rachel Notley said on Thursday. Notley, speaking in Calgary to oil well drillers, said Alberta has asked Prime Minister Justin Trudeau's government to share costs of adding rail capacity to move an additional 120,000 to 140,000 barrels per day. Notley said Alberta has not received an answer from Ottawa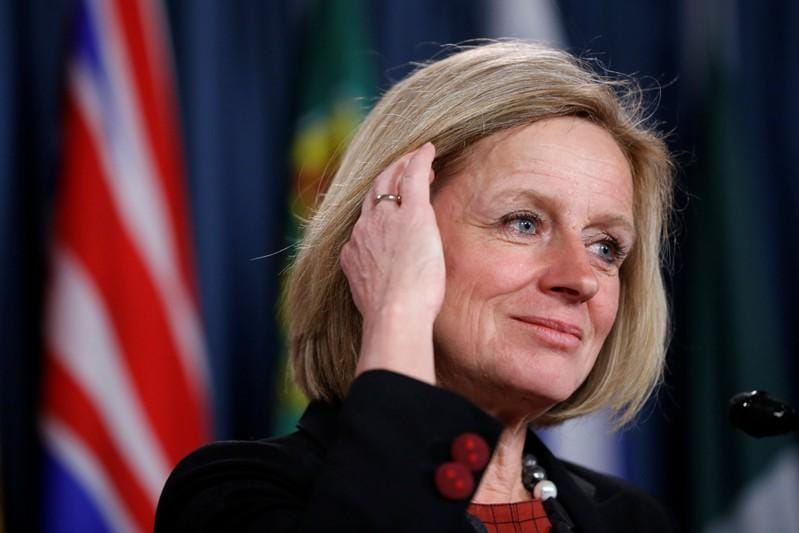 By Rod Nickel
WINNIPEG, Manitoba (Reuters) - Alberta is willing to buy trains itself and help clear a backlog of crude oil in the Canadian province if Ottawa decides not to share costs, Premier Rachel Notley said on Thursday.
Notley, speaking in Calgary to oil well drillers, said Alberta has asked Prime Minister Justin Trudeau's government to share costs of adding rail capacity to move an additional 120,000 to 140,000 barrels per day. Notley said Alberta has not received an answer from Ottawa.
Full pipelines have stranded much of Western Canada's expanding crude output, driving down the price U.S. refineries are willing to pay.
"Ottawa needs to join Alberta to help ease the economic pain," Notley said. "If Ottawa won't come to the table, then we'll get it done ourselves .. If it takes buying trains to (move more oil to market) then that's what we're going to do."
Reuters reported exclusively late on Wednesday that Alberta has asked Ottawa to share the C$350 million capital cost, and C$2.6 billion in operating costs over three years of buying rail capacity to move more crude, starting in July 2019.
Low prices are costing the Canadian economy C$80 million a day, according to Alberta. Companies that service oil producers are "on life support," said Mark Scholz, president of the Canadian Association of Oilwell Drilling Contractors, which hosted Notley's speech.
Several Canadian crude producers, including Cenovus Energy, have curtailed production and asked Alberta to mandate cuts for other producers.
Notley said the province is considering several options to improve prices. Mandated production is opposed by producers who own refineries to process the cheap oil, such as Suncor Energy and Imperial Oil.
The premier said Alberta would have liked greater recognition of the industry's struggles in the federal government's fiscal update, which it delivered on Wednesday without including new measures to help the sector.
Finance Minister Bill Morneau, asked by reporters in Ottawa about the Reuters report that it was considering the purchase of rail capacity, said "that's a discussion that might go forward in Alberta."
A spokesperson for Canadian National Railway Co could not be immediately reached. Canadian Pacific Railway declined to comment.
Notley said Alberta has short-listed six projects to partially upgrade oil, worth a combined C$5 billion if all proceed. Upgrading reduces the thickness of bitumen so it does not require blending with lighter oil to move in pipelines, freeing up space.
(Reporting by Rod Nickel in Winnipeg; additional reporting by David Ljunggren in Ottawa; Editing by Frances Kerry and Sanfdra Maler)
This story has not been edited by Firstpost staff and is generated by auto-feed.
India
Both were trying to free their motorcycle from the rail track when the accident occured, SP (City) Martand Prakash Singh said
News & Analysis
NEW YORK (Reuters) -The price of cryptocurrencies plunged and crypto trading was delayed on Tuesday, a day in which El Salvador ran into snags as the first country to adopt bitcoin as legal tender. Shares of blockchain-related firms also fell as crypto stocks were hit by trading platform outages. But the major focus was on El Salvador, where the government had to temporarily unplug a digital wallet to cope with demand.
News & Analysis
By Joseph White and Sanjana Shivdas (Reuters) -The head of Apple Inc's car project, Doug Field, is going to work for Ford Motor Co to lead the automaker's advanced technology and embedded systems efforts, a hiring coup for Ford Chief Executive Jim Farley.