Demonetisation will not put an end to black money-generation, says economist Arun Kumar
The government, in a single stroke has scrapped a large volume of currency, which was in circulation, without having an alternative arrangement in place. It has created chaos and panic.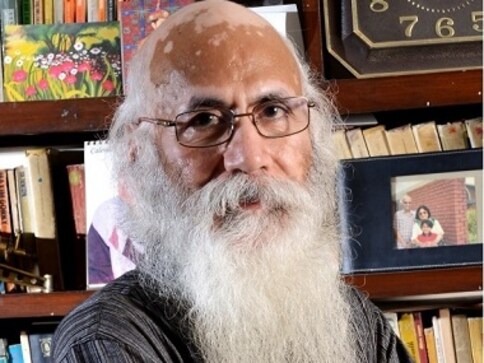 Weeks after the government startled all with the demonetisation move, black money continues to be the biggest talking point in the country. However, much of the discussion on the subject is less than informed and it confuses more than it enlightens the lay person.
In an exclusive interview with Firstpost's, Debobrat Ghose, Prof Arun Kumar, noted economist and author -- The Black Economy in India, , who is an authority on the subject of black money said that the government's move would not be a sledgehammer blow to generation of black money. Instead, he believes that it would leave the economy in trouble and people harassed.
Here are the five major takeaways from the interview:
Hoarded money is not necessarily black money
The demonetisation move may demobilize only a small part of the stock of black wealth held in the form of cash, but it won't stop the flow. The need is to stop black income generation which results in generation of black wealth. Income needs to be distinguished from wealth, and so black money should be distinguished from black income. Black money is only a tiny part of the black wealth that has been accumulated. Black income generation will continue due to the existence of a large large number of mechanisms by which it is generated, such as businesses resorting to under and over invoicing; manufacture of spurious drugs; charging of capitation fee for admission in school and colleges; adulteration of food, etc.
Black money is largely circulating in businesses. It's black wealth that is parked. First, we need to understand the difference between black money, black income and black wealth. It's not the same. Black money is possibly less than 1 percent of the black wealth.
The demonetisation move won't put an end to generation of black wealth. The actual people behind black wealth are not being targeted. The misnomer is that black economy means cash. That is where the understanding of the government is lacking. They are thinking that if they demobilize the cash, the black economy will collapse. It won't.
Demonetisation is no silver bullet against fake currency
Demonetisation won't end fake currency problem either. According to the RBI, fake currency amounts to only Rs 400 crore of the total currency in circulation of Rs 17.5 lakh crore—which is a minuscule amount. Fresh printing and import of counterfeit currency will not stop with demonetisation. Counterfeit currency is used to finance terrorist activities and those involved in it ensure that it is constantly generated. The printing of fake currency has to be stopped. If the old notes could be counterfeited, so can the new ones too, despite having advanced features. So, extinguishing fake currency one time is not going to help.
Move will leave the economy hobbling
The Rs 1,000 and Rs 500 denomination currency notes constituted 86 percent of the currency and it has been sucked out of the system. It's like taking out 86 percent of blood from a person's body. Imagine, what will be the effect! He will die. Same is with the economy. New currency is only slowly trickling in, which is inadequate to restore the flow of incomes. There's a decline in footfalls in malls; small traders are unable to sell goods; circulation of income is slowing down; the farmers, households, small producers, transport sector – all are hurt due to fall in demand. The poor, the daily wage earners in the unorganized sector are the worst sufferers. If the situation continues for a longer period, it'll have a cascading effect on the economy. The cash shortage will not be sorted out early because of inadequate printing capacity. So, demand will be affected for much longer than 50 days. This can result in irreversible changes setting in like increase in NPA, unemployment and decline in investment, so that India may head into a recession and not just a decline of GDP by 2 percent.
The circulation of money is like blood flow in the body. If there is a shortage of that, then there is a problem. In the coming months, newer problems will crop us as a result of demonetisation.
Scale of operation is the problem; may not be the intent
Prime Minister Narendra Modi has rightly said that black money menace is the source of poverty, flight of capital and corruption. But, it needs to be clarified why such a drastic step like demonetisation is not the solution, but will jeopardise the economy instead. It's a wrong move.
In 1978 when Rs 10,000 and Rs 5,000 notes were banned, it didn't make any noise. The common man wasn't affected because these high-value currency notes were not used by them. It was with the super rich and it constituted a very small portion of the currency. What was being circulated then were Rs 10 and Rs 100 denomination notes. So, it didn't touch the day-to-day lives of people. In contrast, at present the common man, including lower middle classes had been using Rs 1,000 and Rs 500 notes. The Rs 1,000 and Rs 500 denomination notes constituted 86 percent of the currency—worth Rs 14.5 lakh crore. The government, in a single stroke has scrapped such a large volume of currency, which was in circulation, without having an alternative arrangement in place. It has created chaos and panic.
Due to lack of advance preparation, almost every day there is a change in policy related to exchange of old notes. The banks and the ATMs are still not equipped to dispense the volume of cash needed by the people. Even today, almost after 30 days, there are long queues at bank branches and outside the ATMs. The salaried class and pensioners are facing a tough time to withdraw their salaries and pensions.
Lingering cash pain
With liquidity sucked out of the system, even if temporarily, money supply has become a problem. Replacing 86 percent of the currency may take many months. You have to replace quickly the Rs 500 and Rs 1,000 notes worth Rs 14.5 lakh crore printed over the years. If you are printing Rs 100 notes, you need to print 10 times more notes than for a Rs 1,000 note and that will take a lot more time. Had the government prepared properly and managed to create enough supply of cash, this pain would have been less. But given the hoarding of currency and printing of small denomination currency notes and shortage of ink and paper, it can take even a year for the supply of currency to become normal.
Explainers
Purnesh Modi is a BJP MLA and ex-Gujarat minister. The 57-year-old, who, joined the BJP in 1984, has held several positions within the party including its Surat city chief. Purnesh was in December 2022 among a slew of big names dropped from the Bhupendra Patel cabinet
World
Kishida will meet Prime Minister Narendra Modi and also deliver a speech on Japan's Indo-Pacific strategy and its new defence posture. Fifteen years ago PM Shinzo Abe first spoke about Indo-Pacific cooperation during his visit to Delhi