New Delhi: The General budget will be presented by the Finance Minister Arun Jaitley on 1 February, 2017, and in the last few weeks several industry lobbies have been pushing to get their agenda included in the budget. In this cacophony of lobbies the voice of the common citizen, the honest tax payer is lost. LocalCircles a citizen engagement platform has been working with its more than 1.2 million users to prepare a list of important things that citizens want to see in the budget.
In the recent past, common citizens have borne the brunt of demonetisation. While most citizens supported its objective that it will help in reducing black money, counterfeits and terror financing, they have lamented its poor implementation. Citizens expect the government to do something in view of the pain inflicted upon them in last two months due to note ban exercise.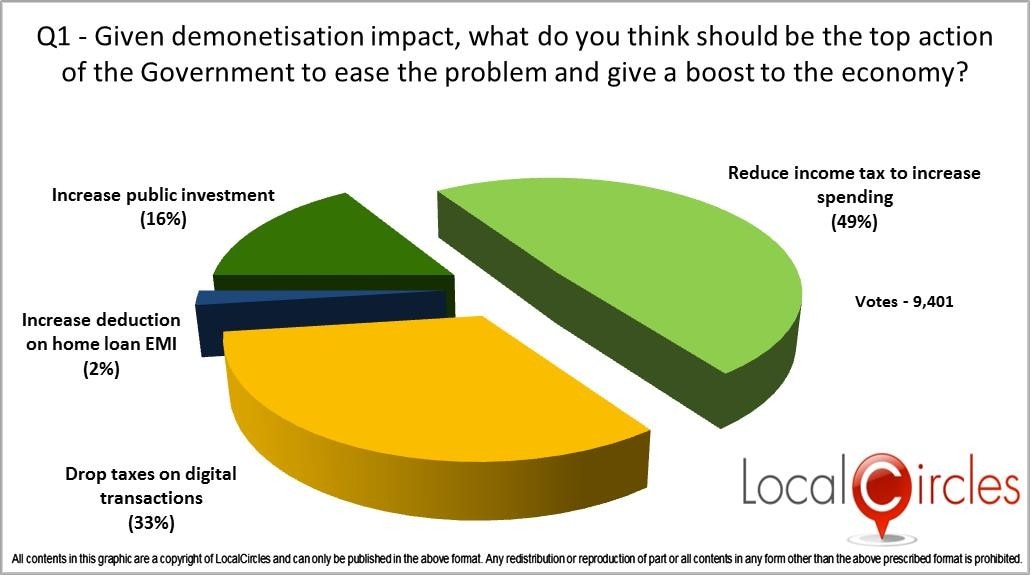 Therefore, when asked the question what should the government do post demonetisation to give a boost to the economy. Approximately 49 percent of the 9,401 citizens polled wanted the income tax to be reduced, so that their disposable income could rise. This disposable income will lead to higher spending and boost the economy that has slowed in the last two months.
Due to demonetisation cash transactions have dried up and the government has pushed citizens to transact digitally. Digital transactions are being done through credit card, debit card, digital wallets, internet banking and Unified Payment Interfaces.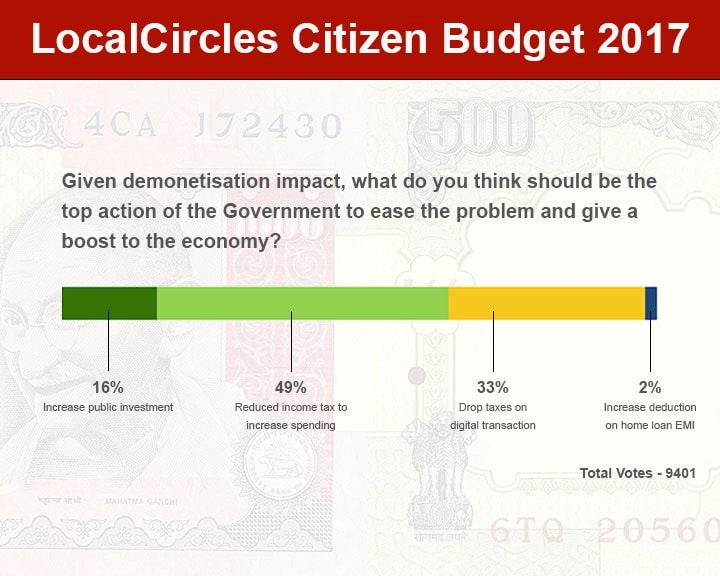 All these payment methods have buried transactions costs which the customer or the merchant used to bear till now. The cash situation has not yet normalised so digital transactions are still growing.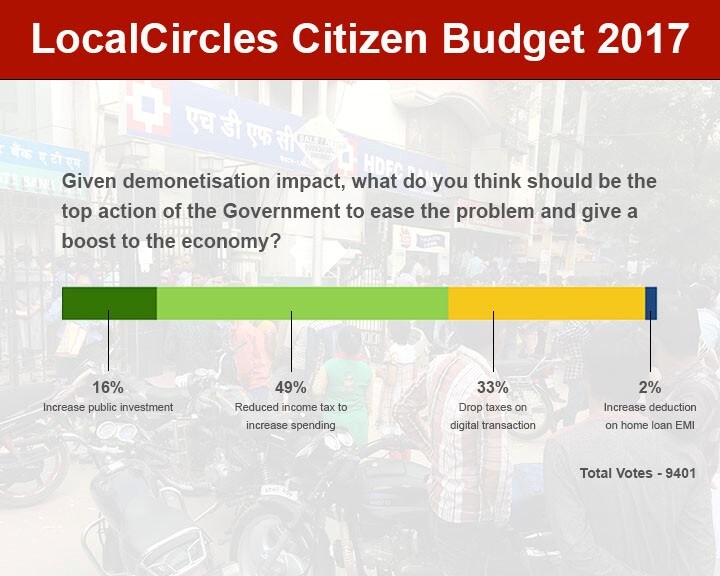 Moreover, over the long term rapid increase in digital transactions would help make the last mile consumption transparent for tax purposes. Which is why they need to be incentivised instead of being loaded with costs. Approximately 33 percent citizens polled want that the taxes on digital transactions should be dropped. This is something that can be done in GST environment and both the state governments and central government have to agree to this in the GST council.
Your guide to the latest cricket World Cup stories, analysis, reports, opinions, live updates and scores on https://www.firstpost.com/firstcricket/series/icc-cricket-world-cup-2019.html. Follow us on Twitter and Instagram or like our Facebook page for updates throughout the ongoing event in England and Wales.
Updated Date: Jan 17, 2017 17:32:55 IST