As demonetisation, prime minister Narendra Modi's grand economic experiment, nears the 50-day deadline, public and expert opinion is sharply divided on the currency ban. Some have praised the bold move, while others have made a scathing attack on the Modi government for gambling with not just an economic idea but the lives of millions of people who predominantly live in cash economy (around 70 percent of transactions in India are done in cash). In his column on Thursday, Steve Forbes, editor-in-chief of the Forbes magazine, calls demonetisation as a "sickening and immoral" act by the Modi government. Forbes doesn't mince his words while criticising the move.
"India's awful act underscores another piece of immorality. Money represents what people produce in the real world. It is a claim on products and services, just as a coat-check ticket is a claim for a coat left at the coat check in a restaurant or a ticket is for a seat at an event. Governments don't create resources, people do," Forbes writes. "What India has done is commit a massive theft of people's property without even the pretense of due process--a shocking move for a democratically elected government. (One expects such things in places like Venezuela.)," Forbes says.
Forbes tells the Modi government, instead of harming its people by "stealing property, further impoverishing the least fortunate among its population and undermining social trust, thereby poisoning politics and hurting future investment," the government should think of ways to simplify structure, make rupee strong and undertake infrastructure projects with a long-term vision.
In other words, Forbes, who campaigned for Republican nomination for the US Presidency is advising the Modi dispensation to do away with the Indian 'jugaad' to change things and look for time-tested methods for growth that is slow, but sustainable for a longer time.
Quite evidently, in the weeks after the demonetisation, the economic activities have taken a hit and consumer ability to spend has come close to a halt. This is evident from various sets of numbers — trade figures, auto sales, industrial and service sector growth trends and back-to-back downward revisions in full-year GDP forecasts by official and private agencies. Clearly, there was a lack of planning and coordination between different authorities on how to go about the demonetisation rollout.
There are reasons to believe that the Reserve Bank of India (RBI) wasn't taken into confidence. Even at this stage, there is, of course, an element of uncertainty and worry for policymakers, industry and common public how the demonetisation impact will play out in the long term. There is also a social impact element of demonetisation, the pain being forced on the poor, that isn't quite quantifiable.
Nevertheless, the economic experiment, an unprecedented one, deserves the benefit of doubt and time. The well-intentioned move could work in certain areas and may not work in some other. It could turn out to be an economic disaster but could also turn out to be a success in rebooting the economy. But the end result will come into play only after a lag. Considering the nature of the experiment, it is illogical to call it early. That demonetisation is well-intentioned idea implemented badly is widely agreed theory. In this context, Forbes writing off demonetisation at this stage is bit of a stretch.
Having said that, Forbes is absolutely bang on offering the right solutions to take the economy to a higher growth orbit. Certainly, the Indian 'jugaad' isn't the way ahead. In fact, India has been progressing , albeit slow, on these parameters. Sans the demonetisation shocker, the economy would have grown close to 8 percent this year. This is what makes PM Modi's experiment a big gamble and heightens the risk element in the move—from a state of sure, steady growth the economy is now on a shaky path from where it can either take a giant leap or fall a few notches behind.
Over the last few years, there has been efforts to cleanse the banking system initiated by the RBI under Raghuram Rajan, the fiscal deficit numbers have improved, inflation has been brought under control, much emphasis is given to build infrastructure, India is almost close to a new indirect tax regime (goods and services tax) and there is focus on including the poor and deprived into the main stream through creating a social security network, education push and minimum wage programme. Despite the political differences, there is a pattern for development, New Delhi has followed over years. This progress might take time to show results but directionally the country is on a progressive path, faring better than many of its peers in emerging economy.
But, it is critical for the Modi government not to look for short-cuts and twist numbers to make the economy look better and the growth quicker than they actually are. Such a course will break the trust and prompt international investors to look at India with an element of suspicion. It is not easy to rebuild a battered image. A case in hand is China, whose economic fundamentals still remain a mystery for the rest of the world. A Reuters report, which claims to have accessed correspondence between the finance ministry and US-based global rating agency, Moody's, says that the Modi government pushed aggressively for a rating upgrade questioning the methodology of the rater but failed to convince the agency.
A Moody's team visited North Block on 21 September for a discussion on a ratings review and "the atmosphere at the meeting with Economic Affairs Secretary Shaktikanta Das, one of the ministry's most senior officials, and his team was tense, according to an Indian official present," the Reuters report said.
Moody's, on 16 November affirmed the 'Baa3' issuer rating for India, while maintaining a positive outlook, saying the government's efforts had not yet achieved conditions that would support an upgrade.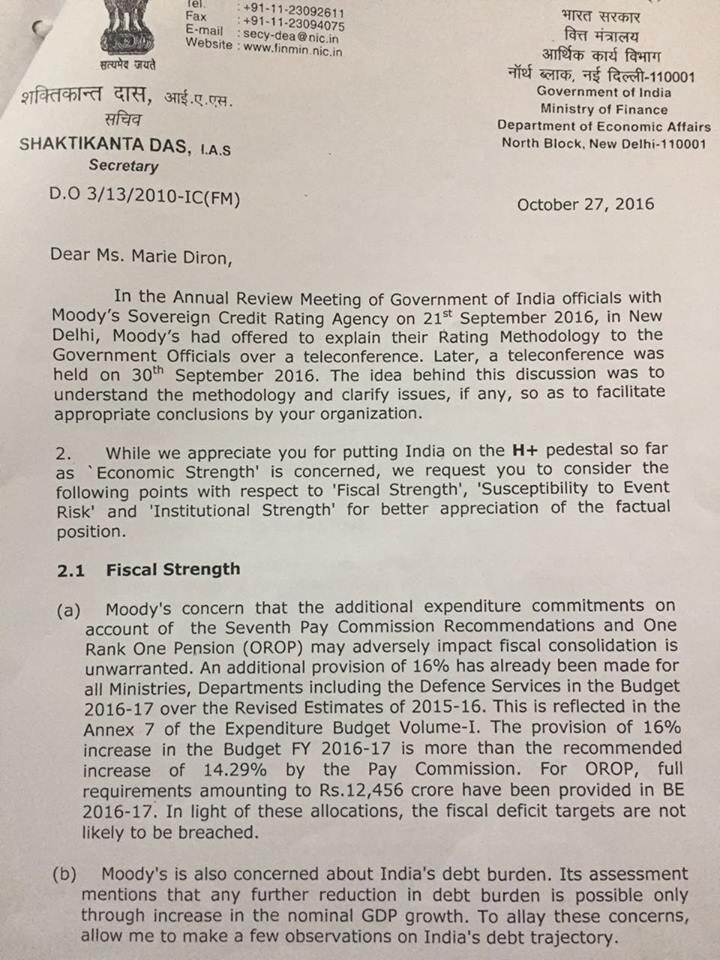 The Reuters report quotes Arvind Mayaram, a former finance ministry official, citing the Modi government's approach "completely unusual". "There was no way pressure could be put on rating agencies," Mayaram told Reuters. "It's not done." Any government has the right to make a case for better credit rating under its regime, but if the lobbying with independent raters take the nature of bullying and pressure tactics for short-term political benefits, this can backfire badly internationally.
It wouldn't be an exaggeration to say that the end-results of demonetisation can be a make or break in Prime Minister Narendra Modi's political life. Without doubt, the PM has staked his hard-won political capital to push an economic gamble. His surprise decision to abruptly pull out 86 percent of currency on the midnight of 8 November, and the cash-crunch that followed, has shaken the economy and has impacted the lives of 125 crore Indians in some or other way. Such a move, which was launched with the idea of killing black money and fake currency, has no parallel in world.
Modi's immediate challenge is to resolve a severe cash crunch that persists even after one and half months of demonetisation announcement and get the economy back on track. How soon he can do that, coupled with the fact that at the end of the exercise, when the tremors come to a stop, which way Asia's third largest economy will take a turn, will prove decisive to Modi's political fortunes.
Updated Date: Dec 23, 2016 14:50:28 IST