Demonetisation: Farmers fear loss of crops and income after currency ban
For farmers, the government's demonetisation decision to crush the shadow economy could hardly have come at a worse time.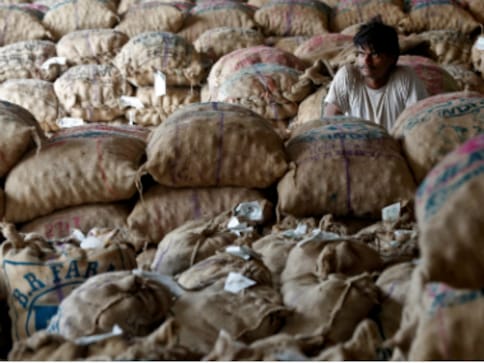 For farmer Buddha Singh, who works a small plot of land in the village of Bajna south of New Delhi, the government's decision to abolish Rs 500 and Rs 1,000 bank notes to crush the shadow economy could hardly have come at a worse time.
He and millions of other farmers cannot get enough cash to buy the seeds and fertilisers they need for their winter crops, threatening production of key commodities and hurting rural communities only just recovering after two years of drought.
"We can't buy our full requirements of seeds, fertiliser and pesticides on credit. There is a limit," said Singh, a turbaned man in his 50s, who tills a two-acre field near the highway running from the capital to the holy city of Mathura.
"We're running out of time as we've only 10-15 days more to plant crops like wheat, mustard and chickpeas," he added, to murmurs of assent from around 30 fellow farmers sitting under a neem tree and discussing their predicament.
India's 26.3 crore farmers mostly live in the cash economy, exposing them to the full impact of Prime Minister Narendra Modi's shocking 8-November announcement that larger denomination bank notes would immediately cease to be legal tender.
Modi's drive to purge "black cash" from the economy has, at a stroke, wiped out 86 percent of the money in circulation. Delays in printing new Rs 500 and Rs 2,000 notes mean that money could be tight for weeks to come.
While city dwellers are still queuing up to exchange or deposit old money at the bank, and to draw new funds, many villagers live miles from the nearest branch and have yet to see the new notes being rushed into circulation.
Dragged down
Delays to the planting season that began last month threaten to dent agricultural and overall economic growth, wiping out gains for farmers who this year cashed in on decent monsoon rains after being hit by drought in 2014 and 2015.
Farmers who have already spent money on ploughing and irrigation to keep the soil moist can ill afford to leave their land fallow. Late sowing typically reduces yields and increases the risk that inclement spring weather could damage crops.
"In all likelihood, we'll not be able to recover our cost of cultivation as the prime sowing time has nearly lapsed," said Prakash Chandra Sharma, another local farmer.
The farmers said they spent an average of Rs 58,000 per hectare to grow wheat, only to eke out an income of Rs 70,000. That assumes a crop yield of about 3.2 tonnes per hectare.
A drop in wheat output would boost local prices that are already near record highs. Stocks are at their lowest level for nearly a decade, and even before the latest cash crunch, private traders were expected to import around 3 million tonnes this year.
Devinder Sharma, an independent food and trade policy analyst, said rural communities in particular would suffer from the demonetisation move.
"It's a little early to hazard a guess about the extent of crop loss," said Sharma. "But both rural income and demand will take a big hit before things start improving from April next year."
Thanks, but no thanks
In the latest in a series of ad hoc steps, the government on Thursday allowed farmers to withdraw up to Rs 25,000 a week against their crop loans to ensure that sowing of winter crops "takes place properly".
Shaktikanta Das, a top finance ministry official, also said a time limit for farmers to pay crop insurance premiums had been extended by 15 days.
But that cuts little ice with farmers, who often rely for their cash not on banks but on money lenders charging annual interest of up to 40 percent.
Most farmers have already availed of their farm loan for the previous summer season and, for the handful who can still withdraw, the ceiling is too low," said Tejinder Narang, a New Delhi-based farm expert
After selling their rice crop last month, many are stuck with old 500 and 1,000 bills they can no longer spend.
They are only allowed to exchange Rs 2,000 into new money, and the rest must be deposited before the notes cease to be accepted by banks after 30 December.
"Four banks cater to 200 villages of about 2,000 people each. It's not easy to get your old currency notes converted," said Harbir Singh, another local farmer.
Markets idled
The breakdown in the cash economy is causing major disruptions to the supply of produce to the cities, with payment alternatives such as plastic cards or digital wallet apps on smartphones yet to gain widespread acceptance.
At Delhi's Azadpur Mandi, Asia's largest fruit and vegetable wholesale market, traders said business was at a virtual standstill, and labourers who usually earn between Rs 300 and Rs 500 a day sat idle.
"The bosses are giving us Rs 500 bills, but we are refusing to take those notes," said porter Raju Kumar Rathore. "Then they are telling us to collect our money after a week or 10 days. For us that is a big problem."
India
The 'crop holiday' is a way of protest for farmers in the Godaveri Delta. A delay in the payment of paddy procured by the government and poor access to irrigation water have left them seething
India
The farmer claimed that he came up with this idea because of the decline in the number of donkey species, who are harmless and neglected. He also asserted that initially people were not convinced by the idea of the donkey farm and many did not support him.
India
The Integrated Transit Corridor aims to provide hassle-free and smooth access to the new world class exhibition and convention centre being developed at Pragati Maidan, Delhi