Debt-laden Jet Airways to cut flights on some routes after further losses; to add capacity to more lucrative markets
Jet, India's biggest full-service carrier posted its third straight quarterly loss on Monday, hurt by higher fuel expenses and a weaker rupee.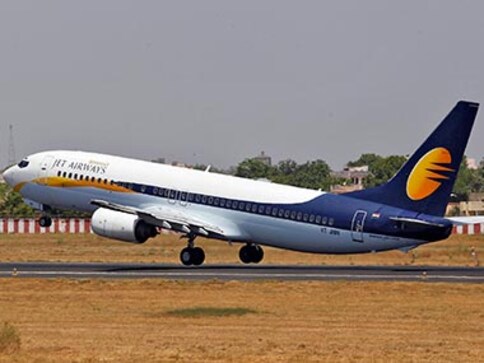 Bengaluru/New Delhi: Debt-laden Indian carrier Jet Airways Ltd will cut flights on less profitable routes and add capacity to more lucrative markets, as part of its effort to lower costs and boost revenues as it struggles to stay aloft.
Jet, India's biggest full-service carrier posted its third straight quarterly loss on Monday, hurt by higher fuel expenses and a weaker rupee.
"The airline has embarked on a comprehensive review ... The measures will include rationalisation of operations on select, uneconomic routes," Jet said in a statement, adding that it will redeploy planes to more productive domestic and international sectors.
The review is expected to help deliver a more efficient and economically viable network, with a focus on profitability rather than market share. Jet is part-owned by Etihad Airways, said the statement.
"With our clearly defined focus on profitability, we are in the midst of turning the ship around," Jet's Chief Executive Officer, Vinay Dube, said in the statement.
A combination of rising oil prices, high fuel taxes, a weak rupee, low fares and intense competition have slashed profits in the world's fastest-growing aviation market, which is clocking 20 percent annual passenger growth.
Competitor IndiGo, owned by InterGlobe Aviation Ltd, last month pushed back plans to take ownership of some Airbus A320neo planes to preserve cash after the company posted its first quarterly loss since 2015.
Jet posted a loss of 12.97 billion rupees ($178 million) for the quarter ended 30 September, compared with a 496.3 million rupee profit a year earlier.
Fuel costs rose 58.6 percent to 24.2 billion rupees and the airline recorded a foreign exchange loss of 4.17 billion rupees, up from 730 million rupees a year ago. Revenue from operations climbed 9.5 percent.
Jet had a negative net worth as on 30 September, with current liabilities exceeding current assets, the airline said.
The company said it is on track to meet its target of more than 20 billion rupees of cost cuts over two years, having already made savings of 5 billion rupees in the first half of the current fiscal year.
During the quarter it expanded a codeshare agreement with Delta Airlines, Etihad Airways, Korean Air, Malaysian Airlines and Bangkok Airways to boost revenues.
It said it continued to talk to financial stakeholders regarding its funding requirements and was working on selling assets and raising capital.
Earlier this month, a media report said Tata Group was in talks to buy a majority stake in the airline and its frequent flyer programme, JetPrivilege. Jet said the report was speculative.
"We are confident that we will overcome our current challenges, honour our commitments to our stakeholders, and deliver a more strategic, efficient and financially viable airline," Jet's Dube said.
also read
Explainers
Amazon founder Jeff Bezos and his girlfriend Lauren Sánchez are officially engaged. The former broadcast journalist was seen sporting a ring on her finger as the couple enjoyed their time aboard the billionaire's $500 million yacht while on holiday together in the South of France
World
Gatwick Airport experienced a significant incident involving over 100 sightings of drones in just three days in December 2018, which led to the closure of its runway for a period of 30 hours
World
The Tata Group will start making iPhones in India and will make at least 5 per cent of all iPhones sold globally in 2023. The group will also start making iPhone 15 and iPhone 15 Plus later this year, and will have their production quotas increased.