Dear Sitharaman, Rajan did not embarrass; it's not bad to be 'one-eyed king'
India being the 'bright spot' among its Asian peers is something which international agencies, such as International Monetary Fund, have acknowledged. It is a great deal in a slowing world
In an interview to MarketWatch, which is published by Dow Jones & Co, Reserve Bank of India (RBI) governor, Raghuram Rajan made a remark on Indian economy that visibly embarrassed the Narendra Modi government.
Replying to a question on what is his 'secret sauce' that has made the Indian economy a 'bright spot' in the global economy, Rajan said Indian economy is like a one-eyed King in the land of blind, but has not quite achieved a position to feel satisfied. "Well, I think we've still to get to a place where we feel satisfied. We have this saying, "in the land of the blind, the one-eyed man is king. We're a little bit that way," Rajan said.
In other words, what Rajan said is this. "Indian economy indeed is in a much better situation compared with other countries in the world (which are gripped by their own issues such as the economic slowdown). But, it doesn't mean the Indian economy has sorted out all its problems. There is still work to do." The realistic assessment coming from one of the renowned economist and central banker, do not seem to have gone down well with Modi's ministers.
"I may not happy with his choice of words. I think whatever action is being taken by this government is showing results. FDI (Foreign Direct Investment) is improving; there are clear signs that manufacturing sector is reviving. Inflation, current account deficit is under control," Modi's Commerce and Industry Minister, Nirmala Sitharaman told reporters in Delhi.
"If better words were used to say whatever he wanted to say, it would have gone down better," said Sitharaman. Rajan's statement and Sitharaman's counter to this is an ideal example of how a central banker and a ruling politician would want to look at the state of the economy in different ways.
Jayant Sinha, minister of state for finance too expressed his disagreement with what Rajan said. "We are the shinning star (among various nations). I don't agree with what the governor said," Sinha said on Monday at an event organised by industry body Assocham.
The central banker offers a frank and realistic assessment of the state of the economy in relation to other comparable economies but the politician doesn't want to acknowledge the grey areas, but would merely stress the areas of achievements. Any mention of the grey areas that threaten to discredit his achievement is a cause of embarrassment, even if it is from the governor of the central bank. It isn't a correct approach.
India being the 'bright spot' among its Asian peers is something which international agencies, such as International Monetary Fund, have acknowledged. It is a great deal in a slowing world. But there are areas where the economy still faces major headwinds. Following are a few:
Banking stress
About 11 per cent of the bank loans given by Indian banks are still under stressed category. About Rs 4 lakh crore of gross Non-Performing Assets (GNPAs) and substantial amount of restructured loans threaten the health of banks. This is a major problem, where the government still has much work to do, especially given that about 70 per cent of the banking sector is owned by the government.
The Narendra-Modi government is still struggling to solve the banking sector problems (reforms in state-run banks, huge capital infusion they require, recovery of loans given to large corporations). The stress in bank balance sheets has cascading effects in the economy since high NPAs and capital scarcity would further hamper the ability of the banking system to lend further.
Corporate earnings
A report from rating agency, Crisil on Monday showed that total debt of companies downgraded by the rating agency stood at Rs 3.8 trillion, showing the persisting credit quality pressures faced by Indian companies. At Rs.8 trillion, this is the highest ever recorded by the agency. Stress in banking sector would further worsen the scenario in the corporate sector since it chalks bank funds. Only top rated large corporations are able to tap the money market for funds.
Private investments/stalled projects
There has been no remarkable improvement in the private investment scenario yet, said D K Joshi, chief economist at Crisil. "We expect this scenario to change in the last quarter. For now, this is not happening," Joshi said. According to Centre for Monitoring Indian Economy (CMIE), stalled projects have peaked in March 2016. "An important measure of the investment climate changing is a fall in the projects stalled. However, such a phenomenon is not seen, as yet. Projects whose implementation was stalled for various reasons peaked in March 2016 (and they are at their highest level in absolute terms) at Rs 11.4 trillion," CMIE said.
According to CMIE, the value of the stock of stalled projects as a proportion of projects under implementation peaked at 12.3 per cent as of March 2016. Also, the number of stalled projects also peaked, at 16 per cent of all projects under implementation, CMIE said.
Reforms pace
The Modi-government also needs to work hard to get the large-ticket reforms done, mainly the Goods and Services Tax (GST). Both the BJP and the Congress party still do not have a consensus on the GST issue with respect to the contentious issue (inclusion of GST cap in the Bill). International agencies and rating agencies have warned that failure to push forward the reforms agenda could hamper India's growth outlook.
Sitharaman must note that Rajan himself has acknowledged the 'bunch of good things that have happened in India.' "We feel things are turning to the point where we could achieve what we believe is our medium-run growth potential. Because things are falling into place. Investment is starting to pick up strongly. We have a fair degree of macro-stability. Of course, we are not immune to every shock, but immune to a fair number of shocks."
Due credit must go to the Modi-government for progressing on various areas such as subsidy rationalization, initiatives to push rural growth and improve business climate. With Inflation at comfortable levels, fiscal deficit under control and interest rates on a southward path, things indeed look better for Indian economy in several areas compared with the UPA-days. But, there is a danger in ignoring the fault lines in the economy.
Dear Sitharaman, there is no need to feel embarrassed with Rajan's 'one-eyed King' comment. It's still good to be a one-eyed in the land of blind.
India
The submission was made in response to a petition seeking that PM-CARES Fund be declared as 'The State' under Article 12 of the Constitution.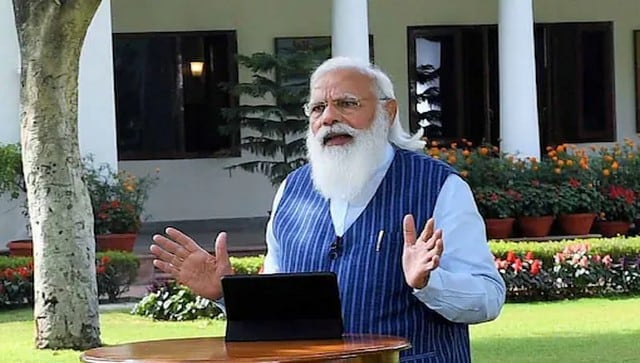 World
The CEOs were appreciative of India's reform trajectory and closer economic linkages between India and USA will benefit the people of both the nations, Modi later tweeted
India
The four-day hectic visit saw PM Modi effectively using the time available and making the most of it and has a busy Sunday ahead of him as well on landing back in the capital