Dear Jaitley, don't blame state-run banks alone; they were trained to be beggars
The banking sector is crying for radical reforms, not temporary shifting of the problem from one hand to the other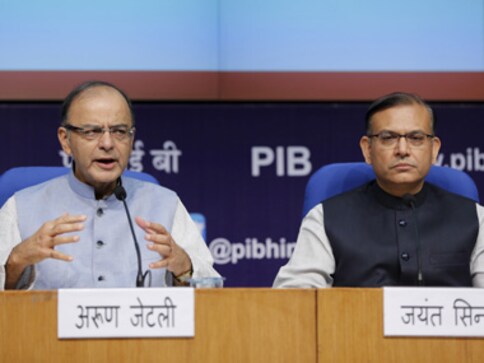 The highlight of the just concluded second edition of Gyan Sangam, a two-day gathering of public sector bank (PSB) chiefs, regulators and government representatives to discuss the issues in the banking sector, was that the government wants to push consolidation in the banking industry.
The plan is to create a few large banks, instead of the current set of 27 PSBs, most of which are weak on account of high stressed assets and legacy issues. A committee will be soon set up that will work with the Bank Boards Bureau (BBB) to find out the prospective candidates among banks for merger.
The government's idea behind this move — creating a few large state-run banks that will have relatively stronger structure and ability to generate balance sheet size to cater to the growing funding needs of Indian corporations — is welcome.
The two-phased bank nationalisation was intended at taking the banking services to the unbanked and finance the growth needs of the economy. Though the nationalised banks have indeed contributed to the process of promoting financial inclusion, they have failed to grow their reach beyond a point with still less than half of the country remaining unbanked.
Also, these banks have reached a stage with no certainty on future path. Despite three decades of operations, these banks have failed to stand on their feet. In other words, they aren't self sustainable financially but survives on the government's assistance. It's time to review their structure as we see today for obvious reasons.
Every year, these lenders are forced to knock the doors of the North Block with begging bowls (big and small in size) to stay afloat. Why we don't see any terminally sick private sector banks around? They are either perished or survived depending upon their ability.
To put it another way, their state-run character or let's say 'Ashwathama syndrome', will not let accept death even if their health is so weak and wants it (in some cases). This can't go forever as the government's job is not to do business but govern.
Also, with the banking landscape changing massively in 2015-16 with the entry of several small banks (small finance banks and payments banks) and in the context of RBI finalising the structure for differentiated banking regime by introducing more specialized banks, it is even more critical now to think about the next stage of life for the nationalised banks.
Instead of several small, inefficient universal banks, differentiated banks should do the job of promoting social sector schemes and financial inclusion in a better way.
So, that takes us to the conclusion that we clearly do not need so many government banks. Now what to do with them? The government has three options in front; either to consolidate these banks, reduce them to narrow banks and let them die a natural death or to sell these entities off to private sector once their balance sheets are cleaned up and bad assets are disposed of.
Of the three, the last option is better for several reasons:
One, even if weak state-run banks merge and become large institutions, that won't be a solution for their pain emerging out of stressed assets. Instead, this can create a larger, now more visible, problem for the government, since the underlying stress on their books will persist. If relatively stronger banks are asked to accommodate weak ones, then too the same problem arises.
This can even endanger the currently strong bank and is something RBI governor Raghuram Rajan had warned the government in August 2014 that such an exercise can create a bigger problem in the economy. Also, in the event of a merger of a weak bank with a strong bank, the acquirer will have to deal with the cultural problems that arise out of the merger, besides dealing with the primary challenge - the bad loan pile in the weak bank - creating difficulties for the strong bank, Rajan said.
The better idea would be to gradually sell them off to private investors once the ongoing clean-up exercise is over and the valuations improve by making changes in the act governing state-run banks. The government can ensure that the ownership doesn't fall in the hands of a few individual shareholders and still retain its status of single largest shareholder with a 26 percent ownership.
Two, even if the existing banks are bundled into a few large ones, the issue of autonomy in their operations will remain. Although the government's official stance is that it wouldn't interfere in the operations of these banks (promised at the first Gyan Sangam), that might not be the case in reality since these banks will still carry the burden of solely carrying out social sector initiatives and populist schemes of incumbent governments.
Now, with smaller banks coming onto the stage, the government should direct such schemes to the poor and unbanked through these banks.
Lack of authority to take independent business decisions and frequent indulgence of political-corporate nexus in PSBs' operations can very well push back these banks to vicious cycle of bad loans. Remember, the current bad loan problem faced by these banks happened also due to forced or directed lending to specific category borrowers.
Hence, the government passing the blame on these banks - You are wasting public Money - doesn't really hold. A good part of the current NPA problem faced by these banks can be traced to their lack of autonomy and vulnerability to cronies and frauds, being their sheer status of government institutions.
Once these banks are made private (like on the lines of the proposal for IDBI Bank), this situation can change and the officials at these banks wouldn't have to wait for signals from North Block to take business decisions.
Third, reducing these banks to narrow banks is indeed an option but might not work well because the moment lending operations of these entities are curtailed and they are denied to accept fresh deposits, there can be a run on these banks, besides the hit smaller shareholders of these bans will have to take.
Four, even if a few large banks are created out of the 27 banks, they will still turn to the government for capital every year. The only difference will be that the pie needed by each of these banks will be higher in line with their size. The government is to be blamed for making state-run banks survive on taxpayers' money every year, since it didn't train nationalised banks to fend for self, instead grew them in cages.
The bottomline is this: Once the ongoing clean-up exercise in state-run banks (which might continue over next few quarters to meet the March 2017 deadline) is over, and when investor confidence picks up in these banks, the government should work towards privatising these banks gradually, instead of consolidating them. This will be in line with the spirit of the P J Nayak committee proposals. The banking sector is crying for radical reforms, not temporary shifting of the problem from one hand to the other.
(Kishor Kadam contributed data to this story)
Business
It doesn't make sense for the government to run banks for the simple reason that it doesn't have the fiscal ability to continue feeding the capital-starved lenders
Business
Jaitley also said public sector banks actually made operating profits of Rs 1.40 lakh crore in 2015-16