Daimler to deepen cost cuts after expected quarterly loss
BERLIN (Reuters) - Daimler will deepen cost cuts because of an expected second-quarter operating loss and despite some signs of a recovery in demand for luxury cars, the chief executive said on Wednesday. Daimler said sales of its Mercedes-Benz brand dropped almost 19% to about 870,000 cars in the first half, although the brand achieved its best second quarter sales so far in China. Despite the rebound in China, the business losses racked up in recent months would not be recovered by the end of the year, demanding more cost cuts, CEO Ola Kaellenius told shareholders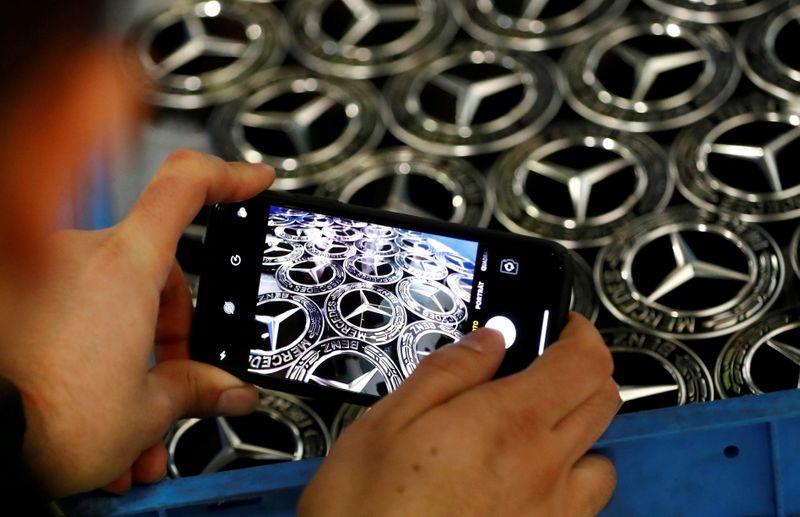 BERLIN (Reuters) - Daimler will deepen cost cuts because of an expected second-quarter operating loss and despite some signs of a recovery in demand for luxury cars, the chief executive said on Wednesday.
Daimler said sales of its Mercedes-Benz brand dropped almost 19% to about 870,000 cars in the first half, although the brand achieved its best second quarter sales so far in China.
Despite the rebound in China, the business losses racked up in recent months would not be recovered by the end of the year, demanding more cost cuts, CEO Ola Kaellenius told shareholders.
"Our previous efficiency goals covered the upcoming transformation, but not a global recession. That's why we are further sharpening our course," Kaellenius said, adding that the company was in talks with labour representatives about savings.
Daimler, which reports second-quarter results on July 23, said it expected a significant decline in sales for the period, a negative adjusted group operating profit and negative free cash flow in the industrial business.
The company expected a recovery to levels before the coronavirus crisis would take a long time. Kaellenius cited expectations by the International Monetary Fund for 2020 to record the worst worldwide recession in almost a century.
"The group's unit sales, revenue and earnings are likely to be lower this year than in 2019," he said, adding that Daimler could increase production swiftly once demand picked up again.
"Already in June, global retail car deliveries were slightly above the prior-year level again," Kaellenius said.
(Reporting by Emma Thomasson and Edward Taylor; Editing by Michelle Martin and Edmund Blair)
This story has not been edited by Firstpost staff and is generated by auto-feed.
Find latest and upcoming tech gadgets online on Tech2 Gadgets. Get technology news, gadgets reviews & ratings. Popular gadgets including laptop, tablet and mobile specifications, features, prices, comparison.
Business
By Supantha Mukherjee (Reuters) - Microsoft Corp's professional networking site LinkedIn said on Tuesday it would cut about 960 jobs, or 6% of its global workforce, as the coronavirus pandemic is having a sustained impact on demand for its recruitment products. California-based LinkedIn helps employers assess a candidate's suitability for a role and employees use the platform to find new job. Jobs will be cut across sales and hiring divisions of the group globally.
Business
By Nivedita Balu (Reuters) - Coca-Cola Co said on Tuesday demand for its beverages was improving after reporting a 28% slump in sales in the "most challenging" quarter of the year due to coronavirus-led closures of restaurants, theaters and sports venues.
Business
PARIS (Reuters) - French Finance Minister Bruno Le Maire said on Tuesday that France would not ban China's Huawei from investing in the country, in contrast to Britain which has decided to purge the firm's equipment from its 5G network by 2027. Le Maire told France Info radio there was "no blanket ban" on Huawei in France, but that sensitive locations would be protected. "We won't ban Huawei from investing in 5G, we will protect our national security interests," Le Maire said, adding that he had reaffirmed France's position to Chinese authorities on Monday