Corrected: Kraft Heinz banks on Anheuser-Busch exec in strategy shift
(Corrects to show that Berkshire and 3G together own close to 50 percent of Kraft Heinz, not more than 50 percent) (Reuters) - Kraft Heinz Co said on Monday it would replace Chief Executive Officer Bernardo Hees with Anheuser-Busch InBev marketing chief Miguel Patricio, as one of the world's largest packaged food companies looks to reinvigorate its brands after years of cutting costs dented their value. In February, the Heinz ketchup maker cut its dividend payouts, wrote down the value its marquee Kraft and Oscar Mayer brands and other assets by more than $15 billion and disclosed a regulatory probe into its accounting practices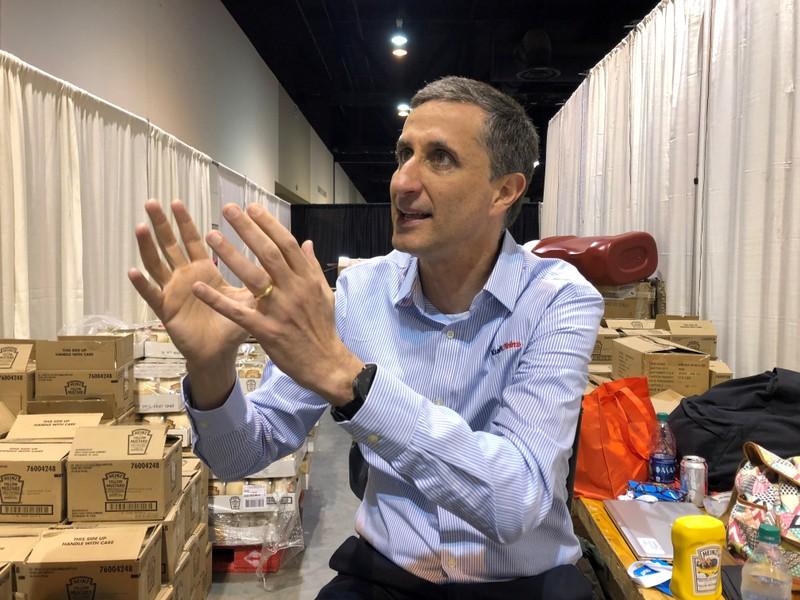 (Corrects to show that Berkshire and 3G together own close to 50 percent of Kraft Heinz, not more than 50 percent)
(Reuters) - Kraft Heinz Co said on Monday it would replace Chief Executive Officer Bernardo Hees with Anheuser-Busch InBev marketing chief Miguel Patricio, as one of the world's largest packaged food companies looks to reinvigorate its brands after years of cutting costs dented their value.
In February, the Heinz ketchup maker cut its dividend payouts, wrote down the value its marquee Kraft and Oscar Mayer brands and other assets by more than $15 billion and disclosed a regulatory probe into its accounting practices.
The broad sector has struggled with rising transportation and commodity costs along with a shift in consumer preferences to more niche health-focused brands.
The Velveeta cheese maker's second biggest shareholder 3G Capital has pushed the company to rein in expenses to tackle higher costs and sluggish growth, a strategy it has used effectively at Heinz and Anheuser-Busch, another company in which it has a stake.
3G and Warren Buffett's Berkshire Hathaway Inc together own close to 50 percent of Kraft Heinz.
"The change at the top of Kraft Heinz is a positive development," said Roosevelt Investment Group fund manager Jason Benowitz, which previously held a stake in Kraft Heinz.
"It shows that management and the board understand the serious nature of the challenges facing the company. Kraft Heinz ... cannot further cost cut its way to prosperity."
The company's shares rose about 1 percent in early trading, after more than more than halving in value since H.J. Heinz and Kraft Foods, two of the United States' biggest food and beverage producers, merged in 2015.
Kraft Heinz has been the worst performing stock on the S&P 500 Packaged Foods and Meats index over the last year, falling some 43 percent.
Patricio takes over the top job in July after spending two decades at Anheuser-Busch, most recently as the Budweiser brewer's global chief marketing officer.
Prior to AB InBev, Patricio worked at a range of major consumer goods producers including Philip Morris, Coca-Cola Co and Johnson & Johnson.
"By appointing Mr. Patricio as the new CEO, it appears that Kraft Heinz is doubling down on its efforts to reinvigorate the top line," Bernstein analyst Alexia Howard wrote in a note.
His prior experience as the president of Asia Pacific of Anheuser-Busch InBev might enable him to explore more growth opportunities in emerging markets at Kraft Heinz, she said.
(Reporting by Uday Sampath in Bengaluru; Editing by Shailesh Kuber and Saumyadeb Chakrabarty)
This story has not been edited by Firstpost staff and is generated by auto-feed.
Find latest and upcoming tech gadgets online on Tech2 Gadgets. Get technology news, gadgets reviews & ratings. Popular gadgets including laptop, tablet and mobile specifications, features, prices, comparison.
World
By Tim Hepher and David Ljunggren PARIS/OTTAWA (Reuters) - France said on Friday it would download the black boxes from a Ukrainian airliner downed by an Iranian missile in January, easing a stand-off over where they should be read. France's BEA crash investigation agency said it was acting at the request of Iran, which remains responsible under global rules for conducting a formal accident probe after acknowledging that the Boeing 737 was downed by its forces
World
By Brad Brooks LUBBOCK, Texas (Reuters) - With new coronavirus cases surging in Texas and Florida, officials in both states on Friday ordered bars to close again and imposed tighter restrictions on restaurants, setting back efforts to reopen their economies. Governor Greg Abbott gave bars in Texas until midday Friday to shut, while Florida's Department of Business and Professional Regulation told bars to immediately stop serving alcohol on their premises
World
By Patricia Zengerle WASHINGTON (Reuters) - The U.S. Senate passed legislation on Thursday that would impose mandatory sanctions on people or companies that back efforts by China to restrict Hong Kong's autonomy, pushing back against Beijing's new security law for the city. The measure also includes secondary sanctions on banks that do business with anyone found to be backing any crackdown on the territory's autonomy, potentially cutting them off from American counterparts and limiting access to U.S.