Uber, Meru, Ola and others: All taxi services refuse liability for driver behaviour
In other words, we're not responsible for anything that happens to you- be it rape, murder or robbery.
Use at your own discretion. When you agree to Uber's terms and conditions, you basically give Uber a free pass.
When you download Uber's app and get into a car summoned with the mobile reservation system, you agree to a host of terms and conditions by default which allows the company to absolve itself of any liability in cases of injury or accident and to avoid responsibility for a driver's actions.
Take a look at its terms and conditions below:
"UBER DOES NOT GUARANTEE THE SUITABILITY, SAFETY OR ABILITY OF THIRD PARTY PROVIDERS. IT IS SOLELY YOUR RESPONSIBILITY TO DETERMINE IF A THIRD PARTY PROVIDER WILL MEET YOUR NEEDS AND EXPECTATIONS. UBER WILL NOT PARTICIPATE IN DISPUTES BETWEEN YOU AND A THIRD PARTY PROVIDER. BY USING THE SERVICES, YOU ACKNOWLEDGE THAT YOU MAY BE EXPOSED TO SITUATIONS INVOLVING THIRD PARTY PROVIDERS THAT ARE POTENTIALLY UNSAFE, OFFENSIVE, HARMFUL TO MINORS, OR OTHERWISE OBJECTIONABLE, AND THAT USE OF THIRD PARTY PROVIDERS ARRANGED OR SCHEDULED USING THE SERVICES IS AT YOUR OWN RISK AND JUDGMENT. UBER SHALL NOT HAVE ANY LIABILITY ARISING FROM OR IN ANY WAY RELATED TO YOUR TRANSACTIONS OR RELATIONSHIP WITH THIRD PARTY PROVIDERS," it says ( Read the entire T&Cs here)
In other words, we're not responsible for anything that happens to you- be it rape, murder or robbery. It squarely places the responsibility on the drivers or owners who use their service to connect with customers. The pretext is that Uber is not a transportation company, but rather a technology service that matches riders with drivers. What's ironic is that Uber's USP is safety even as its army of lawyers are actually working overtime to ensure this $40 billion company isn't responsible for ensuring that safety.
But here's the surprising bit: Uber is not the only cab service to duck its responsibility.
Here are the Ola Cabs terms and conditions (available on www.olacabs.com): "The Company shall not be liable for any conduct of the drivers of the taxis. However, the Company encourages you to notify it of any complaints that you may have against the driver of any taxi that you may have hired using the Company's Services."
But these are app-based aggregators, surely the bar is higher for fleet services like Meru that have not drawn the Delhi government's wrath.
Not quite. Here's the real shocker. Meru has a terms and conditions policy strikingly similar to Uber and Ola:
"The quality of the taxi services requested through the use of the Application or the Service is entirely the responsibility of the Service Provider who ultimately provides such taxi services to you. The Company under no circumstance accepts liability in connection with and/or arising from the taxi services provided by the Service Provider or any acts, action, behaviour, conduct, and/or negligence on the part of the Service Provider. Any complaints about the taxi services provided by the Service Provider should therefore be submitted to the Service Provider," it reads.
And this is what Carzonet, which runs EasyCabs has to say:" Customer agrees and acknowledges that the use of the services offered by Carzonrent is at the sole risk of the Customer. Carzonrent disclaims all representations and warranties of any kind, whether express or implied as to condition, suitability, quality, merchantability and fitness of the services offered by CARZONRENT. The liability of CARZONRENT is excluded to the fullest extent permitted by law."
While all these taxi providers claim they will not be held responsible for the misconduct of its drivers, what separates Uber and Ola is that they are not radio cab services but taxi aggregators and hence cannot be held responsible for driver quality & supervision, employee behaviour and police verification among others. So since Uber does not own taxis or employ drivers on its own, it cannot be governed by the same legislation that governs radio taxi services like Meru.
However, terms and conditions for the radio taxi scheme issued by the transport departmentexplicitly saythe driver must be of a "good character and without any criminal record". Further, radio taxi licensees or operators were responsible for police verifications and behaviour of their employees.
"If the radio taxi licensee uses or causes or allows a vehicle to be used in any manner not authorised by the permit or provisions, the licensee and driver shall be jointly and severally responsible for any offence or crime which has been committed by a person, including driver, using the said vehicle," the rule adds."
Even though all cab sharing companies claim they will not be held responsible for anything that happens to you while riding their cab, the legality of their position is yet to be established.
"Police say Uber never applied for any permission, is not recognised under the radio taxi rules and has flouted most of the laid-down rules. But did the police care to find out whether Uber or other radio taxi 'aggregators' needed to get a permit under the Motor Vehicles Act? The answer is 'No' and that is precisely why the proposed Road Transport & Safety Bill has sought to include them under its ambit. If radio taxi operators were allowed by the law to operate without a permit, who do you blame - the law or the operator?," asks a Business Standard article.
Reports also suggest that the central government too thinksbanning Uber won't help resolve the issue of cab companies flouting norms such as police verification of its drivers and may now propose Aadhaar as the basis for verification of drivers.
Find latest and upcoming tech gadgets online on Tech2 Gadgets. Get technology news, gadgets reviews & ratings. Popular gadgets including laptop, tablet and mobile specifications, features, prices, comparison.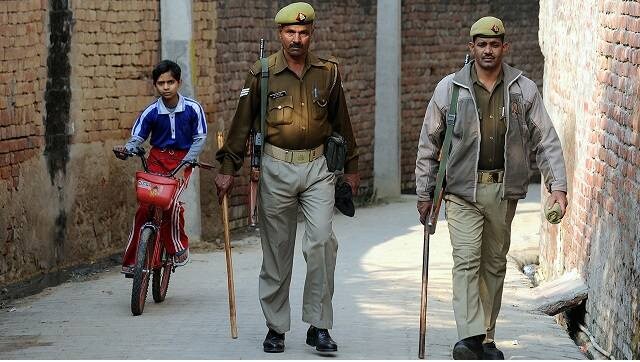 India
The Dalit girl's family members have alleged that she was raped by three men in a forest area on 8 October. According to the victim's father she was found with her hands and legs tied
World
The police believe the man injured himself when officials entered the property and are yet to confirm their line of inquiry. A post-mortem on the bodies is scheduled for Thursday
India
The three accused also blackmailed the girl by threatening to upload her objectionable video online if she resisted their advances, said the police