Still flying overseas, haven't taken any shortcuts on safety, says SpiceJet
The airline's comments camea day after civil aviation minister A Gajapathi Raju spoke about about the heightened surveillance of SpiceJet flights by theDGCA on account ofof safety concerns.<br />
New Delhi: SpiceJet, which has seen stringent regulatory action after flight cancellations and reduction in its fleet, today said it has never taken shortcuts with regards tosafety.
It said in a statement, the airline said that safety was its top priority and that it was proud of an unblemished safety record.
The airline's comments camea day after civil aviation minister A Gajapathi Raju spoke about about the heightened surveillance of SpiceJet flights by theDGCA on account ofof safety concerns.
The minister had told Firstbiz yesterday that "Spicejet's books are bad.....bad books sometimes give the impression that safety may not be getting as much priority as it should".
The DGCA has initiated several steps against SpiceJet - it has been restrained from taking advance bookings beyond a month, asked to pay November salaries by the 15th and to surrender 186 slots at various airports. The airline has reduced daily flights by about 100 since September due tofleet reduction.
In the statement this morning, the airline dismissed media reports about its international flying rights being withdrawn due to itsfleet size falling below 20 aircraft. The airline's statement said its fleet presently comprises of 22 Boeing and 15 Q 400 aircraft.
The statement also said its dues to various creditors are well below the Rs 1600 crore reported by some newspapers and it has not been asked by DGCA to clear all dues by 15December.
India
BSEB conducted the Class 10 exams in 1,525 centres across the state from 17 to 24 February, in which around 17 lakh students had appeared
Business
The company's revenue from operations rose by 3.4 percent to Rs 16,245.4 crore in the reported quarter from Rs 15,711 crore in the same period last fiscal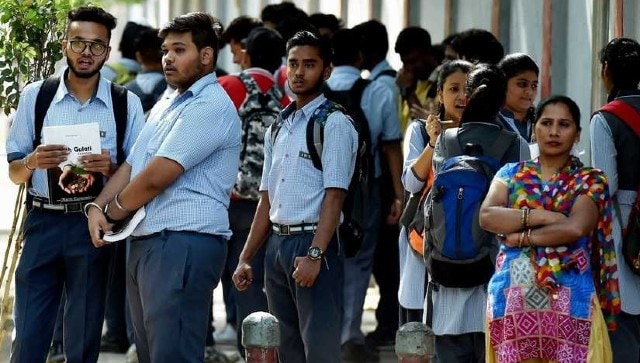 India
A total of 16.8 lakh candidates who have enrolled for the class 10 exam can check the result through the website-biharboardonline.com