Only 9 routes profitable: Air India's report card shows how it failed
Air India operates close to 370 daily flights, of which about 120 are to international destinations.
New Delhi:Air India operates close to 370 daily flights, of which about 120 are to international destinations. So what Minister of State Mahesh Sharma said today in a written reply to the Lok Sabha is a bit of a shock: he mentioned only three international routes and six domestic routes where Air India flights make a profit. Only nine routes in all.
Air India has been claiming that two-thirds of its capacity meets variable costs and that it has been cash positive since April this year. The catch phrase of course is "variable costs".Variable costs do not include staff salaries, depreciation and interest payments among other things and account for only 60-65% of total costs.Air India has improved yields and loads on many flights, international as well as domestic, but it is making losses on almost all barring the flights on nine routes mentioned by the minister.
Sharma said in his reply today that Air India's domestic profit making routes are: Delhi-Leh, Delhi-Kolkata, Leh-Jammu, Delhi-Srinagar, Srinagar-Leh and Delhi-Hyderabad-Vijayawada. From this reply, it is obvious that the airline is not making a profit on routes like Delhi-Mumbai, the busiest domestic route of all. The metro routes have anyway seen overcapacity as low cost carriers also operate multiple flights on these profitable routes and indulge in frequent price wars.
One point here is in Air India's favour: unlike the IndiGos and other private carriers, the national carriercannot be a point to point operator and that is partially responsible for its lower than optimal on-time performance as well as unprofitable domestic routes.
The minister also saidonly three international routes which are profit making:Cochin-Kozhikode-Jeddah, Kozhikode-Sharjah and Kolkata-Yangon. Again, none of the routes to Europe, South Asia or Americas find a mention in this list of profitable routes. Gulf carriers like Emirates and now Etihad (via its tieup with Jet Airways) are obviously giving AI tough competition on routes to the Americas and Europe as they carry planes filled with Indian passengers to their respective hubs of Dubai and Abu Dhabi respectively before offering them onward connections.
Air India is doing its bit by opening new routes and deploying the fuel efficient Dreamliners on some of these routes, but obviously not enough is being done to generate profits.
To another question on whether private airlines have been permitted to operate flights on these profit-making routes of Air India, Minister Sharma said Indian carriers are eligible to operate to foreign destinationsas per the respective bilateral air services agreements with concerned countries.
"Grant of traffic rights to scheduled Indian carriers depends on requests received from designated Indian carriers based on their commercialjudgement and availability of bilateral rights to operate on internationalroutes. However, priority is given to the operational plan of Air India whilegranting traffic rights, " he said.
The fact thatAir India has been suffering because of its own inefficiencies and legacy issues is obvious. But the skewed policies of successive governments have also hindered the growth of the airline. Civil Aviation Minister A Gajapathi Raju has said many times that the entire procedure for signing bilateral air services agreements with other countries needs an overhaul as Indian airlines have suffered under previous regimes.
Find latest and upcoming tech gadgets online on Tech2 Gadgets. Get technology news, gadgets reviews & ratings. Popular gadgets including laptop, tablet and mobile specifications, features, prices, comparison.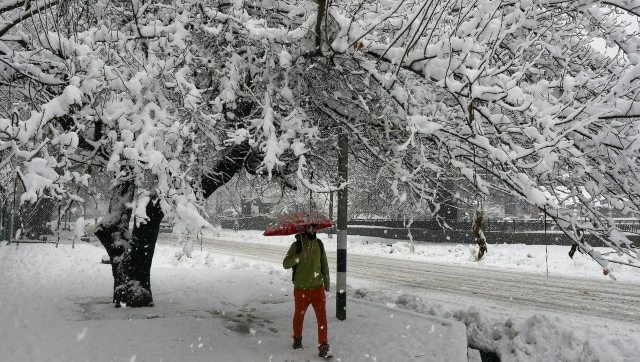 India
However, an IMD official has said the weather is likely to improve from today afternoon and that there was no forecast of any major snowfall from 7 till 14 January
World
Indonesian Sriwijaya Boeing 737 Plane missing LIVE updates: A commander of one of the search-and-rescue ships who goes by a single name, Eko, said that fishermen found cables and pieces of metal in the water
World
The rocket's upper stage coasted for some time, reignited to circularize its orbit, and later deployed the nine CubeSats.