Jet Airway's focus away from loss-making domestic business is a smart move
Jet faces its own unique set of problems apart from those which other domestic airlines are staring at. For one, there has been considerable confusion about its branding and product offering
Jet Airways is slowly decreasing emphasis on its domestic business, where it has continuously lost market share and faced losses. The domestic business accounts for more than half or 55 percent of its total revenues now but will be reduced to just a third of total revenues by 2017, when the airline is targeting a return to profitability.
Smart move? It would seem so. The domestic market has only brought losses to Indian airlines where all except IndiGo are bleeding heavily. Jet faces its own unique set of problems apart from those which other domestic airlines are staring at. For one, there has been considerable confusion about its branding and product offering since it keeps switching between Jet Konnect and Jet on domestic routes.
Sources have earlier indicated that Jet is thinking of transferring its fleet of ATR aircraft and some Boeing 737s from Jet Airways to JetLite (which operates the Jet Konnect brand) but this was not confirmed by any airline official. Chairman Naresh Goyal merely said during a press conference today that "The ATR fleet is making money so far, it is doing well on regional and lower density routes...we will decide on restructuring and let you know".
The other problems Jet will increasingly face on domestic routes is competitive intensity - full service airline Tata-SIA is planning to launch this winter and AirAsia India is already air borne. Unless Jet knows for sure what routes are profitable for it, how many and which kind of aircraft to deploy and whether to keep two service offerings on the domestic front or only an LCC model, its losses on the domestic front will continue.
CEO designate Cramer Ball made repeated mention of his philosophy of "keeping things simple". He said the domestic business remains a major challenge and he would focus on:
- Removing complexity in fleet
- Ensuring two-class configuration on all Boeing 737 operations
- Ensuring there is strong connectivity from domestic to international destinations.
In effect, the domestic business may become a glorified feeder service for international operations into the Etihad network.
What about Jet's high debt pile? Well, Etihad Airways is in no mood to increase its equity stake in Jet immediately but seems committed to help Jet emerge from the red in other ways. Etihad sources told Firstbiz the Abu Dhabi-based airline has every confidence of Jet returning to profitability by 2017 as projected earlier and that it would do all it can to help Jet deleverage its balance sheet. It has already given a $150 million lifeline for debt reduction and from all available indications, more such lifelines may be thrown for Jet's debt to come down.
Jet's consolidated loss of Rs 4,130 crore in FY14 is almost the same as the losses posted by the company over the last six years. And almost equal to the equity infusion by Etihad Airways for a 24 percent stake.
In a conference call with analysts after announcing the FY14 results in May, Jet officials had listed steps they plan to take to steer the airline towards profitability:
1) Reconfigure domestic narrow body aircraft so that the Boeing 737-800 fleet has 12 business and 156 economy seats as a standard configuration. This will increase total seats available domestically and also help use these aircraft from 4-5 hour international flights. In the Boeing 777, seats will be increased from 312 at present to 346 by taking 9 abreast economy to 10 abreast. This will increase capacity on international routes by at least 10 percent while total domestic capacity will remain flat.
2) Jet has already cut loss making routes such as Chennai-Colombo, Kolkata Bangkok and added new routes such as Cochin-Dammam-Cochin, Bombay-CDG (Paris) and Delhi-Kathmandu. This network restructuring will continue bringing in synergies.
3) Ensuring that no aircraft sits on ground unlike last fiscal will also help finances.
4) Increase interline and codeshare revenue in overall airline revenue, find newer ways to raise ancillary revenue while examining every single cost head.
5) Increasing operational synergies with Etihad. Already, of the 1000 passengers which a exchanged between the two airlines, 300 are transfer passengers which go onward from Abu Dhabi. This will increase going forward as more traffic from tier II and tier III Indian cities gets funneled into Abu Dhabi. Besides, Jet can pick up fuel much cheaper from Abu Dhabi besides exploiting other synergies on maintenance, crew training and other areas.
Find latest and upcoming tech gadgets online on Tech2 Gadgets. Get technology news, gadgets reviews & ratings. Popular gadgets including laptop, tablet and mobile specifications, features, prices, comparison.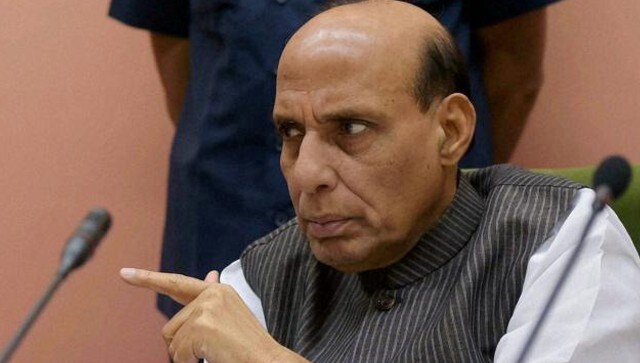 India
Rajnath Singh, who was at Thursday's induction ceremony along with Air Chief Marshal RKS Bhadauria, said national security is a major priority for India and it is determined to protect its territory
India
The aircraft, which belonged to the Indira Gandhi Rashtriya Udan Akademi, crashed into an agricultural field in Kushaha Fariuddinpur village around 11.30 on Monday morning due to bad weather conditions