Indian media, sit up and take note: PM Modi, Zuckerberg meet has a message for you
If Indian newspapers decide to take their heads out of the advertising quagmire of corporate advertising, they would realise that their readers have moved on
One important facet of Facebook Chief Mark Zuckerberg's visit to India is the impact that it has on the country's media. Prime Minister Narendra Modi met Zuckerberg though he has not met head of any Indian media company, not publicly at least.
Modi intuitively understands the strength of media companies like Facebook. I call Facebook a media company as it is unfair to call it a social media company, which implies that it does not, or will not, compete with traditional media.
According to Zuckerberg, about 65 percent of Facebook users in India use in a language other than English. He did not give a break up but it shows that Facebook's reach has expanded beyond the metros and is reaching the hinterland.
This is something that Bennett, Coleman and Company Ltd, the largest media company in the country in terms of revenues, has lately started doing with its language editions in Bengali, Gujarati and Marathi.
What BCCL discovered now has been perfected and practiced by other media companies such as Dainik Jagran, and Ananda Bazar Patrika over the years. This is what Zuckerberg too has understood instinctively - to reach India FB has to have an Indian language base. This is what most digital content companies have not understood in the internet world.
In the world of internet, a media or any digital content entity is an engagement platform not a one-way presentation of content. Most media companies in the Indian digital media are replica of their newspapers in digital form. They think that their strength is local and this is what they think they should work on digitally. This is why they are about to be disrupted digitally. And Modi has realised this disruption. That is why Facebook is becoming part of the digital India campaign.
The Indian Express quotes minister of communications and information technology Ravi Shankar Prasad as saying: "We have dedicated some officials from my ministry to work closely with Facebook on their proposals to expand digital services in the country."
A ministry official said joint secretaries of telecom and IT will be single point contact for Facebook for their projects so that the modalities related to their alternative technology is expeditiously worked out.
When was the last time an Indian media company was offered the same by any department of the Indian government? Which Indian media company has been invited to be part of the PMO's Digital India initiative? Or which Indian media company has offered to be part of the Digital India programme?
In terms of volumes, the government of India is the largest advertiser for most Indian language media in the country. For smaller print newspapers, it is the only source of revenue as the corporate advertisers, like FMCG companies, have completely stopped using print.
Moreover, one of the biggest strength of traditional Indian media company is their readership base. And they claim that they can usher in socio-economic change in the society through campaign journalism.
Most of them actively carry out campaigns on cleanliness, voting, cities, alcohol and gutka consumption. These campaigns have become a crucial part of their brand and connection with the readers. The rug is been virtually pulled under their digital feet as the government increasingly moves with digital media companies to engage with India.
Modi's dislike for English media is not because they have been critical in the past, though now they are fawning all over him. He refuses to engage with them because he genuinely feels that they are not important to engage with the voters or India at large. The engagement with Facebook suggests that Modi is now moving away from even Indian language media or is he creating an alternative that he can control.
It is possible for Facebook to create the largest engagement platform for Indian languages. This is possible because of the inherent strength of Facebook, and it will use content from same media companies that it is disrupting.
This is what BCCL realised when it recently issued a policy for the social media engagement for its journalists. It was criticised by online journalists as an infringement of fundamental rights. Quartz, an American website, called it 'bizarre'.
BCCL clearly realised and understood that Facebook is a bigger competitor for the minds of its journalist. They share stories, pictures, opinion and freely engage with people, while they are being paid by BCCL.
Quartz quoted some unnamed global media companies that encourage their journalists to share content. These unnamed global media companies must be the ones who are going out of business. As it goes against the grain of a media company to allow its core editorial team to go out and create content for other companies.
No Indian company should allow journalists to use social media campaign during office hours unless and until it brings audience back to their digital side. Google might have disrupted media sites as destination site. Now, Twitter and Facebook have disrupted their core engagement model and are now disrupting their relationship with the government.
If Indian newspapers decide to take their heads out of the advertising quagmire of corporate advertising, they would realise that their readers have moved on.
Yatish Rajawat is a senior journalist based in Delhi. He tweets at@yatishrajawat.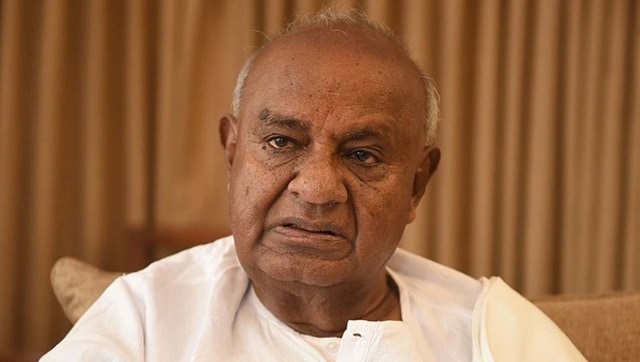 Politics
Gowda had served as the 11th Prime Minister from 1 June 1996 to 21 April 1997, after emerging as the leader of the 13-party United Front
India
The Shivir aims to involve more youth in social service and towards nation building
India
The Indian pavilion will be inaugurated by Union Minister Anurag Singh Thakur on Wednesday at Cannes and the universal theme for this year is India the content hub of the world