The Supreme Court has struck a blow for property buyers by socking it to DLF, the biggest listed realtor of them all. By upholding the Competition Commission of India's (CCI's) order of August 2011 which asked DLF to pay a penalty of Rs 630 crore for deploying grossly "unfair trade practices" with home buyers, the court has ensured that all builders will, in future, have to think twice about selling consumer interests short by drawing up one-sided sales contracts.
None of this would have happened without the Competition Commission's creative interpretation of its anti-monopoly mandate and write itself into the script.
DLF said CCI had no mandate to look into its case as it was neither dominant in realty nor was it a monopoly of any kind. But CCI ruled otherwise.
The Commission started investigating DLF when it received a complaint from buyers against one of its projects in Gurgaon - buyers who had banded together under the banner of Belaire Owners' Association. They claimed they had gotten a raw deal from DLF. The CCI's subsequent investigations established that DLF used its "dominant" position in the Gurgaon realty market to impose "draconian and one-sided clauses" against buyers, adding that "there are clauses that give DLF Ltd sole discretion in respect of change of zoning plans, usage patterns, carpet area, alteration of structure, etc. In case of change in location of the apartment, PLC (preferential location charge) will be determined at the discretion of the builder and, if a refund is due, no interest is paid. No rights have been given to the buyers for raising any objections."
As we noted before, CCI found that DLF had unilaterally decided to increase the size of the building from 19 floors to 29, started work without all permissions being in place, and delayed completion to the extent where some buyers had (at the time of the CCI's report) still not obtained possession of their flats.
After the CCI order, DLF appealed against it to the Competition Appellate Tribunal (Compat), and it was the Compat's rejection of the challenge that the Supreme Court upheld today (27 August). The Rs 630 crore penalty will now have to be paid in three months - with Rs 50 crore having to be paid within three weeks.
However, two questions are worth answering in some detail about the CCI's order and the Supreme Court's final upholding of the penalty.
One, how are DLF's one-sided contracts any different from those of other builders? One-sidedness is built into all contracts between builders and hapless buyers looking for a roof over their heads.
Two, how did the Competition Commission itself get into the picture, given that its ambit relates to areas that have low competition or abuse of market monopoly position by a dominant player? Isn't a bad real estate deal more a matter for the consumer courts?
The answers to both the questions are the same: the CCI used a creative definition of the term "dominant" player to make itself eligible to hear a consumer complaint against DLF. Among other things, CCI used DLF's market capitalisation, its net profits, enterprise value, land banks, and market share in relevant markets to show that it was a "dominant" player - when the reality is that the real estate market is fragmented, and has thousands of builders operating in various markets.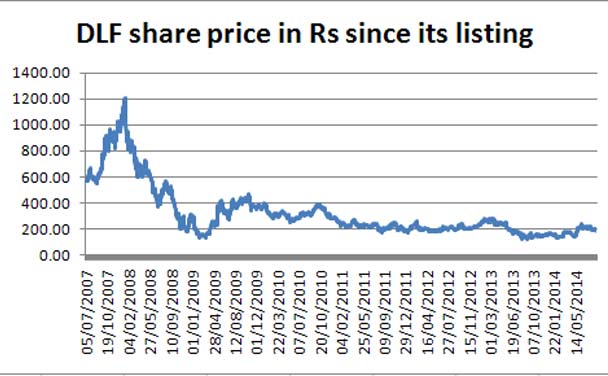 Moreover, the CCI took data for the period around June 2010, since when DLF's ride has been largely downhill. Thus, while the CCI order mentioned a market-cap of Rs 59,782 crore, today the company's value is just Rs 32,615 crore.
The CCI's Director General (DG) of Investigations studied DLF's numbers and declared that the economic power of the company was significant enough for it to drive one-sided contracts. The CCI's order noted: "DG has established that OP-1 (opposing party 1, ie, DLF) has gigantic asset base as compared to its competitors. Further, it also has enormous cash profits and net profit as compared to its competitors. The position of cash profits and net worth (figures taken from CMIE) shows that OP-1 is far ahead on these accounts also as compared to its competitors. Based on a comparison of cash profits and net profit of 128 companies, it has been established by DG that OP-1 has 78 percent and 63 percent share respectively. Huge cash profits and net worth of OP-1 is giving them tremendous economic power over their rivals."
But today this picture of an all-powerful DLF would be wrong, and it is a pale shadow of what it was when its share was first listed on the bourses. In fact, from its highest market-cap figure of Rs 2,18,267 crore in January 2008, the company has been one of the biggest destroyers of investor wealth, having wiped out value to the tune of Rs 1,86,652 crore.
The key to CCI's success in bringing DLF's anti-consumer contracts thus lies in the creative way in which it created jurisdiction for itself in what was essentially a consumer dispute.
However, with the Supreme Court now upholding its decision, it means that the consumer courts can now get bolder with complaints filed against any builder.
CCI deserves kudos.
Your guide to the latest cricket World Cup stories, analysis, reports, opinions, live updates and scores on https://www.firstpost.com/firstcricket/series/icc-cricket-world-cup-2019.html. Follow us on Twitter and Instagram or like our Facebook page for updates throughout the ongoing event in England and Wales.
Updated Date: Dec 21, 2014 13:23:13 IST