Coronavirus Outbreak: From retailing cigarettes to selling vegetables, offline grocers cater quicker to customers than online players
Kirana stores account for over 95 percent of India's food and grocery sales.
For 29 year-old Anuj Dandona, a cultural consultant living in Chembur, the local grocer has turned out to be his saviour—making available vegetables in addition to the usual groceries at one store. Dandona says since the lockdown was announced, a few grocers in the area, who would sell potatoes and onions besides groceries, are also doing the same. But the grocers are taking precautions: customers are asked to stand outside the store and list out what they need. They can select the vegetables and leave them in a basket which is weighed inside the store. "I am glad I can buy both my groceries and vegetables at one place when I step out," Dandona said.
For Anil S, the proprietor of Sree Siddhi Vinayak Stores in Chembur, the decision to sell vegetables was driven by demand: "My customers would complain about not getting vegetables and fruits. I thought why not I provide it? I have been buying them from an online player who drops it to my store," he said. The shop is open till 11 AM only to limit the 'exposure'.
Essential goods are not the only shortage citizens are facing - smokers, for instance, are unable to get their daily fix of cigarettes from the local panwalla since the lockdown began. Samir Patel, a third-generation grocer at Wagadwala store at Marol, Andheri is now planning to retail cigarettes for the first time. A smoker himself, while he has been able to get by for over a fortnight without taking puffs, he understands the difficulties other smokers may be experiencing.
"I know of panwallas who are selling cigarettes in the black market at a higher price," he said. Patel has no plans to sell cigarettes at a higher rate, though, he says.
A few days after the lockdown, Patel also started retailing masks and gloves. The store is open every alternate day and  groceries are disappearing at a fast rate, he says.
When the stocks are down, Patel takes a police permit for essential services from the MIDC police station and goes to Jogeshwari where the wholesalers are. "Most of them are not there now, but I have my contacts. Yet, I am able to get just 20 percent of the stock I need."
At his store in Andheri, Patel does not allow customers to enter. They have to queue outside, follow social distancing rules, and tell him their list. He had two delivery boys earlier, but they went away to their hometowns up north when news of the coronavirus broke. Since then, Patel's brothers have been helping him at the store.
The store next to Patel, Suryavanshi which retailed grains, shut shop a week ago. "There are no stocks, so he is now sitting at home,"  said Patel.
Challenges to kiranas
According to reports, India has around 12 million small and medium neighbourhood kirana stores. These stores account for over 95 percent of India's food and grocery sales. Even more so during the lockdown, the neighbourhood kirana store has stood out as the most reliable and convenient source of essential supplies. About 50-70 percent have continued to operate and serve customers for whom they are most often the only place to get groceries at this time.
However, since the lockdown, only around 25 lakh stores are able to function, though with supply chains breaking down, replenishing stocks is an issue. Factories, wholesale markets and distributors are adversely impacted by labour shortages; manufacturers are supplying goods from their existing safety stock.
Grocers go digital
In a bid to remain connected to their clientele, grocers are going digital using software that makes it easier for them to connect to the neighbourhood. They have been helped in this endeavour by a few startups that were, by sheer chance, launched in the time of COVID-19, like Mumbai-based e-commerce platform Near.Store which started online operations three days after coronavirus outbreak in India. In this model, Near.Store's platform creates the store's online presence for them through its proprietary dongle which digitises the store's inventory. Customers can then check the store's stocks on Near.Store, and shop from home. Ashish Kumar, co-founders says "We launched our online system to enable the local grocer to compete with the big boys. Once a customer is online, he can repeat orders, search for brands, and do it from anywhere."
Since the lockdown, Near-Store has found that the highest orders are for herbal immunity boosters, cleaning agents and hygiene products, and instant food - particularly chips.
Buy now, pay later?
Besides tracking stocks, apps are also helping grocers track credit payments in these uncertain times. GOFRUGAL has launched an app that can be customised for customers.
The customer can place an order on the billing software. It will confirm if it is available or not. Payment can be pre-paid or on-delivery. Those who want to avail of credit, can opt for it with the retailer agreeing for that option.
Another app is OkCredit--a book-keeping app created to help merchants track their receivables and payables and share account details with the customers. It works on two fronts to help kirana stores during the lockdown—to enable them to receive online orders and payments. Consumers can also find kirana stores that are open in their neighbourhood. Founded by three IIT Kanpur alumni - Harsh Pokharna, Aditya Prasad and Gaurav Kumar in 2017, customers will get updates about new features on the app itself. "Our priority at this point of time is to help existing clients battle the crisis. So the number of users has not increased much," said Pokharna, the CEO.
Serving kirana stores
With logistics chains temporarily shutdown since the lockdown, third-party supply chain companies like Jumbotail is helping large residential communities by setting up small stores and and stocking them up with essentials.
The Jumbotail marketplace connects customers (food and grocery retailers ranging from small kiranas to supermarkets) with brands and producers of staples and FMCG products through an android app available in four languages—Kannada, Malayalam, Hindi and English.
"We work with the top 20-plus FMCG companies and stock over 3,000 SKUs. Retailers can receive their deliveries at the storefront within 24 hours, with a 100 perecent fulfillment rate," said Ashish Jhina, Co-founder and COO. "Through our J24 stores programme, we help transform kirana stores into modern convenience retail stores using our proprietary Goldeneye retail operating system that includes a point of sale, fully integrated with our marketplace and supply chain, AI driven merchandising, digital marketing, retail store branding, and omni channel integration to serve online orders," he said.
The way ahead
Lockdown, social distancing, supply chain breakdown has led to fewer stocks for many kiranas. But, it has also led to newer ways of doing business, with grocers expanding products to hitherto unheard of categories. Will this continue post-lockdown?
"It is true most online companies have been unable to fulfill deliveries while some are giving customer a longer waiting period", said Satish Meena, senior forecast analyst at Forrester Research Inc. The kirana store owner is able to keep products that the customer needs and is also able to fulfill requests that his customer makes in these distressing times. Grocery shops are saving time by making the waiting period far less for the customer. But whether this will continue after the lockdown, depends on how much capital this small business has and how it wants to grow, he said.
"A number of companies have entered this space and are delivering groceries. It is more of a PR (public relations) gimmick. What it does is, makes these companies/startups relevant in the media. There is no five-year plan in this strategy adopted by them. But for some serious players like a Zomato, this is good data to get hold of by delivering groceries. Only the Zomatos of the world will have the capabilities to carry this forward," Meena said.
India
Citing Prime Minister Narendra Modi's slogan 'Jai Jawan, Hai Kisan, Jai Vigyan, Jai Anusandhan', Indian Army Chief General Manoj Pande said that it aptly captures the contemporary reality and underscores the importance of research and innovation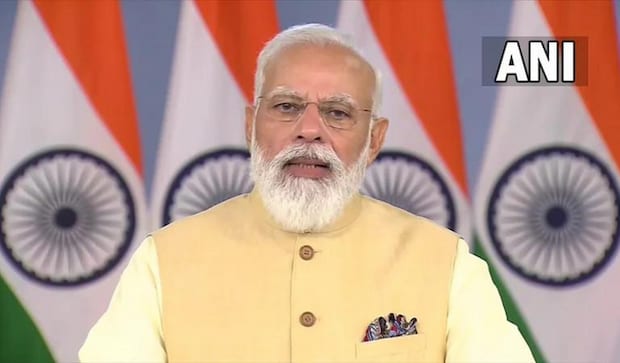 Politics
Multiple YouTube videos sharing the first episode of the controversial BBC documentary "India: The Modi Question" have been blocked as per the directions issued by the Ministry of Information and Broadcasting
Opinion
What makes the alliance better is that no other country works so resolutely and with a sense of purpose in the time of duress as Japan does; India needs such a partner in dealing with China