Commerzbank aims to cut jobs, branches after Deutsche merger fails
By Tom Sims FRANKFURT (Reuters) - Commerzbank said on Friday it wanted to shed thousands of staff and close a fifth of its branches in a strategy overhaul, after the German lender's attempt to merge with Deutsche Bank failed. The bank, partly owned by the German government after a bailout and struggling to generate profits, also aims to sell a stake in its Polish subsidiary mBank and absorb its Comdirect online brokerage unit. Commerzbank said the strategy plan would involve investment of 1.6 billion euros ($1.8 billion), with 750 million euros going into new technology and the rest earmarked for restructuring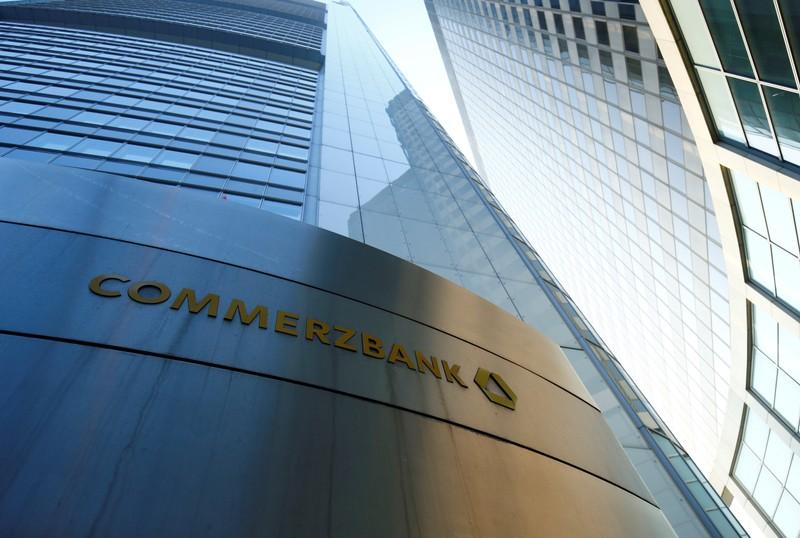 By Tom Sims
FRANKFURT (Reuters) - Commerzbank said on Friday it wanted to shed thousands of staff and close a fifth of its branches in a strategy overhaul, after the German lender's attempt to merge with Deutsche Bank failed.
The bank, partly owned by the German government after a bailout and struggling to generate profits, also aims to sell a stake in its Polish subsidiary mBank and absorb its Comdirect online brokerage unit.
Commerzbank said the strategy plan would involve investment of 1.6 billion euros ($1.8 billion), with 750 million euros going into new technology and the rest earmarked for restructuring.
The bank said the draft measures would be discussed at a meeting of the supervisory board on Sept. 25 and 26. It said no final decision had yet been taken.
Shares in Commerzbank, which has been reviewing strategy in recent weeks, were 0.8% higher in late afternoon trade, with some investors saying the measures were not enough.
Klaus Nieding, vice president of shareholder lobby group DSW, said the bank needed to do more than cut costs. "The big question remains how the bank wants to make money in the future," he said.
The bank was ejected from the blue-chip DAX index last year, highlighting the challenge facing banks in Europe's biggest economy since the global financial crisis.
The bank said it would cut 4,300 jobs in some places but add 2,000 jobs in "strategic areas", so the group headcount would fall in total by about 2,300 full-time positions, equivalent to about 5.7% of its workforce. It now employs about 40,700 people.
The sale of mBank would reduce its staff by a further 6,600.
It also aims to trim the number of branches by 200 to about 800.
The sale of its 69.3% stake in mBank has a market value of more than 2 billion euros ($2.2 billion). Commerzbank said the proceeds would enable "a faster implementation of its strategy and the associated investments".
The bank, which owns 82% of Comdirect, foresees offering a 25% premium for shares it doesn't hold. Comdirect shares jumped 26%.
Germany's banks have been battling a legacy of bad debts, bloated headcounts and fines a decade after the global financial crash. Commerzbank has already been reducing staff and is trying to cut back-office work to restore profitability.
($1 = 0.9081 euros)
(Reporting by Tom Sims, Hans Seidenstuecker and Patricia Uhlig; Editing by David Evans and Edmund Blair)
This story has not been edited by Firstpost staff and is generated by auto-feed.
World
BAGHDAD (Reuters) - Rockets hit near U.S. forces and contractors in Iraq on Wednesday, including an air base north of Baghdad and a military base at Baghdad International Airport, the Iraqi army and security officials said. The army reported at least three rockets hit Balad air base, where U.S
World
By Silvia Ognibene and Silvia Aloisi FLORENCE, Italy (Reuters) -Italian police have arrested a Chinese couple accused of running a leather goods business which exploited immigrant workers it employed to make handbags for a Burberry supplier, according to an arrest warrant seen by Reuters. Tax police in Florence said in a statement that the two Chinese nationals were arrested on Wednesday as part of an investigation into alleged labour exploitation and tax fraud and that restrictive measures had been imposed on two other family members, including a ban on them leaving Italy
World
WASHINGTON (Reuters) - The United States on Wednesday blacklisted four Nicaraguans, including a daughter of President Daniel Ortega, as Washington warned it would continue to use diplomatic and economic tools against members of the leftist government engaged in repression. The U.S. State Department called on Ortega to release detained presidential candidates as well as other civil society and opposition leaders arrested over the past week in what Washington called "an increasing wave of repression." "There are costs for those who are complicit in the regime's repression.