Cognizant may lay off 6,000: Tech grads will have to upscale skills to stay relevant, survive
Remain open to technological advances, be ready to adapt in order to remain relevant in the IT sector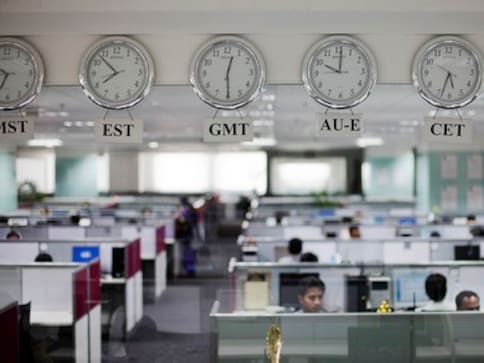 The employment scenario in the country is bleak what with the IT sector, including the startups - a key sector in the jobs market - letting go off employees in large numbers. Cognizant Technologies is the latest in a long line of IT majors that is looking at giving pink slips to nearly 6,000 employees primarily for not meeting performance benchmarks.
While dismissal after performance appraisal is routine, what is compounding the problem is that these companies are not hiring in en masse from campuses as they used to earlier. According to a report in the Business Standard, IT companies are expected to hire 40 percent less this year. The top five IT services companies – TCS, Infosys, Wipro, Cognizant and HCL Technologies – hired around 60,000 engineers from campuses this fiscal, as against little more than 100,000 last year. The reason for the reduction in recruitment at the entry level is on account of aggressive use of automation and technological advances that have rendered the lower level jobs in the sector redundant.
Adding to the worries is the protectionist policies in the US – one of the major offshore business partners and supporters of IT services industry in India – laying restrictions on outsourcing and stringent controls on H1-B visas.
The traditional BPO operations model is being phased out and the $155-billion IT industry in the country is trying to reinvent itself to adjust to the advent of automation, artificial intelligence (AI) and machine learning.
According to consulting firm Zinnov, India stands to lose about 94,000 jobs by 2021 due to the increasing adoption of technology.
Industry body Nasscom said in its annual review that while the industry grew at 8.6 percent, jobs grew only by 5 percent in the fiscal year 2016-17. It also said that there is going to be a 20-25 percent reduction in jobs over the next three years.
At the recently held Nasscom Leadership summit in Mumbai, French IT major, Capgemini's India chief executive Srinivas Kandula said that a majority of the workforce cannot imbibe the skill sets required for increasing use of digital technologies, a PTI report said. Kandula warned of high job losses at the middle and senior levels. "I am not very pessimistic, but it is a challenging task and I tend to believe that 60-65 per cent of them are just not trainable," he said.
The domestic arm of the French IT major employs nearly 100,000 engineers in the country. "A large number of them cannot be trained. Probably, India will witness the largest unemployment in the middle level to senior level," Kandula said.
In order to support this transformation, the industry players need to prioritise automation as one of their key offerings and build appropriate talent around this area, says Sashi Kumar – CEO and MD of the Bengaluru-based IT firm, Happiest Minds Technologies.
Scope of automation
According to the latest report by the research firm MarketsandMarkets, the global artificial intelligence market is expected to grow from $419.7 million in 2014 to $5.05 billion by 2020, at a CAGR of 53.65 percent from 2015 to 2020.
Where can automation be deployed? It plays an important place in our personal lives – even a microwave in one's home is automation. In business, the benefits of using disruptive innovation with a view to automate is far beyond the costs. Automation can now be used by every department in a business from customer support and marketing, to sales nurturing and client database management, and further more in coding and testing. Coded programs write other programs. However, such level of intelligence is a different discussion all together, says Dhruvil Sanghvi, CEO and Co-Founder, LogiNext.
In broad terms, the biggest automation benefits within a company is with quality assurance. Many companies target six-sigma level of accuracy with their outputs. Such high levels of precision can only be achieved through automation.
Another big integration for automation is data mining for business and marketing insights. There are many trends that can be spotted ahead of time with proper analysis of the vast information database of customer preferences, says Sanghvi of the benefits of automation.
Jobs that are losing lustre and getting replaced by automation are largely low-end jobs where hiring too has come to a standstill. With tools available for verification and validation, business process outsourcing and infra services are losing shine. Even in the pharmaceutical sector, for instance, automation has taken over a large number of testing activities. "In the BPO context, we have seen an improvement in the processes after automation from 20 percent to 60-70 percent," says Gopinathan Padmanabhan, Chief Innovation Officer and President - Global Delivery, Mphasis.
However, Padmanabhan says that the entire process cannot be automated and some human intervention will still be required. "Those we had to take off the staff from this routine task, around 40 percent of them; we found alternative jobs for them in the firm," he said. The company has been able to retrain and redeploy them, he said.
However, not all companies are able to retrain or redeploy their staff and hence the retrenchment of staff in large numbers. A big change we see today is that organisations are moving from IT services to intelligent solutions which are based on big data sciences. The reason this is being done is the availability of vast data (with advent of IOT), low cost of storage of data and the need for real-time decision making, says Rohit Verma, CEO, iPredictt, an advanced big data analytics startup.
Outlining an ominous future, Verma said, "In the future, all decision-making processes will adopt self learning algorithms or artificial intelligence, hence tech industry will fast up-skill themselves to service the new environment."
Replacing humans, Wipro came in with Holmes (heuristics and ontology-based learning machines and experiential systems) in business as well as IT operations. According to sources, Holmes will replace 30,000 engineers.
Holmes has been deployed in data and information-driven industries such as banking and financial services, retail, manufacturing and telecommunications, where it has delivered exceptional results, says K R Sanjiv, Chief Technology Officer, Wipro. "We are looking to expand its scope creating an automation marketplace for Bots where customers can pick the Bots from a library as per their requirement. They can also co-create Bots with us in the Bots Studio for their specific requirements and outside of the areas covered by us," Sanjiv said.
For those who have still not adopted automation in a big way, there are consulting companies in the IT genre who are showing them the way. "In some cases, we are working with banks using new technologies like Blockchain to create automated, straight through processes around, for example, the mortgage financing process. In others, banks are looking at using robotic process automation combined with other AI techniques and optical character recognition (OCR) to streamline the new customer onboarding process.
"Another interesting area has been bringing increased levels of automation to QA work through a hybrid QA model and Combinatorics testing," says Sandeep Kumar, managing director, Capital Markets, Synechron - a New York-based information technology and consulting company focused on the financial services industry including capital markets, insurance, banking and digital.
One way of being aligned to the furious pace of technology is to be trained and updated with the industry's requirements or needs and if possible, to be ahead of the change curve. There is always jobs for top talent with transferable skills. IITs are able to provide a strong foundation of skills to build upon in the workforce, says Kumar of Synechron.
Kumar advises students to focus on the current job market and for educational institutes to re-imagine how automation will change today's industries and teachable transferable skills. These will likely be stronger business intelligence and analysis skills, QA work around automated technology processes, exposure to innovative new technologies like Blockchain and AI that will require a deeper skill set. A good understanding of data science-related topics will help in this regard, he says.
Human Resource (HR) management has also kept pace with automation. Led by game changing technologies -- Artificial Intelligence, Machine Learning and Bots -- and renewed interest in exceptional User Interfaces, the pace of change has been frenetic in the HR industry. "The mantra now is consumerization of the Enterprise and we are going to see increasing technical innovation in HR technology and Finance Technology. The time is up for large unwieldy all-encompassing systems. Smart Process Applications is the way forward and we will hear more about it as we march along," says Sunil Chathaveetil, Co-founder and Director, MintMesh - a platform for crowd sourcing referrals.
With retrenchment being the order of the day in IT firms with automation replacing routine work done by people, it also gives an opportunity for entrepreneurship. "Automation is not a threat for entreneurship. It is good opportunity to innovate, pilot, prototype ideas that can optimize productivity and cut costs," says Sashi Chimala, EVP (Products & Platforms) NEN, Wadhwani Foundation which focusses on job acceleration.Some skills that will be high in demand in spite of automation include working with big data, mobile development, cloud computing, digital marketing and machine learning.
Skilling, name of game
An online professional certification provider Simplilearn's State of India Technology Skills Report 2016 with inputs from over 9,200 mid-level IT/ITeS professionals stated that 60 percent of them believe that rapid technology advancements are set to impact their careers by 2017-18.
Around 62 percent believe that the impact will be due to automation, artificial intelligence and digital technologies. It also showed that more than 50 percent of IT industry professionals believe that future growth is in emerging and new technology areas like cloud computing, big data, cyber security, data science and mobile and a vast majority of them are keen to upgrade their skills. Around 35 per cent respondents want to up-skill with online courses over the next 6 months and digital marketing, big data and analytics are some popular domains professionals want to build their skills.
Changing technologies has opened big opportunities in cloud, big data, AI, that require skilled professionals. "In order to help the workforce, we are working with companies to help their employees adapt to the technological changes and still be relevant to the company's' needs through specialized skill sets," said Krishna Kumar, Founder and CEO, Simplilearn.
Skilling is practical education that is relevant to the industry. "Things change so dynamically in the tech world that a piece of software took 300 lines to code can now be done in 15 lines. The workforce has to adapt to these changes. Also, robots are replacing human beings for a lot of repetitive tasks in tech. Up-skilling in such a scenario translates to learning how to manage the bots and not lose your job! Cloud computing, big data, analytics - these are three areas where lack of regular up-skilling can have suicidal consequences," says Lovleen Bhatia, Co Founder and CEO of Edureka - an interactive, online learning platform, adding that the only solution is for members of the workforce to become indispensable by up-skilling themselves voluntarily in order to stay relevant in the ever-changing landscape of today.
Clearly, reskilling is the way ahead and the emerging work force will have to adapt to new technologies at faster pace.
also read
World
While AI large language models or LLMs like ChatGPT may be a godsend in some situations, using ChatGPT-like tools to write your resume or CVs may get you rejected immediately by hiring managers and recruiters, a new study has found
World
Mo Gawdat, who was the head of Google's X Platform, a semi-secret research and development facility and organization, and who is considered to be an AI expert, says that AI is the biggest challenge humanity has ever faced
India
In an interaction with prominent businessmen and students, Sam Altman, who is visiting India, revealed that he is pleasantly surprised by Indian startups and how they function. He also plans on investing in several Indian startups and is discussing it with some people