Coal India to spend Rs 12,000 crore in FY16 on capex, infrastructure
Coal India is gearing up to invest about Rs 6,000 crore towards capital expenditure in the next fiscal and an equal amount on augmenting other infrastructure, including rail connectivity.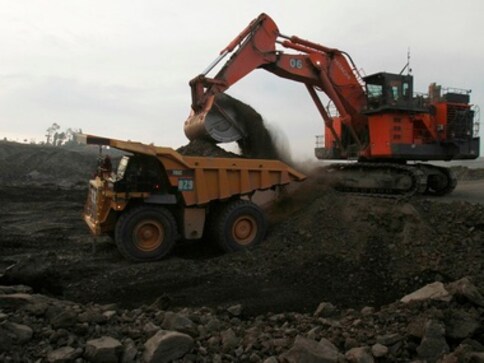 New Delhi: State-owned Coal India (CIL) is gearing up to invest about Rs 6,000 crore towards capital expenditure in the next fiscal and an equal amount on augmenting other infrastructure, including rail connectivity.
The announcement comes at a time when the company has a target to achieve an output of one billion tonnes by 2019-20.
"CIL and its subsidiaries are proposing to invest around Rs 6,000 crore in 2015-16 towards capital expenditure," Coal India said in a filing to BSE.
Further, an amount of around Rs 6,000 crore has been earmarked by CIL for railway and other infrastructure development for 2015-16, the company said.
The capex for entire infrastructure in Coal India for 2015-16 is close to Rs 12,000 crore, Coal India CMD Coal India CMD S Bhattacharaya told reporters here.
He said that annually Rs 6,000 crore would be spent on mining and the remaining Rs 6,000 on rail infrastructure and other related work.
CIL also unveiled its roadmap, of strategies to be adopted, to attain the one billion tone coal production by 2019-20.
With the projected coal demand of the country hovering around 1,200 million tonnes (MTs) by 2019-20, at an envisaged growth rate of 7 percent, CIL is expected to chip in one billion tonnes, of which, 908 million tonnes is the expected contribution from the identified projects, he said.
"The process of identification of projects to share the balance quantity, to top up the 1 billion tonne mark, is also underway," Bhattacharaya said.
The two CIL subsidiaries---Mahanadi Coalfields Ltd and South Eastern Coalfields Ltd (SECL) are expected to play a pivotal role in its quest of attaining the one BT production with 250 million tonnes and 240 million tonnes respectively, he said.
In the biggest ever disinvestment exercise, the government in January sold 10 per cent stake in Coal India for about Rs 22,600 crore.
The world's largest coal producer is betting on timely completion of three critical railway lines and timely land acquisition and green clearances to boost output.
To overcome the hurdle of coal evacuation, CIL had decided to purchase 2,000 railway wagons from its own kitty for which specific funds had been earmarked.
The coordination with Railways for implementation has already been initiated. In a move to synergise its efforts, SECL already has two Special Purpose Vehicles (SPVs) with state governments to develop rail network including last mile connectivity, involving Railways.
"More number of SPVs are on immediate anvil towards grounding railways infrastructure with Railways and concerned State Government participations," Bhattacharya said.
Strategies for future include technology upgradation in opencast mines with high capacity equipment, operator independent truck dispatch system, vehicle tracking system using GPS/GPR and monitoring using laser scanners.
As far as productivity improvement in underground mines is concerned, Bhattacharya said that the steps taken by CIL will include introduction of continuous miner technology in large scale and long-wall technology at selected places among other.
PTI
India
Odisha CM Naveen Patnaik asked Centre to re-examine its decision to allot four coal mines to Western Coalfields Ltd instead of Mahanadi Coalfields Ltd.
Business
Further, the company has planned to invest Rs 5,069 crore in various projects
Economy
The surprising thing though is that the back-door privatisation of Coal India has more or less already happened.