By Jaikant Seshagiri Rao
Business agility is an extremely significant aspect for a modern enterprise that seeks global markets, fast product launches or wants operations to respond dynamically to market changes. In the past most enterprises launched new offerings and capitalized on revenue-generating possibilities by addressing the 4 Ps - Product, Price, Place and Promotion. There has been a radical shift in the new business environment, which demands agility to be built into three critical business functions –

- Marketing function - through differentiated Product or Service Offerings
- Sales function – through innovative mass-market driven distribution and partnerships
- Services function – through excellence in customer experience
- Cloud Computing Services forms a critical part of business strategy for the above business objectives to be met.
Depending on the deployed software apps, it could achieve all of the following
1. Cost Savings
2. Higher operational efficiency
3. Smarter, quicker decision making
4. Support launch of superior products and services
Cloud Portability is about an ability to seamlessly move or launch cloud-ready applications across datacenters in various locations, closer to customers. In other words, it is the ability to move applications and data between Cloud providers and between different environments such as public, private, community and hybrid clouds within hours and days instead of weeks and months.
Cloud portability leads to business agility by
- Shortening the time-to-market of new products and services
- Maintaining regulatory compliance and security
- Expanding to emerging markets
- Countering and keeping up with competition
- Reducing IT operational cost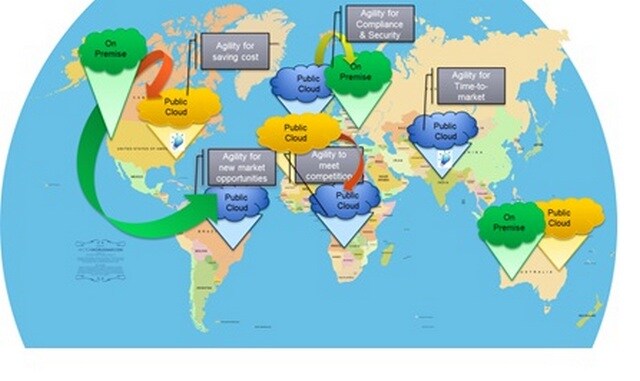 Working Strategy
Sourcing - The emergence of Cloud technologies is enabling businesses to make the right choice of sourcing - starting from basic IT infrastructure to complete applications and managed services. Fundamentally, IT is now available as-a-Service for all practical purposes. It is transforming enterprises towards new levels of efficiency and agility. This is in contrast to the past when deploying IT resources was a cumbersome process.
With a whole host of providers, Cloud adoption today has become so much simpler. Infrastructure as a Service (IaaS) allows enterprises to acquire virtual networks, servers and storage in any geography. Similarly, Platform-as-a-Service (PaaS) allows any application specific to a business -- to be run in a Cloud environment. And finally, Software as a Service (SaaS) allows businesses to pick and choose from a host of applications, with the right configuration and set of licenses for immediate use.
As an example, an enterprise that has its core business in one country but wants to expand to a new geo can now deploy IT environments for the new geo at the click of a button using a Cloud service - preserving the technological, commercial and legal compliance considerations.
Financing - Cloud Portability can be tailored to meet the challenge of short-term goals. Business enterprises do not need to factor CAPEX in the new geography or target market. The demand for reduced CAPEX is an essential component of agile business management.
Secondly, if a business is able to forecast demand (for a product or service in a given market or geo), IT can easily support workloads in different geos based on margins and other business KPIs. In essence, an enterprise does not need to remain locked in a linear cost model.
Further, there is a need to ensure a contingency plan for unforeseen risks due to unfavorable business environment that may cause any delay / loss of revenue. In such extreme situations, the business services could be scaled down easily by subscribing only to the required level or even shutting down temporarily.
Traditionally, applications are migrated with a planned downtime, after taking required copies of data backup. These backups are restored in the new environment, tested and made available to business operations. To simply put, cloud Portability can be achieved, by devising any suitable technique for migration of applications and data to the desired environment, which ensures restoration of business operations.
A Success story
One of the world's top agencies in Space program and aeronautics research has successfully migrated about 175 software applications, including their website from their own On-Premise Datacenters into Public cloud, over a period of 2 years and gained a savings of over 40% YoY However, they have been diligent in keeping some of the critical Space Applications and Data at their On-Premise Datacenters.
The author is Practice Director in the New Solutions group of Global Infrastructure Services at Wipro
Your guide to the latest election news, analysis, commentary, live updates and schedule for Lok Sabha Elections 2019 on firstpost.com/elections. Follow us on Twitter and Instagram or like our Facebook page for updates from all 543 constituencies for the upcoming general elections.
Updated Date: Jul 17, 2015 16:29:19 IST